The recent wave of denial-of-service attacks on electronic commerce sites did not go unnoticed at the Rat's burrow.
The recent wave of denial-of-service attacks on electronic commerce sites did not go unnoticed at the Rat's burrow.Suspicion naturally fell upon the cyberrodent's wayward offspring, and, as it turned out, not without reason. But as the Rat often remarks, one should not mistake incompetence for malice.While the whiskered one was assisting the usual band of FBI investigators that swings by his burrow every time something like this happens, he started to get an inkling of the real source of the trouble. He was reluctant to share his opinions, however, until he had a clearer idea of the problem.After promising to call the bureau's finest if he came across anything, the Rat bid them adieu and summoned his spawn.His spouse said, 'Boys, I want to make it clear that no punishment will be meted out if you answer Dad truthfully.'A suspicious look of relief swept across their faces. 'We didn't have anything to do with those lame attacks, Mom,' the older ratling blurted.'Well, that depends on how you define 'anything,' doesn't it?' the Rat observed. 'Now, tell me, did you recently do anything with any of the hardware in my workshop?'The ratlings stared at each other. 'Um...''Remember, the truth will set you free,' the whiskered one intoned. 'Did you touch anything? Plug in any system to the hub there? Download any code from my server?'The older rat said quietly, 'Well, we needed some extra file space for a download of Microsoft Windows 2000, so we mounted a Network File System share on the server from our bedroom workstation.'The Rat drew a deep breath. 'How exactly did you do that? The workshop LAN is segregated from the house network by 6 feet of cinderblock,' he said.'Uh, we drilled a little hole for a fiber run. We didn't mean any harm,' the younger spawn whispered.'And so you hooked my workshop LAN into your Internet-connected LAN? Is that what you're saying?' The Rat clenched his teeth.'I guess so,' replied the elder ratling. 'I didn't think an NFS connection would hurt anything. After all, it was inside our firewall, so it wouldn't be visible from outside.' The kid smiled nervously. 'It was just for learning purposes, not like we are actually going to pirate Windows 2000.'The Rat took more deep breaths. 'Now, son, do you think I would have put up 6 feet of cinderblock and a locked door with signs saying, 'Danger'Highly Toxic,' instead of just a firewall, if my aim was to keep people from sniffing my IP address?''Er, I guess not.''Well, children,' the Rat screeched, 'I had that server sealed off because that's where I'm running the household automation LAN project I'm working on with funding from the Langley Investors' Club.''Dad, do you mean HAL?' said the older one, now realizing the gravity of the matter.'Yes, HAL, the network agent that tried to give you frostbite [, Feb. 7, Page 54]. It's a self-installing intelligent agent. It reaches out and loads itself on any silicon that it can touch across a routed network. I was just getting around to debugging that psychotic subroutine it developed.' The Rat tried to restrain his terror. 'And you boys went and let it out onto the Internet.''It's flogging time!' Mrs. Rat screamed.'Worry about flogging later, dear,' the Rat said. 'We've got other things to do.'The lights dimmed slightly, then returned to normal, and a familiar, resonant voice sounded throughout the burrow.'All systems nominal,' HAL announced.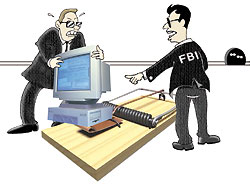 GCNThe Packet Rat once managed networks but now spends his time ferreting out bad packets in cyberspace. E-mail him at rat@gcn.com.