A 2-year-old intergovernmental information technology project is close to producing significant and far-reaching results.Since 1998, the National Association of State Information Resource Executives (NASIRE) has been working with the Justice Department on a program that could influence systems design at all levels of government and eventually affect every major program.Simply stated, the goal of this project is to set information-sharing standards, starting with criminal justice data and eventually incorporating all intergovernmental programs. The challenge is to set predefined electronic document formats within programs. By using open Internet standards, agencies at the national, state and local levels could share information much more readily than they can now.You may ask: So what's new here? We have shared information for years within my judicial district. True. What's new are electronic document formats that would become national standards, all based on emerging open Internet standards such as the Extensible Markup Language and its tagged data fields. Agencies would eventually access all these formatted documents using network directory standards such as the Lightweight Directory Access Protocol. Documents in use today supply information on arrests, court dispositions and inmate releases, and all are candidates for open Internet standards. Developers would not be bound by having to know the base data structure of a document, meaning data sharing would be simpler.I remember when electronic data interchange standards were applied in Florida to a document, First Report of Injury, in the Workers' Compensation Program. EDI led to enormous productivity gains for both the state government and insurance carriers. EDI requires private networks and special software translators to support the transactions, but the outcome is the same. Organizations using EDI did not have to replace their entire data structure to reap the benefits of this translation process. By using the common X12 document standard, both sides saved millions.The team for a National Information Architecture Project not only has the strong endorsement of state chief information officers through NASIRE, but it also is working to establish ties to control terminal officers. These officers manage the data resources of the various state crime information systems and the state courts' system administrators.In fact, the National Consortium for Justice Information and Statistics recently endorsed the team's report. Gerry Wethington, director of the Systems Division of the Missouri Highway Patrol, and George Boersma, CIO of Michigan, have provided excellent leadership in this effort along with members of the Office of Justice Programs.The prospect of communicating standard documents within and across programs such as criminal justice and, eventually, education, transportation and human services looks more likely today than ever before.For more information, contact Chris Dixon, NASIRE's assistant director, at 606-514-9148 or by e-mail at . You can download a free copy of the report, Toward National Sharing of Governmental Information, at .Keep your eye on this one.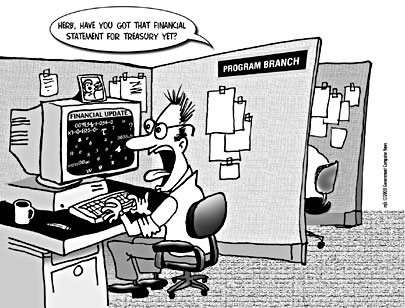 | | |
| --- | --- |
| | Mike Hale |
The nominees are '
cdixon@amrinc.net
www.nasire.org/hotissues/justice
Mike Hale recently left his post as chief information officer of Georgia for an industry IT job. He previously was executive director of Florida's Information Resource Commission, and he is a retired Army colonel.