Eizo thin client can lighten sysadmin's load
To connect to the server, the eClient has a 10Base-T Ethernet port and a standard network cable. TCP/IP is the transport protocol.In my tests, the eClient worked well, though it is better suited to users with simple data entry needs than to power users.It has a lot of hand-holding features. Both logging on and shutting down are easy. You can perform the standard shutdown procedure'if you want. But there's no need really because clicking off the display automatically logs off the eClient.The next day when you turn the monitor on and log back in, you return to wherever you left off. If the monitor went off in midsentence, it will pick up there when you return. It's nearly idiot-proof.To add a new user, the administrator must go into the server and turn on permissions. At the client end, all that's necessary is to power up the terminal, plug in the keyboard and mouse, and run a network cable. It's significantly easier than setting up a full client.Despite the economic hype about thin-client networks, the cost savings don't materialize right away. Each eClient sells for $1,750, which is about the price of a fully configured PC. The savings come in reduced administrative support.In upgrading to a new application, for example, a systems administrator simply installs it once on the server, and users have access the next time they log in. The security benefits are substantial; except for printing, no one can steal data.In my tests, installing new applications was a breeze. But the server needs to be powerful'an often-overlooked point. Although thin-client setups theoretically could stretch to serve hundreds of users, the need for server RAM rises proportionately.Some other things to consider: A thin-client network is inappropriate for skilled computer users; the lack of peripheral support could be a problem in government offices; and the server slows down when users run high-end applications.But those points aside, some government offices could benefit from a thin-client approach, especially if users mainly do data entry and run standard apps such as word processors, spreadsheets and simple databases.Best of all, updating the hardware and software means updating only the server, not hundreds of clients. And that's where the cost savings eventually stack up.

By John Breeden II

GCN Staff



A thin-client network could make administrators fat. They wouldn't have nearly as much running around to do.

The GCN Lab has tested few thin clients, concentrating instead on the servers and desktop PCs that dominate government agencies. But when Eizo Nanao Technologies Inc. offered a test setup of its eClient 530L, I took a look.

The cornerstone of any thin-client system is simplicity. In Eizo's case, a user's desk holds only a monitor'a 15-inch LCD'plus a keyboard and a mouse. When a user turns on the monitor and selects the option to connect to a server, the user gains full access to applications hosted on the server.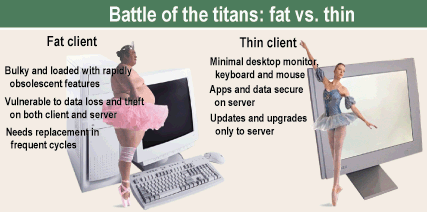 Eizo's eClient 530L, however, is a bit more than an LCD. It has a built-in 64-bit, 168-MHz RISC processor, plus 32M of RAM and 16M of flash ROM. For video, it comes equipped with a 2-D graphics controller and 2M of video RAM.

On the back end, it runs Microsoft Windows CE, and it connects to a server running either Windows NT, Windows 2000 or the MetaFrame application server from Citrix Systems Inc. of Fort Lauderdale, Fla. My test network server ran Win 2000.

Depending on the server, the eClient display uses either Microsoft's Remote Desktop Protocol or the Citrix Independent Computing Architecture.

Peripheral ports on a thin-client system are intentionally minimal. Users can't mess up the software too badly if they have no CD-ROM, floppy or hard drives.

Peripheral scarcity also helps enforce security because data can't be copied or stolen without physical access to the server.

The eClient does have a parallel port for a printer, however. A standard PS/2 keyboard port and a PS/2 mouse port round out its peripheral ports.





Box Score






eClient 530L

Thin client


Eizo Nanao Technologies Inc.;

Cypress, Calif.; tel. 800-800-5202

www.eizo.com

Price: $1,750


+ Easy setup and administration

+ Easy network expansion

- Not sophisticated enough for power users


Real-life requirements:

Server running NT, Win 2000 or Citrix MetaFrame; network cable





Click and go