With all the attention paid to Active Directory and other features in Microsoft Windows 2000, some of the most useful new features in the operating system have gone largely unnoticed.
But the real payoff in using dynamic disks comes in the higher reliability you get compared with using basic disks and a better ability to recover data from system failures. Dynamic disks accomplish this by storing crucial information about disk data structures in more than one location. Moreover, instead of storing volume type and location information in one partition table on each dynamic disk, the system automatically sets up a 1M database on each disk containing all information about the volumes on that particular disk as well as all other dynamic disks in the system. Win 2000 can use that information to recover a corrupted or destroyed volume database and avoid a catastrophic data loss.For all of dynamic disks' advantages, their use is not ideal for every situation, most notably in environments supporting multi- or dual-boot configurations with other OSes. Win 2000 is the only OS that reads dynamic disks, even if the drives are formatted with a file system other operating systems support.The situation is the same for removable drives. Because a dynamic disk replicates the volume database to support fault tolerance, it cannot operate in a hot-swap environment such as those supported by Iomega Zip or other drives without rendering the contents of the database invalid.Also, Microsoft does not yet support dynamic disks on notebook PCs, possibly because they often feature removable drives. But because dynamic disks are most useful in a multidrive system and few notebooks feature more than a single drive, their utility in most notebooks would be limited at best.

By John H. Mayer

Special to GCN

With all the attention paid to Active Directory and other features in Microsoft Windows 2000, some of the most useful new features in the operating system have gone largely unnoticed.

One of them is a concept introduced in Win 2000 called dynamic disks. A key element in the new OS' disk management toolset, dynamic
disk technology aims to solve the reliability problems enterprise systems managers encounter by bringing vastly improved fault tolerance and online management capabilities to servers running mission-critical applications.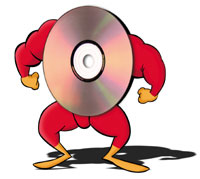 Designed to replace Windows NT's Disk Administrator, Win 2000's Disk Management utility offers many of the same capabilities of its predecessor.

Like NT before it, Win 2000 supports four primary partitions per hard drive, including
one extended partition. But the Win 2000 Disk Management console goes a significant step further by supporting two new configuration types'basic and dynamic disks.

The term basic disks was introduced with Win 2000, but they are analogous to the drives used for years in Windows NT 4.0, Windows 9x and MS-DOS. Users can slice a basic disk into primary partitions, extended partitions and individual space allocations called logical drives.

A primary partition can act as a system partition'it can contain a boot sector and OS-specific start-up files such as NT Loader'but a logical drive cannot.

More often than not, logical drives within extended partitions on basic disks are used for purposes such as data volumes. Basic disks can also be partitioned in other ways, including as volume sets, stripe sets, mirror sets and stripe sets with parity.

These storage capabilities have for years ably served systems managers who run Windows NT systems in agencies and enterprises, but they create limitations for mission-critical applications.





Booted tables

First and foremost: Because some critical data is housed in a single sector on the disk, basic disks present a threat to system reliability by offering a single point of failure. Key among these data structures are the partition table, which defines the types and locations of each partition on the disk, and the master boot record, or code needed to boot the system. If the disk fails, these critical pieces of data are lost.

Secondly, basic disks often require a system reboot to alter the disk's partition configuration. That requirement can be highly inconvenient and time-consuming for a systems manager running a large, enterprisewide environment.

The dynamic disk concept in Win 2000 introduces an entirely new level of flexibility and security to disk management. Dynamic disks offer significant benefits to systems that use multiple disk drives, such as network servers, by adding support for more functions, such as online management, disk reconfiguration and duplication of critical data structures across multiple disks.

Speaks volumes

A key to understanding how a dynamic disk works in Win 2000 is knowing how Microsoft defines a volume. Dynamic disks do not contain the partitions or logical drives used in NT's basic disks, but are partitioned into fault-tolerant volumes. These volumes are somewhat analogous to what NT users call sets.

You can set up single, spanned, striped, mirrored or RAID Level 5 volumes, extend a simple or spanned volume, repair a mirrored or RAID 5 volume, and reactivate a missing disk. Most important, unlike in NT, all of those functions can be performed without rebooting the computer.


| | |
| --- | --- |
| | The real payoff in using dynamic disks comes in high reliability. |
John H. Mayer of Belmont, Mass., writes about information technology