INTERVIEW: Peter A. Jacobson, Postal Service's tech chief
'JACOBSON: Our basics as an organization have existed for hundreds of years, and they essentially will remain the same. But in the future, the Internet will impact our business.We are looking at the Internet as another technology that's going to help us serve the needs of the marketplace. Our electronic-business goals promote the use of the best available technology to enhance the value, availability and accessibility of our services.It's a great opportunity because it is one of the four great communications channels of the world'face to face, U.S. mail, telephone and now the Internet.'JACOBSON: USPS must offer similar products and services; we must keep up with the competition and act in a more businesslike fashion.We don't have to do the same things, but we must offer similar advances. 'JACOBSON: There is a whole list of them within what we call the information platform, through which we are designing the next generation of technology. There are multiple components, which are going to interface with one another.We are streamlining the whole information system to provide better information to customers and actionable information to employees in our delivery, transportation, retailing and processing operations.A couple of months ago our board of governors approved the next generation of our transportation information system. The board approved a large capital investment in what we call our delivery operation information system. We have several hundred carriers who deliver mail six days a week. These systems will provide real-time information to provide more consistent information to our customers about mail processing and delivery status.We are in the business of moving money, messages and merchandise. We've been carrying bills for a long time, and we've been carrying checks back to the people who send the bills. Now, we have created a service called eBillPay to handle these transactions online. So what customers did by mail before, now they have an option to do electronically.Other initiatives include the Post Electronic Courier Service for secure message document transmission. We did that in collaboration with the French postal service. We have online mailing, a hybrid mail service for small businesses.We are also working very aggressively on something called Net Post Certified, which is to provide secure document information transfers between government agencies and people.Another example is tracking mail online. The other day, I mailed an express mail package, and I was able to go to the Internet and find out if it was delivered. We're also enabling advertising mailers to track when things are delivered using the Internet'to enhance the value of our services.'JACOBSON: Carriers now carry portable terminals with them to record delivery of several products. We anticipate enhancing this technology in the future to include communications functions, and ultimately we will turn the device into each carrier's PC.'JACOBSON: We have a common e-mail service through which over 100,000 employees are tied together. More importantly, the vice president for human resources and I just announced the co-sponsoring of an initiative called ePeople.Through this initiative we want to give employees more self-service options via the Internet, such as benefits and communications with the office. We are also looking to streamline internal paperwork to make it easier for people to make changes in benefits or handle requests for travel leave. We also want to provide online learning, whether it is on the job or off the job, so that workers can enhance their skills.'JACOBSON: I think the biggest one we will always face is the issue of scale. Our Web site is very active because people are always looking for ZIP codes, post office locations and the like. Our Web site is just chock-full of information.The challenge is making sure we have quality performance constantly. We have to continue doing focus groups and surveys with customers, and gauge the e-world because it is dynamic. We are forced to do more and faster.'JACOBSON: Of course, like any other organization'be it government or private'it's difficult to attract and retain skilled resources. Nothing new there. We are all in the same boat. I think we mirror the rest of the federal government.We have a group looking at the pay scale issues. Beyond the pay scale, we try to provide people meaningful and challenging work, which is the secret in all of this. We are just trying to make the employees feel more appreciated. They need challenging opportunities and training opportunities.''JACOBSON: We invest in the skills of our employees by updating their technical training every year. The specific training is tailored to the roles the employees play.'JACOBSON: When it comes to computer security, our challenges are similar to those at any large organization. We are giving it a lot of executive-level attention, making sure our managers recognize the importance of computer security. We also recently established in this organization a Corporate Security Office to make prudent investments in security. We are making sure security is considered in new IT developments and integration.Our approach is comparable to what you will see in the rest of the federal government and private sector. We are using a public-key infrastructure and digital certificates. We were the first government agency to implement PKI in conjunction with the launch of PC Postage in August 1999.'JACOBSON: Anything that assures the future of the Postal Service affects the future of its employees. HR 22 would give the Postal Service the flexibility it needs to move forward, and that would give its technology employees greater opportunities for an exciting, rewarding future.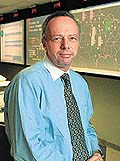 Peter A. Jacobson returned to the Postal Service as chief technology officer this past January after five years in the private sector.


Postmaster General William J. Henderson charged Jacobson with developing the service's information platform to maneuver real-time data through agencywide systems. The goal is to give managers within the service up-to-date status information on mail processing, as well as to improve the electronic services the agency provides to customers.

The Postal Service has several pilots under way to test applications for tracking items through the mail process. In its recent five-year plan, the service said it plans to spend $2 billion on information technology through 2005 [GCN, Nov. 6, Page 9].

The plan assumes that the Postal Service must expand its electronic services to keep pace with customer demand and to continue providing regular mail service without radical postage rate increases.

Most recently, Jacobson had been president and chief executive officer of Paxis LLC of Jacksonville, Fla. Before that, from 1992 to 1994, he had been senior vice president of processing and distribution at the Postal Service.
GCN:How has the Internet changed the mission or goals of the Postal Service?GCN:How does competition from the private sector affect the service's systems plans?GCN:What are the most significant systems projects at the Postal Service?GCN:What about information technology programs for USPS mail carriers?GCN:How is IT helping Postal Service employees, whether in the office or in the field?GCN:What are some of the most significant challenges the Postal Service faces?
What's more


Family: Wife, Violette; two children; two grandchildren

Car: Cadillac

Last book read: Net Ready: Strategies for Success in the E-conomy by Amit Hartman and John Sifonis

Last movie seen: 'Keeping the Faith'

Favorite Web site: USPS.com

Dream job: CEO for dynamic, creative and growing technology-based customer-centric company

Motto: Customer intimacy

GCN:How difficult do you find recruiting and retaining skilled IT workers?GCN:What specific training opportunities does the Postal Service offer its workers?GCN:What systems security measures are under way at the Postal Service?GCN:How would passage of HR 22, the Postal Modernization Act, affect the service's IT initiatives?