POWER USER
It's easy to forget that the mainstream computer era is only two decades old. I've been working with computers for twice that long, and electronic computers date back 60 years.
It's easy to forget that the mainstream computer era is only two decades old. I've been working with computers for twice that long, and electronic computers date back 60 years.Some of their forms and functions have survived without much change. Others have morphed into new forms or passed into history after influencing the careers of two generations of computer users and programmers.In my view, here are the best computer inventions of the last millennium:•'Operating systems and compilers. You probably never thought about how difficult it would be to run a computer without an operating system or program it without a compiler.I remember keying a program into a powerful IBM Corp. machine with a massive 4K memory. The details have faded a bit, but I think it required either 8-digit binary input or 16-digit machine language. If you consider Microsoft Windows hard to learn, just try dividing two large numbers in binary format. Hint: First you store them in a memory register, and you must specify exactly which one.•'The PC. I still own seven slide rules, but it's been a long time since anyone who walked into my library knew what they were. Everyone recognizes my oldest computers and calculators.A friend who worked for Popular Electronics, the first magazine to put a personal computer on the cover back in January 1975, saw the potential and opened the first computer store on the East Coast, and the second in the world. Although he gave Steve Jobs and Steve Wozniak space at the first computer trade show in Atlantic City, N.J., he sadly didn't have enough confidence to invest in Apple Computer Inc. back then.I think he could have bought 10 percent for $10,000.•'The Tandy Color Computer. I drove 80 miles to see the first Macintosh but discovered it was twice as expensive as my 16K Tandy Color Computer with a Motorola 6809 chip, and the Mac's tiny screen was black and white.As a writer I wasn't about to work with that screen, and I wasn't impressed by the Mac mouse, either. Plus, the box was totally sealed. But my CoCo was designed for color display and could connect to any TV.Then and there I wondered about the Mac's future. Many of its innovations such as what-you-see-is-what-you-get editing, the graphical interface and the mouse aren't high on my list of bests, either.The CoCo had built-in Basic, it was easy to interface with various devices and it was reliable.I was one of the users who forced the CoCo to multitask under OS-9, the Unix-like OS that proved so great for embedded applications.Although the TRS-80 got a lot of people started with computers, for my money the CoCo was the one that raised up a generation of computer users. It was relatively easy to modify and cheap enough to play with as a toy. I still have six, and they all run.•'MS-DOS 2.11. What wasn't to love about it? It supported hard drives, was easy to program using .bat files'remember those?'and almost never crashed.Sure, it didn't support mice very well, came on a 360K floppy and couldn't multitask, but it ran spreadsheets, basic graphics programs and word processors. That was enough to automate the most important office tasks.•'Computer-aided design software, specifically Autodesk Inc.'s AutoCAD. I can't even imagine designing on paper with a drafting machine anymore. I'd rather try to solve a 100- by 100-cell matrix with pencil and paper.I still have a full drafting kit complete with pens, dividers and so on in my little technology museum right next to the taffrail log. That, for nonsailors, is a spinning vane attached by rope to a recording meter.It was what I once used to measure speed and distance in my sailboat.•'The Global Positioning System. GPS units will gain in importance as they get built into vehicles, wireless telephones and virtually everything else that moves.They could even become part of computer security systems to verify the source of messages by physical location. I have an old Loran machine in my technology museum.Try navigating with one of those if you don't think the Defense Department invented something major with GPS.•'The word processor. I like the old WordStar and WordPerfect releases better than Microsoft Word.Years ago I composed exactly three magazine articles on a typewriter and swore never to do it again.At the time I was living on a retired racing yacht and the PC hadn't been invented yet. After the CoCo, I got one of the first IBM PC XTs and never turned my back on the PC platform again, but even the CoCo's limited word processors were a big boost.•'WordPerfect 4.1. Back in 1986, it took up only 235K.I could store it, some reference files, a spell checker and even a small book on a single, 3.5-inch floppy for my floppy-only DataVue Spark laptop. I wrote six books on that setup, plus thousands of articles and columns.Please feel free to submit some of your own nominations for the best computer inventions of the millennium.They will appear later if I receive enough entries.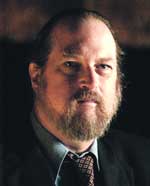 Ready for takeoff
John McCormick, a free-lance writer and computer consultant, has been working with computers since the early 1960s. E-mail him at poweruser@mail.usa.com.