CIO leads e-gov in the Bay State
A 30-year career in Massachusetts public service has taken David Lewis from using paper-tape Teletype machines to overseeing the commonwealth's electronic-government initiative.
| GCN STAFFA 30-year career in Massachusetts public service has taken David Lewis from using paper-tape Teletype machines to overseeing the commonwealth's electronic-government initiative.Lewis, Massachusetts' chief information officer, began his government career as an accountant in the state's Public Welfare Department. He has progressed through five agencies to reach the CIO slot.As the Registry of Motor Vehicles' senior deputy registrar in the 1990s, Lewis was responsible for technology as well as most of the department's business units. His office was the first state agency in the country to implement vehicle registration and driver's license transactions over the Internet.Lewis, who holds an undergraduate degree in economics and a master's degree in business administration, said he was introduced to information technology early in his government career when he managed cash control operations."I was very comfortable working with technology people back then because a lot of my work involved trying to figure out the best way to control expenditures and eventually how to automate the process," he said.Lewis said that even though technology has advanced dramatically since he started his career in public service, some things have remained the same."In the '70s, it was unheard of to have a terminal on your desk," he said. "The way code got written was you sat down and wrote it out by hand and then punched it in on 80-column cards. It was quite a process."But the fact is, today you still have programmers," Lewis said. "You still have code that gets assembled into something the machine can understand. It was painful then, and it's still painful today. We're all still herding cats. Now we just have more and better tools that have helped us make things a little easier."Lewis' top priority is the commonwealth's electronic-government initiative, which includes creating a new portal for citizens and businesses to access services online.Lewis said the key to developing a good portal is to design it so that customers only have to know what they want to do in terms they understand."If a person wants a snowmobile permit or a noncommercial lobster permit, they don't want to have to search through an agency list to find the Department of Fisheries, Wildlife and Environmental Law Enforcement," he said. "What does that mean to anybody?"You want to set up the Web site so that the specific service the person is looking for is found by what it is rather than through some government agency name. It needs to be kept simple. The goal is to make government more intuitive so that the user doesn't have to know what agency provides which service."Lewis said a portal design should incorporate telephone center models."Questions that telephone centers receive about transactions are going to be the same questions Internet users will have when making a transaction," he said. "You have to study the way consumers ask questions. Telephone centers are a good place to start."Massachusetts' E-Gov Initiative includes several projects in the planning stages and some already under way.The commonwealth plans to build a centralized security system to identify and authenticate users. The new system will eliminate the need for multiple identifiers when users interact with multiple government systems."Security is a big thing for everyone right now," Lewis said. "It's a vital component for any major e-government plan."The commonwealth is redesigning its financial database system. The new design for the Massachusetts Management Accounting and Reporting System includes electronic bill submission. In addition, MMARS will be linked to other systems, such as the commonwealth's procurement access and solicitation system.Massachusetts also has implemented an online filing system for the submission, retrieval, storage and public disclosure of campaign finance reports. The commonwealth's Campaign and Political Finance Office Web site, at , includes a contributor information database. The information on the site is taken from printed campaign finance reports filed with the OCPF by candidates' depository banks.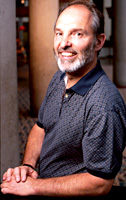 The goal is to make government more intuitive, Massachusetts CIO David Lewis says.
BY DONNA YOUNGPunch card veteranElectronic projects
www.state.ma.us/ocpf