Library books go digital
| GCN STAFFPaper and glue library books are just so last millennium. Will the digital age leave musty library books in the dust? Perhaps the paper but not the books.More and more libraries are investing in portable electronic book devices, such as the RCA REB 1100 eBook device from Gemstar-TV Guide International Inc. of New York.The latest iteration of these book-sized units weighs a little more than a pound, with batteries. Libraries pay to download electronic texts from any of several Web sites, such as , onto the e-book via an internal 33.6-Kbps modem. The REB 1100 eBook can store up to 20 novels.Librarians say that patrons like to hold something in their hands while they read, rather than squint at a monitor.Karen Schneider, assistant director for technology at the Shenendehowa Public Library in Clifton Park, N.Y., who describes herself as a bookaholic, said that even she 'won't sit in front of a PC or laptop and read a whole book.''E-books are a very cozy device,' Schneider said. 'They even get a little warm because of the lithium battery inside. It adds a new dimension to curling up with a good book.'The Shenendehowa library bought two Rocket eBooks from Gemstar-TV Guide about a year ago, Schneider said, for $270 each. 'They've been checked out continuously since we got them. They move like hotcakes.'People like to read in bed in the dark, using the backlit screen. There's no longer a need for a flashlight under the covers,' Schneider said. The format can intensify the experience of reading a scary e-book such as Stephen King's , she said.E-books might even save a few relationships, Schneider said. 'You don't have to read with the light on and disturb your partner,' she said.Library patrons pay the usual $1 per day fine for each day the e-book is overdue, the same as for a regular book. The library doesn't charge an additional fee for checking out an e-book, Schneider said. 'You could walk out of here with thousands of dollars of traditional books'why should we charge a special fee for an e-book?' she asked.The Rocket eBooks come loaded with Lewis Carroll's . Libraries can download eBook titles from , , and other publishers' Web sites.The Charlotte and Mecklenburg County Library System in Charlotte, N.C., bought 20 Rocket eBooks in July, said Robin Bryan, coordinator of the library's Brarydog.net program.One of the hoped-for benefits of e-books, cost savings, has yet to be realized, Bryan said. The theory is that digital texts will help reduce inventory costs'all that paper librarians don't have to worry about crumbling or turning to dust.But so far the cost of the eBook hardware and titles has offset any inventory savings, she said.E-book vendors generally do not offer discounts to libraries, said Susan Gibbons, director of an e-book evaluation project in Rochester, N.Y. Digital texts are still a specialty market, Gibbons said. This is in contrast to traditional library book vendors, such as Baker & Taylor Inc. of Charlotte, N.C., which offer libraries across-the-board discounts on paper books.EBook's built-in encryption prevents any free duplication of texts, Bryan said. Libraries have to follow the eBook publishers' one-download, one-device model. If a library wants three electronic copies of by Sir Arthur Conan Doyle in eBook format, it must buy three. Bryan recently ordered 10 copies of 60 e-books, a total of 600 items.Each Rocket eBook gets its own e-mail account when the library registers it. Using a PC and Internet browser, the librarian goes to the content Web site, for example, , clicks on the e-book section and fills up a shopping cart with book titles.The site sends a link via e-mail to the eBook's account. Then the librarian puts the Rocket eBook into a cradle with a serial cable that connects to the PC, and hits a send button. This downloads the eBook files, which have an .rb extension.The 'one download, one device, one reader at a time,' model is a bit rigid, Gibbons said. She compared e-books to videotapes. Back before VCRs were common appliances in American households, libraries used to lend VCR players with the videos. Like e-books, the library would lend both hardware and content, Gibbons said.But with e-books, it's as if the publisher is ensuring a patron can play only certain videos on a VCR; the content'the eBook title'is registered to the hardware'the eBook device.'The publishing industry is just so scared it will be the next Napster victim,' Gibbons said.Cozy as e-books are, they're not going to replace books, Bryan said. 'It's nice to read in the dark,' she said. 'E-Books are very customizable. You can go from small print to large print with a click of a button. They come with a built-in dictionary. But some people are going to say 'Give me my old book back.' 'The large-print feature has made e-books popular with senior citizens, a population that has been stereotyped as being resistant to new technology, said Linda Kay, a consultant with the New Jersey State Library. 'In one New Jersey library, none of the people who checked the e-books out were under the age of 50,' Kay said.In Rochester, Gibbons oversees an e-book evaluation project that put 45 RCA REB 1100 and 1200 model eBooks in nine libraries in Monroe County, including the county's kindergarten through Grade 12 public school libraries.For every positive feature of e-books, Gibbons' research has found a correlating downside. Although e-books are environmentally friendlier than tree-consuming paper books, they are more expensive. Library patrons love the adjustable font sizes and backlit screens, but publishers are offering only about 5 percent of new books electronically, Gibbons said.One place where librarians and the e-world diverge is credit cards, Gibbons said. 'That's been a real problem,' she said. 'Libraries use purchase orders, and e-commerce companies use credit cards.'Gibbons said the library tried to set up an e-book account at a dot-com site with a purchase order, but it took too long. Gibbons volunteered to use her own credit card for title purchases and get reimbursed.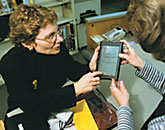 Clifton Park, N.Y., librarian Karen Schneider checks out a Rocket eBook to patron Darryl Dillon.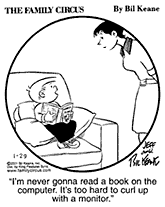 'There's no longer a need for a flashlight under the covers,' librarian Karen Schneider said.
One-book, one-device requirement hampers ease of useBY TRUDY WALSH
www.barnesandnoble.com
Riding the BulletAlice in Wonderland
www.barnesandnoble.com
www.randomhouse.com
www.Powells.com
Not cheaper yet
The Hound of the Baskervilles
Then on to checkout
www.barnesandnoble.com
Gray-haired borrowers


Libraries' favorite e-book devices


Rank in populartiy


Product


Price


Company


Battery Life


Memory


Weight


1


Rocket eBook


$270


Gemstar bought NuvoMedia, maker of the Rocket eBook in January 2000'product is discontinued


20 to 40 hours


16M


1.3 pounds


2


RCA REB 1100 eBook


$299


Gemstar's replacement model for the Rocket eBook


15 to 35 hours


8M


1.1 pounds


3


RCA REB 1200 eBook


$699


Gemstar's color screen model with 32,768 colors


6 to 12 hours


8M


2.1 pounds