| GCN STAFFAlthough federal agencies have enthusiastically embraced client-server architectures for their enterprise software, they have been far slower to acquire thin-client hardware.Web applications are spreading everywhere in government. The browsers that deliver them, however, mostly reside on ordinary PCs with their own operating systems and hard drives.Few federal workers use the so-called legacy-free or thin-client desktop devices that work through network server connections.Now, one IRS division has hopped on the technology wave by replacing its green-screen terminals, not with desktop PCs, but with 340 thin clients.align="right" width="147">Officials of the tax agency's Statistics of Income Program had to find substitutes for their text-based terminals because software suppliers were abandoning the interface, said Mike Leszcz, the program's chief of statistical computing.The thin clients supply modern interface functions atabout 60 percent of the cost of full-function systems, Leszcz estimated.The Statistics of Income Program compiles statistics from individual and corporate tax forms and reports them to tax policymakers in the Treasury Department and on Capitol Hill. Unlike other IRS divisions, it isn't concerned with individual returns but rather with broad trends behind tax payments and deductions.The program's editors select sample returns for analysis from the IRS Master File system []. Usually the editors must retrieve the original paper forms and supply information that wasn't saved during tax processing.Other parts of the IRS focus on the bottom line of a Form 1040 Schedule A, but the program's customers are more interested, for example, in the deductions itemized by various groups of taxpayers.Even though the IRS encourages electronic filing, some of the program's studies focus on high-income taxpayers who must file complex paper forms.'When they're formulating tax policy, the devil is in the details,' Leszcz said.Although the program operates in all 10 IRS tax processing centers, its principal offices are in Atlanta; Austin, Texas; Covington, Ky.; Kansas City, Mo.; and Ogden, Utah.For 15 years, the program used midrange Unix servers with Digital Equipment Corp. VT100 terminals.A few years ago, program officials heard that Oracle Corp., whose database management system they have used since 1984, would phase out support for text terminal environments around 2000.align="left" width="169">Besides the Oracle databases, the analysts use SAS 6.12 statistical software from SAS Institute Inc. of Cary, N.C., plus two other statistical packages: S-Plus from MathSoft Inc. of Cambridge, Mass., and Sudaan from Research Triangle Institute of Research Triangle Park, N.C.Program officials gave a 'lot of thoughtful consideration to what functionality was really needed,' Leszcz said. Most of the editors did not use CD-ROMs or floppy disks in their work, and the absence of PCs with such drives would lessen the risk of someone walking off with confidential data.In 1998, the program hired a contractor to test three replacement scenarios involving standard PCs, terminal emulator programs and thin clients, Leszcz said.A second contractor did a proof-of-concept study of thin clients, and last summer officials decided to buy 340 Winterm 3350SE terminals from Wyse Technology Inc. of San Jose, Calif.Each terminal has a 200-MHz Cyrix Media GXm processor and a 10/100-Mbps Ethernet interface but no floppy or hard drive. Users get a 17-inch monitor from ViewSonic Corp. of Walnut, Calif., plus a keyboard and a mouse.The Winterms run Microsoft Windows CE, but their screens look like any other 32-bit Windows operating system, Leszcz said.When a user switches on a Winterm, it communicates with a remote server in either Ogden or Covington to download the OS over the Treasury WAN.'In a few seconds you get the desktop,' Leszcz said. 'The Microsoft CE module seems relatively small and downloads very fast.'The Dell PowerEdge servers run Windows NT 4.0 Terminal Server Edition and host software from Citrix Systems Inc. of Fort Lauderdale, Fla.The Winterms keep administrative costs low because any software changes are handled at the Citrix middle tier. The IRS workers have all the functions they would have under Windows NT, but without the cost of full-blown NT systems, Leszcz said.Each Winterm setup cost the tax agency a little more than $700, which Leszcz estimated was roughly 60 percent of the cost for a PC with similar functions.The terminals often get subsecond response time over the Treasury Communications System backbone, Leszcz said. 'The bandwidth requirements are substantial, but I think the telecom division is doing a good job of trying to keep ahead,' he said.The thin clients would not suit every IRS user, but they happen to match the needs of the program editors well, Leszcz said.

IRS group trades in its green-screen terminals for 340 thin clientsBY PATRICIA DAUKANTAS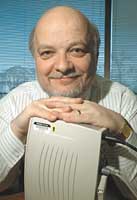 size="2" color="#FF0000">IRS' Mike Leszcz says thin clients are cheaper and more secure than PCs.
GCN, March 20, 2000, Page 55
No support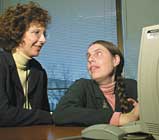 size="2" color="#FF0000">Linda Taylor, left, and Elizabeth Nelson of the IRS Statistics of Income Program, check out one of the agency's thin-client terminals from Wyse Technology.