THE 50 STATES
The state has contracted with SecurityLink from Ameritech Corp. of Oakbrook Terrace, Ill., to provide electronic security monitoring systems. The state is using Elmo-Tech EMS 2000IU and EMS 2000IV continuous signaling systems. For the first time in three years, the state library revamped its Web site, at . 'We added some graphics, cleaned it up a bit,' said Jimmie Mitchell, network technician. Visitors can search the online catalog using the Dynix system from Epixtech Inc. of Provo, Utah. A task force made up of two state senators, Secretary of State Betsey Bayless and several local officials is considering whether the state should replace its punch card voting system with direct vote recording machines. Jessica Funkhouser, director of elections, said Arizona had no counting problems in the November election because officials adhered to a detailed manual for counting ballots with hanging or bulging chad. Gov. Mike Huckabee recommended in his state of the state address last month that Arkansas establish the position of a chief information officer. Huckabee added that former Gov. Pete Wilson of California told him that 'Arkansas is leading the nation in moving toward e-government.' Gov. Gray Davis last month unveiled the state's new My California Web site, at . The site offers an expanded array of information and government services and conforms with Americans with Disabilities Act standards. Davis said he polled 'the best minds in the Silicon Valley' to create the site. Gov. Bill Owens recently appointed the former chief information officer of the Natural Resources Department, Robert Feingold, as the state's new CIO. Feingold succeeds Paul Quade, whose term ends next month. Since August 1999, Quade had been on loan from Galileo International Inc. of Rosemont, Ill., a travel industry systems company. The state launched an anti-tobacco Web site at . The site provides links to information about prevention, intervention and support. In addition, the site provides educational activities, games and information resources for youths, teachers and parents. Gov. Ruth Ann Minner last month created a task force to examine how the state manages its information technology. The group will study the structure and mission of the Information Services Office and how the state can attract and retain computer specialists. Minner named state treasurer Jack Markell to lead the task force, which must prepare a report by June 1. The city's public school system announced that it has teamed with Spectrum Access Inc. of Dulles, Va., CYNetwork Inc. of Washington and Enterasys Networks Inc. of Rochester, N.H., for a project that will provide its classrooms with wireless Internet services. Funding came from the federal Department of Education's Schools and Libraries Universal Service Fund, known as E-Rate. The Georgia Technology Authority held an information session last month to inform vendors about the state's major outsourcing initiative to consolidate communication and information services. The Legislature established GTA last July to set statewide information technology standards and procurement policy. The City and County of Honolulu launched its second online vehicle renewal application and an online building permit request application at www.co.honolulu.hi.us. Honolulu officials worked with eGovNet of Columbus, Ohio, to build the new applications. The Web portal accepts credit or debit cards for fee payments. The Health and Welfare Department is using Seek software from Anexsys LLC of Chicago to match up claim listings of delinquent noncustodial parents and their bank assets. To preserve client confidentiality, Anexsys destroys the data after confirming the information. Gov. George H. Ryan launched the first day of classes for the Illinois Virtual High School. The Internet-based school lets students take courses in foreign languages, high-level mathematics, sciences and Advanced Placement subjects that aren't available at their own schools. The state has upgraded its legislative bill tracking service. For $49.50 a month, BillWatch provides subscribers automatic updates detailing the activity of legislation. Subscribers must first subscribe to accessIndiana online service for $50 a year at .html. The public can search bill information for free at . Des Moines has hired Netgov.com Inc. of Chicago to design its new interactive Web site at . Residents will be able to pay their parking tickets and fees online and receive updates about city events via a customized e-mail system. The Information Network of Kansas Inc., the electronic-commerce arm of the state government, recently held focus groups with citizens, businesses and government employees to see what changes people wanted in the state's Web portal. Check out the new look at . The Governor's Office for Technology requested bids for a study of the state's wireless telecommunications systems, including those used by the police, Transportation Cabinet, educational agencies, natural resources agencies and other authorities. GOT seeks an integrated statewide plan for an advanced wireless voice and data system. The Environmental Quality Department began building an integrated data management system and beefing up its network bandwidth with software and switches from Enterasys Networks. Software includes the Rochester, N.H., company's TerraBase, which functions as both a geographic information system interface and a laboratory analysis tool. The department deployed Enterasys' X-Pedition Layer-3 switch routers and Matrix E6 switches at its headquarters in Baton Rouge. The state launched a new science and technology information Web site for teachers, students, researchers, businesses and the general public. The site, at , includes a job bank, employment links, information about schools that offer science and technology-related courses, an inventory of high-tech resources, and guides to research grants and business opportunities.XXXSPLITXXX- Howard County's River Hill High School students are using Palm Vx personal digital assistants as part of a pilot project. Mindsurf Inc. of Baltimore donated the PDAs to the school. MindSurf is a $70 million joint venture of Sylvan Learning Systems Inc. of Baltimore, Aether Systems Inc. of Owings Mills, Md., and Critical Path Inc. of San Francisco. The Massachusetts State Lottery Commission is contracting with Interlott Technology Inc. of Cincinnati to provide instant-ticket vending machines. Interlott Technologies also will provide technical support and services under the contract. The Auditor General's Office found eight shortcomings in the Military and Veterans Affairs Department's management of its LAN and end-user computing systems, including the lack of a comprehensive computer security system. The department agreed with the findings and appointed a security officer. The Elections Division of the Secretary of State's Office hired Unisys Corp. to implement a statewide centralized voter registration system. The new system will also help the state manage election night reporting and absentee voting. Inmates at the Marshall County Correctional Facility in Holly Springs publish a newspaper called New Directions using a 566-MHz Pentium PC running Microsoft Publisher under Microsoft Windows 98. The newspaper, with a circulation of 200, runs 18 pages monthly and includes articles, poetry, cartoons, puzzles and recipes for food that can be made from items in the prison commissary. The Labor and Industrial Relations Department designed and implemented an application that lets workers file their initial unemployment insurance claims online. The state's IBM Corp. mainframe running MVS then processes the claims'all without intervention by a state employee. Officials said the hands-off claims app, which relies on Java and Hypertext Markup Language, is the first of its kind. The state is joining with the National Information Consortium USA Inc. of Overland Park, Kan., to provide electronic-government services through the DiscoveringMontana.com Web site. The consortium will set up the infrastructure for the portal, and in return will receive revenue from some convenience fees attached to several e-government services, a business model known as a self-funding portal. Las Vegas recently launched an upgrade to its Internet map server, Citizen Assisted Map Providing Services. Visitors to the site at can drill down into the city's geographical information system data sets using Arc IMS Version 3 from Environmental Systems Research Institute Inc. of Redlands, Calif. The Governor's Computers in the School Program received 90 computers from Northeast Utilities System's Seabrook Station nuclear power plant. The donation was part of a program that identifies schools that need computers and forms teams with companies that are willing to donate them. Inmates at the state prison in Concord upgrade and refurbish the computers. Howell Township Public Schools installed Epson PowerLite projectors from Epson America Inc. of Long Beach, Calif., in 420 of the district's classrooms. The projectors connect to computers, allowing teachers to present information live from the Internet. Farmington officials recently awarded a contract for the city's accounting system to ea consulting. The Folsom, Calif., company will provide the city with the mySAP.com suite of financial accounting, funds management, purchasing, inventory, human resources, benefits and payroll software from SAP AG of Walldorf, Germany. The Governor's Office of Regulatory Reform adopted Lotus Notes Domino 5.x software for its Web site, at , which facilitates online permit applications. The application runs on a Netfinity 7000 server from IBM Corp. with a 550-MHz Celeron processor and 1G of RAM. The Western foothills town of Hickory, population 36,500, deploys online services around the clock on its Web site hosted by VC3 Inc. of Columbia, S.C. The town is using VC3's GovHost.CitizenRequest application service provider module. Burleigh County and Cass County late last year became the first counties in the state to allow residents to pay property taxes over the Internet. The counties are using software from EzGov Inc. of Atlanta. Residents can access the sites for free at either or . The state's centralized child support system failed to process nearly 7,000 payments in December because of a computer glitch. Most of the nonpayments were for families of Hamilton County. The state handles about 850,000 child support cases and collected $1.7 billion last year. Oklahoma awarded a seven-year contract valued at $102 million to Electronic Data Systems Corp. The state will replace the Oklahoma Health Care Authority's legacy Medicaid Management Information System with EDS' Web-based interChange software. Officials seek to speed the medical claims process. Soon there will be no more fussing with quarters for Portland parkers. The city is installing Stelio Pay and Display parking units from Schlumberger Ltd. of New York. The units accept credit cards, debit cards, cash and magnetic stripe cards. Parking enforcement staff will use the company's solar-powered ParkFolio devices to report parking problems to headquarters. Welsh Valley Middle School in Lower Merion is using biometric technology for its school lunch program.A scanner reads the students' fingerprints and then automatically deducts the cost of their meals from pre-established accounts. The Lower Merion School District plans to install the system in all of its schools by next year. The state's Corporations Division has deployed a new online database search engine at . Users can search InfoLink for information on a corporation's status, registered agents and addresses, initial directors, date of incorporation, address of principal office and a history of its active and inactive business entities. The Budget and Control Board's Research and Statistics Office has a new Internet database that lets users sort data about 1998 and 1999 automobile crashes by 100 criteria for each of South Carolina's 46 counties. The site, at , uses information from police reports, emergency medical calls, emergency room visits and inpatient hospitalization. The Web site presents data for each county, including severity, volume of accidents, age of driver and involvement of alcohol or drugs. Gov. Bill Janklow urged legislators to continue funding the Dakota Digital Network system of school technology, whose features include live courses shared among schools by videoconferencing. In just more than a year, the number of teachers using DDN has grown from three to 7,793, and they have sent more than 3 million e-mail messages. The city of Memphis has awarded a $50 million, seven-year systems contract to SCT Corp. of Malvern, Pa. City managers and the contractor will re-engineer business processes and build a virtual city hall that will let residents pay property taxes and other fees via the Web. The Dallas County District Attorney's office handled more than 1,500 jury trials a year and 70,000 felony and misdemeanor cases with few computers and no network. Until last year, that is, when former police chief Ben Click gave the office $35,000 from a law enforcement grant to boost the office's computing power. Other departments chipped in, and now the office is linked to the Internet, legal research tools and e-mail. Utah last month released a request for proposals for a company to provide services for the state's GEAC E Series payroll system from GEAC Corp. Ltd. of Toronto. The E Series uses processing capacity that is comparable to a mainframe in a client-server environment, GEAC officials said. Wilmington Middle/High School will be using the Internet to inform community residents about results of a water and soil analysis science project. Students will post information at about water quality in Beaver Brook. Gov. James S. Gilmore unveiled three computerized visitor centers to improve the state's welcome centers. The Virtual Visitor Centers will be installed on Interstates 64, 85 and 95 over the coming year. The kiosks feature touch-screens and Internet access and will provide motorists with instant weather and traffic data. Visitors using the centers can book hotel reservations and golf tee times. To handle the huge spikes in its Web site traffic in November, the Secretary of State's Office worked with Hewitt Consulting of Chehalis to develop a hardy election information site at . The site used WebCatalog from Smith Micro Software of Aliso Viejo, Calif., which runs on four Web servers. The site processed 2.7 million visits within 24 hours of the election without so much as a hiccup, said Hewitt Consulting chief executive officer Larry Hewitt. Kanawha County Public Library installed a new electronic library system using iBistro from Sirsi Corp. of Huntsville, Ala.The system allows users to view information about library holdings. Patrons can also create a personal account for automatic notification of new items by specific authors or about particular subjects, browse catalog Web sites, view bestseller lists and place items on hold. Wyoming State Library staff members are testing two REB 1100 eSsential eBooks from Gemstar eGroup Limited of New York. Each eBook, which looks like a small Etch A Sketch, has 8M of RAM, enough to hold about 20 books. Library staff members say the $270 handheld devices are easier to read than a regular PC screen.

ALABAMASAFE AND SECURE.ALASKANEW LOOK.www.library.state.ak.usARIZONANO BULGES.ARKANSASCIO POST.CALIFORNIAMY NEW CALIFORNIA.my.ca.govCOLORADONEW CIO.CONNECTICUTNO SMOKING.www.TobaccoFreeCT.comDELAWAREMAY THE FORCE BE WITH YOU.DISTRICT OF COLUMBIAWIRELESS KIDS.FLORIDAWITHOUT A LICENSE.

Internet access to motor vehicle information went down for several hours last month, keeping hundreds of customers from obtaining new license tags and renewals online. The network failure occurred when Intermedia Communications Inc. of Tampa, Fla., attempted to upgrade the state's license tag renewal system to handle more data.

GEORGIASEND IT OUT.HAWAIIPORTAL IN PARADISE.IDAHOSEEK AND DESTROY.ILLINOISBE TRUE TO YOUR SCHOOL.INDIANABIG BILL.www.state.in.us/ai/sub/subscribe/indexwww.state.in.us/serv/lsa_billinfoIOWACYBERCITY.www.ci.des-moines.ia.usKANSASFOCUS ON FOLKS.www.accesskansas.orgKENTUCKYNO WIRES.LOUISIANAX-FILES.MAINESCI-SITE.www.mainescience.org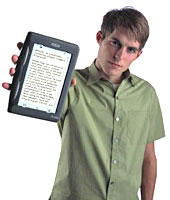 The Wyoming State Library is testing two REB 1100 eSsential eBooks. Each unit, about the size of a small Etch A Sketch, can hold about 20 books.
MARYLANDIN THEIR HANDS.MASSACHUSETTSINSTANT WINNER.MICHIGANNOBODY'S PERFECT.MINNESOTAVOTE RIGHT.MISSISSIPPIINSIDE JOB.MISSOURILOOK MA, NO HANDS.MONTANAPORTAL OF DISCOVERY.NEBRASKAGEOGRAPHY LESSON.
About a year ago, fourth-graders at Newcastle Elementary School sent about 25 e-mail messages to family and friends using Yahoo Mail. The message was simple, teacher John Street said. ' 'Hi, we're done studying states and capitals. Please write back and let us know where you are.' My expectation was that we would get about 500 replies,' he said.
So far, the class has received more than 115,000 messages from people all over the world. 'It's been a valuable lesson in the power of the Internet,' Street said.
NEVADACAMPS SITE.
blackwidow.ci.las-vegas.nv.us/clvcamps/viewer.htm
NEW HAMPSHIRENUCLEAR POWER.NEW JERSEYPROJECT CONNECT.NEW MEXICOSAP APP.NEW YORKPERMIT ME.
www.gorr.state.ny.us/gorr
NORTH CAROLINAHICKORY SWITCH.NORTH DAKOTATALE OF TWO COUNTIES.
cass.nd.ezgov.com/property
burleigh.nd.ezgov.com/property
OHIOBAD CHECK.OKLAHOMASPEEDY INTERCHANGE.OREGONGAME OF QUARTERS.PENNSYLVANIAHANDS OFF MY LUNCH.RHODE ISLANDCORPORATE LINK.
www.corps.state.ri.us
SOUTH CAROLINAACCIDENTAL SITE.
www.orss.state.sc.us/codesx/codes/index.htm
SOUTH DAKOTAKEEP ON CLICKIN'.TENNESSEEVIRTUAL MEMPHIS.TEXASDIGITAL D.A.UTAHFLEXIBLE STRENGTH.VERMONTH20 KNOW.
wmhs.k12.vt.us
VIRGINIAVIRTUAL VISITOR.WASHINGTONROBUST RESULTS.
www.vote.wa.gov
WEST VIRGINIABOOKED UP.WISCONSINBUY THIS VOTE (MACHINE).
Saint Croix County auctioned its Votomatic voting machines, complete with ballots, on
www.liquidation.com
, an online surplus exchange run by Liquidation.com of Washington, D.C. The state banned the machines following last year's election. County clerk Sue Nelson said Liquidation.com convinced her that people would want the machines as souvenirs. The Votomatic uses prescored punch card ballots, which the county planned to include with the auctioned machines. 'We are throwing in the chads for free,' Nelson said. She set a minimum bid of $300 for each of the 11 machines.
WYOMINGE-Z READER.