Bush budget pushes outsourcing
| GCN STAFFFederal workers could see their ranks shrink if lawmakers embrace proposals included in President Bush's 2002 fiscal budget proposal.Throughout the proposal, , Bush points to information technology as one way agencies can cut costs. The government spends roughly $40 billion on IT annually to support 26,000 systems, the blueprint said. Market analysts estimate that the government will continue to see modest increases in systems spending: 3 percent to 5 percent annually.The proposal also mentions myriad technology problems but offers few details on the funds or approaches agencies should apply to solving them.The proposal clearly endorses more agency use of outsourcing. 'Opening government functions to competition to the fullest extent possible is the best way to ensure market-based pricing and encourage innovation, while saving the taxpayers an estimated $14 billion over five years,' the plan noted.In the past, agencies have found they save an average of 30 percent when a contractor handles a service and 20 percent if the work remains within the public sector, the document said.The plan specifically calls for the Defense Department to look at outsourcing to save money that could then fund high-priority programs ().The budget blueprint followed comments by Office of Management and Budget Director Mitchell E. Daniels Jr. that major governmentwide management reforms will include expanding the use of OMB Circular A-76 reviews and continuing to identify federal jobs that agencies can privatize.The Federal Activities Inventory Reform Act requires that agencies annually create an inventory of jobs that could be outsourced. In their 2000 FAIR lists, agencies identified 850,000 jobs that could be handled by industry.The Bush proposal also earmarked $10 million for a General Services Administration fund that would be the first installment of $100 million to be spent over three years on crosscutting electronic-government projects (see Special Reports, pages , and ).OMB would control the disbursement of the proposed fund, which would finance projects such as the Firstgov Web portal, at , and broad initiatives such as public-key infrastructure development.The budget proposal called for continued work on FirstGov. The administration also wants to increase by 38 percent the funding for GSA's critical infrastructure protection program, another crosscutting initiative.OMB's deputy director of management would administer the e-government fund. Until that position is filled, however, Daniels will develop spending plans, an OMB spokesman said. The person Bush taps for the management position would also serve as the government's chief information officer [].Many CIOs said they are happy to see the plan for the e-government fund.But Commerce Department CIO Roger Baker said money is not the stumbling block to e-government some have described. The governmentwide CIO should be able to draw funds from agencies that are not using their IT funding effectively, he said.Most interagency technology projects are funded using a haphazard pass-the-hat method that forces the CIO Council to beg agencies for money. Many projects are also funded through rebates generated from agency purchase cards, which reaped $17 million last year, the Bush proposal said.Bush's budget outline criticized agencies for failing to meet legislated financial management requirements but did not pinpoint new funding sources for the systems upgrades that agency leaders have said they need to meet the mandate.Bush instead proposed holding agency heads accountable for obtaining and maintaining clean audits. The plan said the administration would require agency heads to attack the government's long-standing financial management and record-keeping deficiencies.The government spends about $2 billion a year on financial systems, Joshua Gotbaum, former OMB executive associate director and controller, last year told the House Government Reform Subcommittee on Government Management, Information and Technology [].Efforts to bring the 700 federal financial systems into compliance with modern management standards have historically been hampered by limited budgets, Gotbaum said.In the financial arena, Defense Secretary Donald H. Rumsfeld must get a grip on DOD's 98 finance and accounting systems and 70 other feeder systems that Defense uses to compile its audit. Bush earmarked no extra funds for that task but did request a $2.6 billion initiative to fund systems and technology R&D at Defense.On the health care financial front, Bush's proposal quoted a January General Accounting Office report that said the Health Care Financing Administration 'lacks sufficient information on newly designed payment systems to determine whether providers are being paid appropriately for the services they deliver.'Bush suggested reforming HCFA but offered no additional funding to revamp faulty systems. HCFA must try to modernize and streamline its operations so it can manage current programs better and implement changes required by new legislation, the proposal said.The Health and Human Services Department, HCFA's parent agency, should move to a unified financial system to improve accounting operations throughout the department and consolidate financial reporting, the administration recommended. The proposal, again, earmarked no additional funding for the effort.Bush did propose giving $40 million to states to establish or expand low-interest loans to individuals with disabilities to help pay for the assistive technology they need to hold jobs. The budget seeks $20 million for rehabilitation engineering research centers. The administration wants to provide $3 million for the Interagency Committee on Disability Research to better coordinate federal assistive technology R&D and foster collaborative projects with the private sector.Bush also seeks $20 million for a Telework Fund for states that would provide low-interest loans to help those with disabilities buy equipment for telecommuting from home. The budget would make a company's contributions of computers and Internet access for home use by employees with disabilities a tax-free benefit.Commerce, Bush maintained, should continue its improvements in IT procurements, which total more than $1 billion annually, but he did not describe how. Commerce's National Oceanic and Atmospheric Administration would snag an additional $83 million for its next-generation weather satellite program.The Energy Department, which picked up additional funding last year to help shore up shaky computer security at its nuclear facilities, would face cuts. The president proposed a $19 billion budget for Energy next year, $700 million less than the department will spend this year but roughly $1.2 billion more than Energy received in fiscal 2000.The plan recommends that the Interior Department use some of its 2002 funds to improve management of American Indian trust funds and assets. Bush provided no specifics, but Interior is implementing new land records, real estate appraisal, leasing and probate systems.The State Department has ambitious IT plans, Bush's blueprint said. It touted State plans to reinvigorate and expand the use of IT in foreign affairs. The department has been working on a secure system to link its offices abroad.The budget includes an unspecified but 'substantial' increase for investments in communications tools. The proposal also promoted State's use of Internet capabilities.State Secretary Colin Powell has personally committed to transforming the way IT is used to communicate, gather and share information at the department, the document said.The Veterans Affairs Department's funding would include the caveat that VA continue modernizing IT. Bush's plan called for VA to improve coordination among its agencies and to promote IT services to veterans. Reforms would include developing a common architecture, establishing common data definitions and coordinating systems across VA.VA Secretary Anthony J. Principi recently said he would review the VA's troubled health care and claims processing systems. 'We spend about $1.5 billion a year on information technology, but the outcomes are not anywhere near commensurate with the investment we make,' he said in an interview with the American Forces Information Service. 'We need to be smarter about how we procure technology and how we use it.'The 2002 budget also requests $20 million for the Immigration and Naturalization Service's intrusion detection technology. The Bush administration also proposed restructuring and splitting INS. One agency would focus exclusively on service, the other on law enforcement. Both would continue to fall within the purview of the Justice Department.At the Agriculture Department, the overall budget would drop from $19.4 billion this year to $17.9 billion next year. The Bush plan, however, said USDA must continue streamlining its systems and modernizing regional and field offices through the Common Computing Environment program.The president's proposal would provide $400 million to modernize the IRS' outdated systems.On Feb. 26, the IRS Oversight Board recommended a $1 billion allocation over two years for the Information Technology Investment Account to replace the agency's aging systems. Chairman Larry R. Levitan said the board had requested $450 million for fiscal 2002 and $550 million for fiscal 2003.'The really important thing is that the project is funded for more than a year because the implementation is not always consistent with the fiscal year,' he said.At the Education Department, Bush proposed a budget of $44.5 billion'a $4.6 billion boost over this year. One focus would be providing assistive technologies to disabled individuals.The plan also called for major improvements in the department's management of student aid systems and departmentwide systems security.

BY TONY LEE ORR AND

PREETI VASISHTHAA Blueprint for New Beginnings: A Responsible Budget for America's Prioritiessee story, next page$100 million for e-gov fund11215firstgov.govGCN, Jan. 22, Page 1Where the buck stopsGCN, July 24, 2000, Page 1

How federal IT issues fare in the Bush budget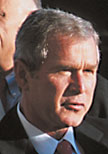 ' Outsourcing: The administration promotes opening federal jobs to private-sector competition as the best way to ensure market-based pricing and encourage innovation while saving taxpayers an estimated $14 billion over five years.

' E-government: The first $10 million installment'of $100 million over three years'from GSA funds would support crosscutting e-government projects.

' Financial accountability: Agency heads must obtain clean audits, yet no funding would be earmarked to fix problems with stovepipe and legacy systems.

' Section 508: People with disabilities would get low-interest loans to buy assistive technology or set up home systems for telecommuting.

' DOD research: A $2.6 billion initiative would fund R&D for new technologies, which could include weapons and intelligence systems.

New Interior systems
Staff writer Dawn S. Onley contributed to this report.