But there was one federal process he wished he could have gotten his paws on earlier: the presidential pardon.
But there was one federal process he wished he could have gotten his paws on earlier: the presidential pardon.'If only they had let me deploy my solution,' sighed the whiskered one as he and his spouse sat watching the latest episode of the Clinton pardon saga. 'They could have avoided all this controversy if they had only used some rules-based logic instead of their own reasoning skills.''There are a lot of things they should have done that for,' Mrs. Rat sniffed. 'Maybe he should have just outsourced the whole second term.'The Rat waited for the partisan cloud to pass. 'Now, now. Just because Clinton might go on the board at Oracle Corp. isn't any reason to get snippy. There are some decisions that shouldn't be left up to individuals'especially individuals who need to furnish new homes. If they had only gone ahead with PPP/IP, they would have had a better case of plausible deniability.'Mrs. Rat frowned. 'What's PPP/IP?''Presidential Pardon Process/Internet Portal,' replied the cyberrodent. 'I modified a prototype electronic-commerce site for the White House on spec, but the Justice Department never got around to approving it. They were too busy giving David Boies fashion tips for the Microsoft antitrust trial. Maybe Attorney General Ashcroft will be more receptive. I figure the new president already has a line forming for pardons.'The Rat pulled out his notebook PC from behind a sofa cushion and connected to the burrow's Web server. 'Here, take a look.'The pardon-o-matic Web page, adorned with spinning presidential seals, had a bold 3-D head: 'I Beg Your Pardon.'The form read: 'In order to submit yourself for consideration for pardon or commutation of sentence, please provide the following information:'Name:'Address (if released or avoiding prosecution) or location of incarceration:'Party affiliation:'Net liquid assets not seized by government:'Account numbers in which assets reside:'Tax-deductible donation from these accounts you wish to make to the Clinton Legal Defense Fund:'Tax-deductible donation you wish to make to the Clinton Presidential Library:'Any donation from these accounts you wish to make to any of the following charitable causes: (a) Hugh Rodham, (b) Tony Rodham, (c) Roger Clinton (check if you wish this transaction to be processed as album purchases), (d) Hillary Rodham Divorce Fund:'Got any silver flatware you can part with? (Yes/No)'Accidental breach of law from which you are seeking relief: (a) felony, (b) misdemeanor or (c) capital offense?'How long is your sentence? Enter number of (a) years, (b) weeks, (c) days. If you are still at large, leave blank.'How much of your sentence have you served?'In one hundred words or less, explain why continued incarceration or having a conviction on your record is an injustice worthy of a presidential pardon, plus any disclosures you would not otherwise feel compelled to reveal to a congressional subcommittee or grand jury.'Please provide two personal references, their party affiliations, contact information and preferred method of billing.'Mrs. Rat was baffled. 'And what would the back-end software do with all this information?'The whiskered one smiled. 'Delete it. Anyone who filled out this form wouldn't deserve a pardon anyhow. But it would forward information about the assets via anonymous e-mail to the IRS.'
The Rat had been working hard to automate processes for his agency's ongoing electronic-government initiative.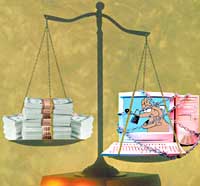 The Packet Rat once managed networks but now spends his time ferreting out bad packets in cyberspace. E-mail him at rat@gcn.com.