Idaho's IT programs make the grade
Idaho chief information officer Pamela Ahrens' first job out of college was teaching elementary school.
| GCN STAFFIdaho chief information officer Pamela Ahrens' first job out of college was teaching elementary school. That's not the usual training for a state CIO, 'but it taught me to help people get along,' she said. Her job as CIO 'takes the same skill sets as teaching second grade,' she said.Ahrens served in the Idaho Legislature for 14 years, where she helped develop telecommunications and procurement policies.All those years as an elected official left Ahrens hungry to turn the abstract policies she had helped create into reality. Now, as CIO, she can. But as an outsider looking in, Ahrens said she used to dream about how easy it would be if she were in charge. 'Now, I wish I had not said that.'At the heart of Idaho's Administration Department is the state's Information Technology Resource Management Council (ITRMC), a five-member team of consultants that sets policies and standards for the state. The local agencies take it from there, Ahrens said. 'That's the core of our success.'Ahrens serves as public policy adviser to the council. 'ITRMC is working to bring down those agency silos and other barriers to working together,' she said.At the heart of Idaho's electronic government plans is 'what Ahrens calls the state's electronic front door. Idaho has a contract with the National Information Consortium of Overland Park, Kan., which provides Web services.Averaging about 200,000 visitors a day, offers:The site has accepted credit cards since October. The site works with older browsers and is compliant with Americans With Disabilities Act specifications.Ahrens described Idaho as geographically challenged. Ranked 40th in population, with 1.3 million people, the state covers 83,557 square miles. 'We can come up with all kinds of services, but if people can't get access over broadband connections, it does not help much,' she said.Gov. Dirk Kempthorne is encouraging the spread of broadband connectivity in Idaho, Ahrens said. The state relies on connectivity to spur economic development. 'It needs to occur in rural Idaho,' she said, 'where folks grow potatoes.'But make no mistake, Idaho is really changing, she said. It's probably the first state in the country to create an investment tax credit over and above the regular investment tax credit specifically for broadband development, she said.'I like to call Idaho the Silicon Plateau of the West,' Ahrens said. One out of every three manufacturing jobs in Idaho last year was in technology manufacturing.'We often say IT doesn't recognize political or social boundaries,' she said. 'Nor should the people who work with IT.'Lately Idaho has received recognition for its progress in the IT arena. In the Digital State survey, produced by an independent Washington research group, the Progress and Freedom Foundation, Idaho ranked 13th nationally this year in the electronic government category. That's up from 32nd place two years ago.Idaho improved its IT grade in the survey from a D+ to a B, and was one of six states overall that displayed the most improvement.'Innovation begins to explode when you create an environment that welcomes it,' Ahrens said. 'That's what we've spent the past few years doing'getting the infrastructure in place.'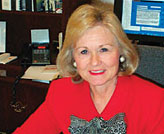 Her background as an elementary school teacher helped her get people in state government to work together, Idaho CIO Pamela Ahrens says. 'It takes the same skill sets as teaching second grade.'
BY TRUDY WALSHOpportunity knocks
www.accessidaho.org
www.accessidaho.org


The Idaho Electronic Campus, a portal for the state's universities and colleges


Real estate license renewal


A telemarketing 'No Call' list that protects consumers from phone scams


A portal for people seeking state jobs


A legislation portal, where users can track bills, view documents and listen to the House and Senate over streaming audio.


Not exactly crowded