IT overhaul serves Illinois county well
Poet Carl Sandburg called Chicago 'the city with the broad shoulders.' But surrounding Cook County is even more muscular.
| GCN STAFFPoet Carl Sandburg called Chicago 'the city with the broad shoulders.' But surrounding Cook County is even more muscular.The nation's second most populous county'5.38 million people in 946 square miles'has an information technology operation on a comparably ambitious scale. Cook County's IT shop serves about 150 departments which divide a $2.6 billion budget.And the IT and Automation Bureau just managed an overhaul of the county's computing operations. Chief information officer Catherine Maras O'Leary, in place since 1997, oversaw the four-year process.The county's IT makeover began with a decision to seek guidance from Chicago consultants Accenture LLP, then still known as Andersen Consulting.Creation of Maras O'Leary's job figured as a critical early step. Her bureau has three units: the Central Services, Management Information Systems and Office Technology departments.Early in the IT reorganization process, officials also created a shared services center to consolidate the county's existing hardware and software'from big iron down to end-user systems.The MIS Department, which runs an IBM ES/9672 R55 and an IBM AS/400 server, provides programming support for several languages and tools, including IBM DB2 databases and Oracle Corp. databases and applications.At the PC level, the county has a mix of LANs running Novell NetWare and Microsoft Windows NT and 2000. It replaces PCs annually at a rate of 2,000 to 3,000. The county is in the process of standardizing on Compaq Computer Corp. PCs and has outsourced maintenance of its desktop systems to Sentinel Inc. of Chicago. All the systems hang off of a new WAN that serves more than 27,000 workers.County officials point to a total IT cost reduction of 15 percent to 20 percent as a result of consolidating systems and services. Support costs have dropped by a fifth over the past four years through standardization, and the county estimates future projects will cost 10 percent to 20 percent less than in the past because of mandated technology reuse. Maras O'Leary said the impetus for the IT makeover came from Board of Commissioners President John H. Stroger, an attorney and certified public accountant who was elected to the post in 1996. 'He saw all the money that was going to IT and wanted to leverage it,' Maras O'Leary said. 'He wanted to bring in somebody to look at and define where we were and where we were going.'The county recruited Maras O'Leary from General American Transportation Corp. of Chicago. In her 12-year career at GATX, Maras O'Leary rose from accounting and systems work to nationwide business troubleshooting for the far-flung operator of pipelines, tank cars, logistics and finance businesses.Maras O'Leary cites her business-world skills as a critical element in managing the city's affairs. 'We do a business case model here' for major projects, she said. 'We ask, 'Do we have enough money to do it right? Can we maintain it? Will it reduce staff? Will it save money?' Government should operate according to business principles.'But the municipal IT work force is a different breed of cat than its corporate counterpart, she said. 'We don't attract people who want to be chief executive officers tomorrow,' she said. 'We attract people interested in quality of life.''People used to tell me, when [city employees] learn the new technology, they will leave,' Maras O'Leary said. 'But I haven't seen that here. People are doing things that are a lot of fun, like geographic information systems.'As time goes on, 'I see us working with the state and the city for an electronic-commerce portal,' Maras O'Leary said.XXXSPLITXXX-This summer, many Chicago taxpayers will be able to check the validity of their property tax bills on a Web page that will get data from a geographic information system.The online program will merge tax records from the Cook County Assessor's Office with a vast map of the county.The county's Information Technology and Automation Bureau estimates that the $16 million GIS project will create the largest such database in the country. The county's IT team launched the project in 1999 by taking aerial photographs of the county.The bureau sent a truck with eight video cameras down every street in the county. The video images will be fed into the GIS, and the resulting database will reflect the curvature of Earth.Owners of the 1.6 million parcels of land in the county will be able to visually compare the features and condition of their property with comparable properties and to verify the basis of property tax assessments.Because construction continues to boom in and around the Windy City, Cook County soon will conduct a second series of flights to photograph new buildings and modifications.'Developers will be able to use the GIS to do what-if calculations about the property tax assessments of proposed shopping malls or other projects,' Cook County chief information officer Catherine Maras O'Leary said.Cook County has hired IBM Corp. to help build the GIS, and is using ArcInfo 8.1 GIS software from Environmental Systems Research Institute of Redlands, Calif.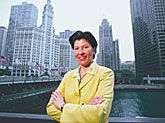 Cook County, Ill., CIO Catherine Maras O'Leary says, 'We don't attract people who want to be chief executive officers tomorrow. We attract people interested in quality of life.'
BY WILSON P. DIZARD IIIConsolidation means savings