District gives XML honors
Bryan Campbell sums up the future of school administration in three letters: XML, or Extensible Markup Language.
Bryan Campbell sums up the future of school administration in three letters: XML, or Extensible Markup Language.Campbell is the technology coordinator for the Upper Dauphin Area School District, 35 miles north of Harrisburg, Pa. The district is one of four throughout the country that is getting ready to use School Interoperability Framework (SIF), a set of rules and definitions for how different kinds of software will interoperate, said Timothy Magner, director of the SIF program. The program is a consortium of software companies'Apple Computer Inc., IBM Corp., Microsoft Corp., Oracle Corp. and Sun Microsystems Inc., among others'and school districts that are working together to agree on the SIF specifications.The other SIF school participants are Anoka-Hennepin School District in Minnesota, Ocoee Middle School in Orange County, Fla., and Peoria Unified School District in Arizona.For years, school officials had to enter each student's name, address and other information into several school administration databases, Campbell said. Then teachers and other school officials had to enter the same information into a math tutorial, an electronic gradebook and a library card system. Not only did it take teachers a day or two to type in all that information, but the redundant data entry created an opportunity for errors to creep into the system, Campbell said.This fall, Upper Dauphin schools will standardize on the SIF specifications. The specifications call for participating schools to use XML to tag student data, to define data objects the same way and to encrypt XML messages using Secure Sockets Layer protocol, Magner said.Representatives from Follett Software Co. of McHenry, Ill., and Novell Inc. did the XML coding, Campbell said. Upper Dauphin also will be working with Jackson Software Co. of Glencoe, Ill., to develop grading software.The SIF program will be an enormous help to teachers, Campbell said; not only will SIF save precious time, but teachers will get more accurate information.The Upper Dauphin district's network runs on Novell NetWare and a Windows 2000 operating system. Internet filtering is provided by Bess filtering software from N2H2 Inc. of Seattle. The district has 1,400 students and 500 PCs, which Campbell describes as a 'nice student-to-PC ratio.' All students, from first grade through 12th grade, have their own computer log-in. Computer education starts in the first grade for about half an hour each week, Campbell said. By the end of third grade they learn typing. By eighth grade, students are required to produce a spreadsheet in Microsoft Excel and a presentation in PowerPoint.The school district's data is still stored on many diverse databases'some client-server, some mainframe. 'That's the beauty of XML,' Campbell said. The district did not have to create a whole data warehouse or reconfigure its back-end systems. XML let the district keep the databases they already had and just tag the data with XML coding.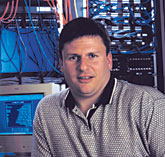 Bryan Campbell, technology coordinator with the Upper Dauphin Area School District, says assembling databases with XML coding is the next big thing for school administration.
Schools learn to erase data entry problemsDuplicating databases