DVD is great for storage, if standards don't get in the way
The market for digital versatile disk technology is heating up. Professionals and home users alike are thrilled with the power DVD gives them to view and record gigabytes of content-rich information on CD-like disks.
The market for digital versatile disk technology is heating up. Professionals and home users alike are thrilled with the power DVD gives them to view and record gigabytes of content-rich information on CD-like disks.DVD is a high-capacity, multimedia storage technology that uses optical disks with the same 120-mm diameter and 1.2-mm thickness as CDs. But DVD uses much smaller recording tracks than CDs'0.74 microns wide compared with 1.6 microns wide'along with more sophisticated modulation and error-correction techniques. This provides storage capacities of up to 17G per disk'26 times greater than a single 650M CD.DVD devices have much higher image and video resolutions than CD devices and more than twice the resolution of standard VCR tape devices. And because DVD disks are never touched while they spin in the player, there is no wear and tear to reduce quality.There's no question about the potential of DVD, but many buyers are reluctant to make an investment until they see how competing DVD standards shake out.There are no fewer than six formats of DVD to contend with. The first, , is the format behind the popular consumer units used for movies. But this format isn't computer-friendly, and set-top DVD Video devices are used only for playback, not recording.Devices using the format are optimized for computer file formats but, like DVD-Video, they can only play back, not record, data.Nevertheless, DVD-ROM's huge payload and cost-effectiveness'up to 17G on a double-sided disk at prices of $100 or less per drive'make it ideal for PC storage and backup. Sales of DVD-ROM drives will likely outpace those of conventional CD-ROM drives in the near future. is a write-once format that allows for storage of up to 4.7G of information on a single-sided disk. Even though you can write data only once with DVD-R, the format offers a high level of flexibility. Disks written in the DVD-R format can be played on any DVD Video or DVD-ROM device. The new DVR-A03 from Pioneer North America Inc. and the DVR-103 version made for Apple Computer Inc. and Compaq Computer Corp. machines can also read and write CD-R and CD-RW, as well as play audio and data CDs.The main downside to the DVD-R format so far is price. The Pioneer drive costs around $1,000, and blank DVD-R disks are about $40 each. drives resemble virtual hard drives with random read-write access. You can write to a DVD-RAM disk more than 100,000 times. The drives can read most types of CD disks, but they can't write to CD-R or CD-RW disks.DVD-RAM disks can't be read by most DVD-ROM drives, either.Because of the flexibility and huge storage capacity of DVD-RAM drives, optical jukebox vendors such as Plasmon PLC and MaxOptix Corp. are beginning to use them in place of CD-ROM and CD-RW drives in some of their systems.The recordable format is similar to DVD-R and DVD-RAM in some respects, except that its read-write access method is sequential rather than random; playback resembles that of a phonograph more than a hard disk.DVD-RW can write to a disk up to 1,000 times. The devices are targeted squarely at the consumer market. The format has been endorsed by the DVD Forum, at , and is supported by products from Sony Electronics Inc., Apple, Compaq and others. is another recordable DVD format supported initially by Hewlett-Packard Co. and other companies. It is now going head-to-head with DVD-RW for dominance in the recordable DVD market.DVD+RW proponents claim that devices built around this format will be compatible with more DVD and CD-R/RW devices than DVD-RW. Only one or two DVD+RW products are on the market; expect more to arrive by mid-autumn. Also on the DVD horizon is the format, which more than doubles the audio fidelity of standard CDs.Meanwhile, isn't exactly a new format, but will amount to a set of specifications from the DVD Forum guaranteeing compliance of various manufacturers' DVD devices with those of others.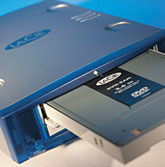 LaCie Ltd.'s DVD/CD Rewritable Drive gives you a choice of multiple media: DVD-R, CD-R or CD-RW. It's priced at $999.
Half a dozen of oneDVD VideoDVD-ROMDVD-RDVD-RAMDVD-RW
www.dvdforum.com
DVD+RWDVD AudioDVD Multi
J.B. Miles of Pahoa, Hawaii, writes about communications and computers. E-mail him at jbmiles@gte.net.