THE 50 STATES
The Demopolis and Piedmont City school systems joined a growing list of 43 state school districts that received T1 line Internet access through the Alabama Supercomputer Authority's contract with Computer Sciences Corp.Both school systems received a 2610 router from Cisco Systems Inc. of San Jose, Calif., and data service unit'channel service unit from Adtran Inc. of Huntsville. Officials in the Transportation Department like to say that Alaska has four seasons: winter, still winter, almost winter and construction season. To make the most efficient use of Alaska's limited daylight and rare periods of mild weather, DOT officials found they had to agree on the same computer-aided design software. The DOT uses AutoCAD, CAD Overlay and Land Development Desktop from Autodesk Inc. of San Rafael, Calif., to design, map and manage roads, bridges and airports. Arizona's Web site has a new look and a new address. The site, at , sports a casual typeface and more interactive services for citizens. Online permit, license and vehicle information is grouped together under services. Photos of saguaro cacti adorn each page. Two blind state employees filed suit against the state and Gov. Mike Huckabee. Donna Hartzell and Larry Wayland said that the only way they can access the new Arkansas Administrative Statewide Information System is to let sighted people read and relay confidential payroll data. Before the deployment of AASIS this summer, Hartzell and Wayland were responsible for processing payroll information for other employees. AASIS provides accounting, payroll, budget and time-keeping functions to all 148 state agencies. Four counties, San Bernardino, Riverside, Stanislaus and Merced, united to award a contract valued at $453 million to Accenture LLP of Chicago. Over the 13 1/2-year contract, the company will design, build and operate an automated system that will determine eligibility for food stamps, California Work Opportunity and Responsibility to Kids program, foster care and refugee assistance programs. Denver hired Daniel Jarvis as its first chief information officer. Jarvis had been the CIO of Cleveland, where he was responsible for a $7 million information technology budget and more than 120 employees. As Denver's CIO, Jarvis will oversee a technology budget of $5.5 million. Four state agencies cooperated to award PeopleSoft Inc. of Pleasanton, Calif., a contract to replace the state government's core financial and administrative systems, including central and agency accounting, accounts payable, payroll, and time and attendance systems. Representatives from the Comptroller Office, Policy and Management Office, and Administrative Services and Information Technology departments formed a steering committee for the project.The three-year project, called Core-CT, will integrate almost all major functions of state agencies using enterprise resource planning software. Gov. Ruth Ann Minner named Thomas Jarrett chief information officer to head the state's newly formed Information Technology Department. Jarrett had worked for Verizon Communications Inc. for 28 years. The Motor Vehicles Department has switched 140,000 driver's licenses to digitized images and started recording digital signatures. Drivers now can renew their licenses online.Three DMV locations use the digital technology, which stores pictures on a system designed by Polaroid Corp. of Cambridge, Mass., and includes a DXC digital camera from Sony Corp. of America of New York. Miami-Dade County residents now can pay for parking tickets, occupational licenses, building inspection fees and similar fees online with the expansion of . One reason the state added the features to the site was to decrease the amount of time residents wait in lines or on the phone.IBM Corp. and EzGov Inc. of Atlanta developed the site. The Community Health Department hired Affiliated Computer Services Inc. of Dallas to build an application to provide claims processing, customer service and administrative support for all of Georgia's public health benefits programs. ACS' contract could be worth $351 million over five years and will affect nearly 2 million residents covered under the programs. Hawaii has done a better job of bridging the Internet divide in public classrooms than have the mainland states, according to a study done earlier this year by Education Week magazine. Hawaii's poorer schools'schools that each have 50 percent or more of their students in federal free lunch programs'are 100 percent connected to the Internet, compared with 76 percent of such schools on the mainland, the study said. Gov. Dirk Kempthorne was one of 50 governors who received a Palm M105 personal digital assistant from Palm Inc. of Santa Clara, Calif., at the National Governors Association annual meeting in Providence, R.I., last month. Attendees didn't need to lug three-ring binders around the conference all day. They could get updates of presentations at 'beam stations' by plugging the Palm unit's infrared port into one of the stations scattered about the conference hall. The PDA software was designed by Eventcentric Inc. of Arlington, Va., and ran under the Palm 3.5 operating system. The handhelds were paid for by the association. More than 8,000 residents have registered for the state's new license plates via the Department of Motor Vehicles' Web site, . The site is part of a new system the state is using to order, deliver and track license plates and renewal stickers. The Marion County sheriff's office launched a new inmate management system last month. The $1 million project uses Corrections Management System software from Tiburon Inc. of Fremont, Calif., to track more than 70,000 inmates who come through the system. Instead of writing all prisoner movement in a ledger, department officials scan each inmate's bar coded wristband allowing prison personnel to know where every inmate is and has been. The Information Technology Department's enterprise resource planning initiative has been put into low gear after the state legislature failed to provide an appropriation for the project. The agency asked for $9 million to $10 million for the first phase, which would create electronic procurement and budget systems online. The five-year project is estimated to cost $42 million. The Transportation Department needed to stem the tide of 2 million documents inundating its offices annually. Storage costs and manual labor grew overwhelming, so department officials decided to go electronic. They are using ApproveIt Desktop electronic signature software from Silanis Technology Inc. of St. Laurent, Quebec. The Workforce Development Cabinet received a $1.4 million U.S. Labor Department grant to upgrade 27 statewide one-stop career centers, including each center's computer hardware and software. Some of the money will go to making sure each center's computers are accessible for disabled people. Revenue Department officials are finding that public humiliation is an effective tool to get tax debtors to pay up. Since the department launched its CyberShame list, at , on Jan. 17, it has collected almost $1 million in delinquent taxes. The site lists the tax debtors' names, addresses and amounts of tax owed, said Cynthia Bridges, revenue secretary. The state will redesign and update its Web site this fall to make it more of a one-stop-shop portal. Titan Systems Corp. of San Diego received a $949,000 contract to build the first phase of the portal with the Massachusetts Information Technology Division. State employees wishing to work from home or check their e-mail remotely now use an IP routing service, which replaced the 8-year-old Shiva Remote Access System. Intel Corp. no longer supports Shiva. State workers now remotely access their e-mail through two 500 numbers provided by Verizon Communications Inc. to connect to a remote access server from Cisco Systems Inc. of San Jose, Calif.XXXSPLITXXX- EMaryland Marketplace, the state's electronic procurement portal, received one of seven Outstanding Program Awards for leadership and innovation at the National Association of State Chief Administrator's annual conference last month. Michigan launched a new Web portal at www.michigan.gov that targets visitors' interests rather than making them click through agency pages.The portal presents six themes to guide visitors to state agency information and services: education and career development; family, health and safety; travel and recreation; business services; Michigan government; and licensing, certification and permits. As a part of its electronic-commerce initiative, the state held its first reverse auction to buy aluminum for license plate manufacturing. The reverse auction was conducted via the Web and is part of a six-month pilot program.The state hired Procuri Inc. of Atlanta, and MaterialNet Inc. of Lake Success, N.Y., to run the auctions on its behalf. The first auction saved the state an estimated $35,000 annually on the contract, a state official said. Instead of taking hours to reconstruct a fatal or serious accident, state police rely on forensic mapping stations to do the work. The Highway Patrol bought four FMS 380 measuring and mapping units from Leica of Wetzlar, Switzerland, through a grant from the Division of Public Safety Planning. Police then download the information into a notebook computer running MapScenes from Microsurvey Software Inc. of Westbank, British Columbia, which helps to recreate the accident. The Natural Resources Department's Environmental Quality Division has posted a complaint form for residents to report illegal dumping.The form, at , lets users report the date and alleged perpetrator of illegal dumping, the type and volume of waste, and whether the waste has been burned or buried. The Montana Cadastral Database Project is nearly complete. A joint four-year effort among state agencies, Montana utilities and the Bureau of Land Management, the site, at , uses ArcInfo from Environmental Systems Research Institute of Redlands, Calif., to show digitized maps of 46 of Montana's 56 counties. Visitors can search by county or parcel owner's name. The Bill and Melinda Gates Foundation of Seattle gave the state and the Nebraska Council of School Administrators a $1.3 million technology grant for the Leadership Talks Technology Academy. Over three years, the program will give 900 school superintendents and principals in Nebraska a personal digital assistant, a notebook PC and five days of training at the academy in Kearney. Gov. Kenny Guinn this summer unveiled a Web site that disseminates information about Nevada's senior prescription drug program, Senior Rx, which provides up to $5,000 in prescription medicine per resident annually. Nevadans 62 and older can see if they qualify for Senior Rx benefits online. They can also fill out a benefits application at . The Office of Business and Industrial Development has upgraded its database system so that businesses looking for commercial real estate can search it more thoroughly. The Glen Group of North Conway, N.H., provided the Internet database system using MySQL from MySQL AB of Sweden, in PHP scripting language. The Bayonne public school system received 100 computers donated by Public Service Electric and Gas Co. of Newark. The PCs will be distributed among various schools. This summer, the State Land Office donated 12 surplus Pentium PCs to the five-school Hatch Valley School District in southern New Mexico. The PCs are from Compaq Computer Corp., Gateway Inc. and NEC America Inc. of Melville, N.Y. Westchester County's Community Help Desk received accolades as one of the eight most innovative and creative uses of electronic government. The award was given by the Council for Excellence in Government, a Washington, D.C., research organization. The online service, at , was a finalist for the Imagine E-Government Awards Competition for projects that use the Internet to improve government practices. The State Comptroller's Office, the Information Technology Services Agency and the Administration Department were the first state agencies to go online with a new E-Procurement System Aug. 15. The three departments also sponsored the site's development, which began Feb. 1.Accenture LLP of Chicago built the system, which cost about $58 million. Gov. John Hoeven appointed 12 people to the newly formed Educational Technology Council, including chief information officer Curt Wolfe. The council will work with other state agencies to develop statewide educational technology. Each council member serves a four-year term. Brook Park voters used a new smart card voting machine in their Aug. 7 special election. The automated teller machinelike system replaced much-maligned punch-card ballots. The county used the special election to test the machines, which it may buy for about $20 million.Global Election Systems Inc. of McKinney, Texas, provided 126 touch-screen terminals. The system requires each voter to receive a smart card after signing in at a precinct. More than 13,000 deaf Oklahomans could not hear the alert sirens before tornadoes cut a swath of destruction through the state on May 3, 1999. Federal and state officials developed a warning system for the deaf by modifying the state Civil Emergency Management Department's Emergency Management Paging Alert System software so that a warning message would be sent via satellite to an alphanumeric pager. Fifty deaf residents of Sulphur, home to the Oklahoma School for the Deaf, use the pagers. The Keizer Fire District uses Mail Essentials for Exchange from GFI Software USA LLC of Cary, N.C. The software checks Microsoft Exchange e-mail for viruses, spam and inappropriate or offensive content and filters out offensive material. About 2,400 state fire departments bought new software to track fires and personnel exposure to potential hazards. The PC-based app, Firehouse Software from Visionary Systems Ltd. of Des Moines, Iowa, can be set up in a single-user or client-server configuration depending on a department's needs. The state will launch a self-funding electronic-government Internet portal this fall after signing a contract with the National Information Consortium of Overland Park, Kan. Under the five-year agreement, NIC will develop and maintain the site. State officials will decide the priority of agency Web pages that need to be added. Each state library will have to use Web filters on almost all publicly available computers or risk losing 50 percent of its funding, according to a provision in the state budget that Gov. Jim Hodges signed.The filters will eliminate or reduce access to pornography. The provision allows for up to 10 percent of each library's computers, or at least one, to remain unfiltered. Gov. Bill Janklow got a cool deal on 16,040 new Gateway Inc. and Apple Computer Inc. PCs that he is putting into the state's kindergarten through Grade 12 public schools in time for the first day of classes. The new PCs will increase the state's PC-to-student ratio to 1-to-2.3. At $510 each, the 15,000 Gateway models are E-1600 SE PCs with 800-MHz processors, 128M of RAM and Microsoft Windows 98. The 1,040 Apple PCs are iMac 400 Indigo PCs with G3 processors, 64M of RAM and Mac OS 9.1 and cost $474 apiece. Twenty-six schools received federal grants of $200,000 each to upgrade their technology.The Technology Literacy Challenge Grants from the U.S. Education Department will be spent on training and equipment. Each school is eligible for an additional $50,000 grant if it meets specified standards to integrate technology and education. Plano citizens this fall will be able to pay their utility bills, register for recreation classes, pay traffic fines and apply for garage sale permits through the city Web site, . The city awarded a contract valued at $119,555 to eLevel Inc. of Dallas to develop a Web site that uses Secure Sockets Layer protocol to accept credit cards and debit cards. The state teamed with Colorado to launch the first two-state electronic procurement system. Through a contract with National Information Consortium of Overland Park, Kan., five agencies and 30 vendors from each state are participating in the three-month pilot. The Financial Management Department's eight-year project to update the state's financial systems went live July 2 using the Financial Management for Education and Government software suite from PeopleSoft Inc. of Pleasanton, Calif. Accenture LLP of Chicago implemented the system, which cost more than $11 million. VISION replaces a 1970s mainframe system. It runs on two Hewlett-Packard Co. servers. The state issued a new license plate to brag about the number of high-tech companies headquartered there. The plate numbers all end in .com and can bear a domain name specified by the buyer. 'Internet C@pital' appears across the bottom. The Social and Health Services Department put all of its services on one Web site. The page allows residents to apply for social services, check eligibility and download benefit forms. The project was a cooperative effort by the department's agencies.The system resides on a Netfinity 5000 IBM Corp. server and runs Microsoft Corp.'s Windows NT 4.0. The database management system is Microsoft SQL 2000. The state hosted 300 agency directors and information technology specialists at its first-ever quarterly seminar on technology innovations in state government services. The seminar, Wired Wonderful West Virginia, was held at the Charleston Civic Center and was the brainchild of Keith Comstock, the state's chief technology officer. It focused on integrated portal systems. The Administration Department's Information Technology Services Division has reduced its rates for central processing unit time from about $1.30 per second in 1994 to less than 33 cents per second this year.Over the same time period, the price of mainframes has fallen from about $18,000 per million instructions per second to $724 per MIPS, based on prices paid by the state. The Information Technology Oversight Panel, composed of five agency directors, is studying how to standardize the state's e-mail system. More than 70 percent of the agencies run Novell directory services from Novell Inc. The purpose of the standardization is to have one main root server for the entire state with each agency having its own branch that feeds the root.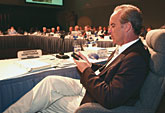 CALIFORNIA: CONSORTIUM CARE.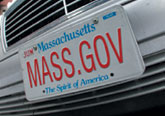 MASSACHUSETTS: A GIANT PORTAL.
ALABAMA
GETTING CONNECTED.
ALASKA
IN SEASON.
ARIZONA
POSH PORTAL.
www.az.gov
ARKANSAS
NO WAY IN.
CALIFORNIA
CONSORTIUM CARE.
COLORADO
MILE HIGH CIO.
CONNECTICUT
ERP TO THE CORE.
DELAWARE
VERIZON VETERAN.
DISTRICT OF COLUMBIA
PICTURE PERFECT.
FLORIDA
CAN'T PUT ME ON HOLD.
www.miamidade.gov
GEORGIA
BENEFITS TO ALL.
HAWAII
CONTINENTAL DIVIDE.
IDAHO
HEARTS OF PALM.
ILLINOIS
RENEW, REUSE, REPLATE?
www.cyberdriveillinois.com
INDIANA
THROW OUT THE BOOK.
IOWA
SHORT CHANGED.
KANSAS
FORM FOLLOWS FUNCTION.
KENTUCKY
UPGRADE GRANTED.
LOUISIANA
SHAMEFUL SITE.
www.rev.state.la.us
MASSACHUSETTS
A GIANT PORTAL.
MAINE
GOODBYE, LITTLE SHIVA.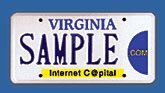 MARYLAND
WE ARE NO. 1.
MICHIGAN
DOORS OF PERCEPTION.
MINNESOTA
GOING, GOING, GONE.
MISSISSIPPI
FORGET THE TAPE.
MISSOURI
NAB THAT DUMPER.
www.dnr.state.mo.us/deq/swmp/enfform.htm
MONTANA
PARCEL POST.
gis.doa.state.mt.us
NEBRASKA
GATES GRANT.
NEVADA
SENIOR MOMENT.
www.nevadaseniorrx.com
NEW HAMPSHIRE
COMMERCIAL APPEAL.
NEW JERSEY
LIKE A GOOD NEIGHBOR.
NEW MEXICO
HATCH AN IDEA.
NEW YORK
IMAGINE ALL THE PEOPLE.
chd.westchestergov.com
NORTH CAROLINA
THREE'S A CHARM.
NORTH DAKOTA
COUNCIL OF TECH.
OHIO
SMARTER VOTING MACHINES.
OKLAHOMA
STORM SIGNALS.
OREGON
FIREFIGHTERS' FIREWALL.
PENNSYLVANIA
HOT STUFF.
RHODE ISLAND
FREE TO YOU AND ME.
SOUTH CAROLINA
FILTERING IT OUT.
SOUTH DAKOTA
SCHOOL DAZE.
TENNESSEE
DOLLARS FOR SCHOLARS.
TEXAS
THE PLANO TRUTH.
www.planotx.org
UTAH
TWO FOR ONE.
VERMONT
FINANCIAL VISION.
VIRGINIA
A FULL PLATE.
WASHINGTON
ARE YOU BEING SERVED?
WEST VIRGINIA
WIRED AND WONDERFUL.
WISCONSIN
CHEAPER BY THE SECOND.
WYOMING
ROOT 'N TOOTIN'.