The eclectic slide
'As you'll see from the first slide ....' If that line sounds familiar, you are either a comedy writer or, more likely, the veteran'or victim'of one too many PC-generated slide presentations. They have become part of the fabric of the working world.
'As you'll see from the first slide ....'If that line sounds familiar, you are either a comedy writer or, more likely, the veteran'or victim'of one too many PC-generated slide presentations. They have become part of the fabric of the working world.In the New Yorker magazine, writer Ian Parker noted this year that Microsoft Corp.'s PowerPoint is installed on 250 million computers and used in an estimated 30 million presentations every day.Those kinds of numbers, it seems, led the merchant bank Thomas Weisel Partners LLC to declare such slides off-limits at a recent investment conference, according to a Wall Street Journal report. The bank leadership claimed the slides were too facile a way of conveying complex ideas.No good idea escapes satire, and one of the most-viewed bits of online humor this year has been a PowerPoint rendering of one of America's most famous speeches, Lincoln's Gettysburg Address, which can be found at .In the send-up developed by Peter Norvig, a computer scientist at search engine firm Google of Mountain View, Calif., six slides condense Lincoln's brief, poetic and memorable comments into the broad-brush bullet points we know too well.But it's the overall shift toward using presentation software that has captured the most attention of society and social critics recently. Whether at a business meeting, in school or even at a house of worship, the introduction of PowerPoint slides seems more or less normal, even expected. The New Yorker's Parker told the story of a woman in northern Virginia who whipped up a PowerPoint presentation on neatness to inspire her young daughters to clean their rooms. Merely threatening to replay the slides, Parker wrote, was enough to make one daughter burst into tears.If working with presentation graphics software is something that makes your eyes well up, it's time for a rethink. Today's programs offer more in the way of capabilities and functions, as well as ease of use.But get ready for some sticker shock: Of the three leading presentation graphics programs, only one, Microsoft PowerPoint, is available as a standalone piece of software'with a retail price of $339. For a mere $150, that product is also part of a suite that includes a word processor, spreadsheet and personal information manager.In short, the era of standalone presentation graphics programs is just about over, giving way to office productivity suites and the add-on tools that simplify slide-making.The biggest player is PowerPoint, just released in its newest incarnation as part of the Office XP suite but also available on its own. This version of the program incorporates several new features.First off, it incorporates a Slide Design Task Pane, which gives users a way to discover design options including templates, color schemes and animation schemes, the latter itself being a new feature. These options can be previewed at the time a selection is made.As part of the Task Pane, PowerPoint's Animation Schemes give users one-click access to professionally designed animations. The effects include moving multiple objects simultaneously, animating paths and what Microsoft calls easy sequencing for all slide effects, including exits.The new version of the program also has multilingual support, making it easier to work with a slide presentation in several languages, including Japanese. And, with an eye to the Internet, PowerPoint includes features such as printing multiple slides from a browser, saving to File Transfer Protocol servers, playing sounds and animating charts.Corel Presentations 10, part of the Corel WordPerfect Office 2002 suite, also focuses its improvements largely on sharing presentations with others.Corel users can embed fonts into slide shows, making presentations even more portable. They can add MP3 and Microsoft Windows Media Audio sounds as well as animated GIF images to slides and animations, and they can publish an entire slide show as a Macromedia Flash file to an Internet site.The program makes it easier to share slide shows with users via other applications because of increased compatibility with PowerPoint.Not too far behind in the presentation graphics race is Lotus Development Corp., the IBM unit whose desktop spreadsheet software helped fuel the PC revolution and whose Freelance Graphics was the market leader for many years.Starting with Version 9.6 of Lotus' SmartSuite office applications bundle, Freelance Graphics users can read and write presentations within a PowerPoint file without opening a separate file in Freelance. There are Web publishing features and better handling of GIF images. Once you've standardized on a presentation program, you have a growing number of options available to add sparkle or just to make presentations easier.Several companies, including Digital Juice Inc. and Hemera Technologies Inc., offer collections of images, objects and backgrounds that can be popped into presentation programs.You have several ways of taking your presentation with you: storing files on a diskette or CD-ROM and hoping to find a compatible system at your destination, lugging along a laptop and projector, or packing your presentation up on a handheld.The $299, 6-ounce Presenter-to-Go module from Margi Systems Inc., snapped onto a Handspring Visor handheld, lets you leave a notebook computer behind.The Presenter-to-Go module stores as many as 100 slides in its 2M of RAM. The software that converts and imports slides runs under Microsoft Windows. You cannot edit the slides on the handheld, and special effects are lost, but so is the weight of carrying a notebook PC.Users of Palm Inc.'s handhelds, as well as the Sony Cli' and similar devices, can view PowerPoint slides using a new component, Documents To Go from DataViz Inc.Its Slideshow To Go component lets mobile users view PowerPoint files on their Palm handhelds. Users can navigate through outlined presentations, speaker notes and slide views.The $349 Astound Presentation 8.0 software from Genesys Canada offers a wide range of editing effects, including the insertion of video and music clips. The application can pace a slide presentation so that it runs automatically while a presenter is speaking.For the ultimate in slide show portability, the full retail version of Adobe Acrobat can convert a PowerPoint file into an Adobe Portable Document Format file, which is smaller than the PowerPoint file. The PDF can be viewed on a variety of computer systems and some handheld devices.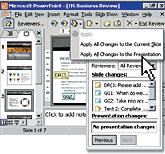 Microsoft PowerPoint 2002 expands the user's palette for building presentation slides. It's priced at $339.
Powerful features and complementary add-ons put new life into presentation programs
www.norvig.com/Gettysburg/index.htm
Dominant programAdd-on graphics
Mark A. Kellner is a free-lance technology writer in Marina Del Rey, Calif. E-mail him at mark@kellner2000.com.