User-centric
Like politics, services for the disabled are local'and the next federal Web site for accessibility will put that into practice.
Like politics, services for the disabled are local'and the next federal Web site for accessibility will put that into practice. , slated for launch later this year, will categorize Web sites by their interest to users rather than content providers.The disability site will have two faces, one public and one private, said Dick Griffin, the project manager. Griffin serves on the staff of the Presidential Task Force on Employment of Adults with Disabilities, headed by Labor Secretary Elaine Chao.On the public side, users can search for federally funded transportation, job programs and other services in their hometowns.Behind the public face will be a virtual private network that state, county and local officials will use to review and approve content for DisabilityDirect. 'Most people don't care what happens in Washington,' Griffin said. They want to know about their communities and specific benefits from government programs.Griffin said the new site will help disabled people better understand what governments can do for them, from job leads to basic transportation.'That level of frustration is magnified considerably when they can't even get down to their local government office,' he said.The existing site will be absorbed into the new site, which will be 'a little more sophisticated in the way it's managed,' Griffin said.The government has been moving toward giving block grants to states and letting them decide how to divide up the funds among local programs, Griffin said. The design of will reflect that philosophy.To access the VPN, state and local agencies will have to get authorization from their federal funding organizations, he said.What Griffin wants to see on the site is, for example, a function that will let users find out when an accessible bus is due at their stop by entering a street address. Some localities already use such technologies.'We know several states and cities are way ahead of us,' he said. 'We want to take advantage of their momentum.'Many states and communities used federal money to develop such services in the first place, he said.The DisabilityDirect site will require that every Web site in its database meet Section 508 guidelines. That condition will encourage localities to make their sites accessible, Griffin said.'We're not putting in anything that people with disabilities can't read,' he said.The private side of will use Autonomy Server, Update and Categorizer software from Autonomy Corp. of San Francisco.The task force looked at several so-called portals-in-a-box but liked the flexibility of the Autonomy products, Griffin said.The site's contractor, Development InfoStructure of Arlington, Va., specified Autonomy's tools, Griffin said.The tools scan text and Web pages and categorize their information, Autonomy spokeswoman Kris Marubio said. The Autonomy search function can perform context-based searches and distinguish, for example, between 'penguin' as an Antarctic bird and 'penguin' as a symbol for the Linux mascot, Tux.Most commercial search engines return hundreds or thousands of hits on a key word, Development InfoStructure president Peter Gallagher said. Using Autonomy's pattern-matching algorithms, 'experts on the private side can find and post the authoritative pages,' Gallagher said.The software weeds out duplicate links and trolls for relevant links that can be made available on the public side.If participants post pages not directly related to DisabilityDirect's mission, the software behind the VPN will flag the links and alert the site's webmasters, Griffin said.In the future, the task force would like to create learning modules to teach visitors about, say, job search skills, Griffin said.Plans call for launching in conjunction with Disability Awareness Month in October. The task force and contractor are already working over the VPN to invite accessibility experts around the country to contribute relevant links and information.President Clinton established the disability-related task force in a 1998 executive order. The panel is slated to disband in mid-2002 unless President Bush decides to extend its life.'We are working hard to show that we're a value-add to the New Freedom Initiative,' Griffin said, referring to President Bush's assistive-technology initiative launched shortly after he took office.The Labor Department's Office of Disability Employment Policy is also involved in DisabilityDirect, so the site will continue to have support no matter what happens to the task force.'We're basically designing our site so we can't be accused of being a stovepipe,' Griffin said.The presidential task force staff includes two policy analysts who have physical and visual impairments. 'We're a practicing example of how productive people can be with assistive technologies,' Griffin said.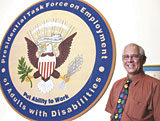 Dick Griffin, project manager for DisabilityDirect, wants the planned Web site to link people to services in their own communities.
DisabilityDirect.gov
Here's what we've got
www.disability.gov
DisabilityDirect.gov
Timing is everything
DisabilityDirect.gov
DisabilityDirect.gov