Lasers churn out pages
If there's one piece of hardware in your office that deserves the title Old Faithful, chances are it's a monochrome laser workgroup printer.
If there's one piece of hardware in your office that deserves the title Old Faithful, chances are it's a monochrome laser workgroup printer.Monochrome laser printers can pump out thousands of pages of text and graphics per month without failure. They print faster and offer more productivity features for the dollar than any other type of printer.If your printing requirements call for only an occasional splash of color, an inexpensive color inkjet or laser could do the job. But for most high-quality text printing needs, monochrome lasers are the way to go.All laser printers use electrostatic charges to create images on a photosensitive drum. Toner is then applied to the images, which are transferred and fused by heat to the paper. LED and LCD printers, although different in design, usually are listed as laser printers because they also use light sources to draw images on their drums.Monochrome laser printers range in power and quality from 4- to 6-pages-per-minute units priced at $200 or less to feature-rich document systems running at speeds of 50 ppm or more and costing thousands of dollars. This guide focuses on workgroup units that typically print between 17 and 32 ppm and cost between $1,000 and $2,000.All of the models in the accompanying chart print at resolutions of at least 600 by 600 dots per inch; some have print engines that can render 1,200 by 1,200 dpi without image enhancement software.The models in the chart have fairly powerful processors'most of them RISC'and enough expandable memory to speed up printing tasks or hold print jobs in queue for specified users with correct identifications. All are either equipped with internal 10/100-Mbps Ethernet cards or offer them as options.Other features, such as automatic duplexing, allowing management via the Web, optional hard drives and advanced paper-handling, establish these printers as prime candidates for medium to large workgroup service.Which features matter the most to you will depend on the size of your workgroup, its anticipated monthly workload, the types and sizes of paper stock you use and the quality of the documents your organization requires. Here's a checklist of features to help you decide which monochrome laser is right for you. Manufacturers provide speed ratings in a number of ways, so be careful about accepting their figures at face value. All printers produce draft-quality output at faster speeds, so make sure you determine the optimal print speed for any printer's highest-quality output. The time it takes to produce letter-sized pages of output will fall somewhere in the middle. Graphics and photo images take much longer. Workgroup printers need on-board RAM because they perform most of the processing required for print tasks'as opposed to small personal printers, which employ the host computer's CPU. The more RAM your printer has, the faster it can print, especially if graphics or multiple fonts are involved. It's a good idea to get a printer with expandable memory in case your printing requirements increase dramatically down the road. Printers need 10/100-Mbps Ethernet, token-ring or AppleTalk to connect to networks. Most printers come with high-speed parallel-port connections and, increasingly, Universal Serial Bus connections. While most workgroup lasers are network-ready, setting one up on a network isn't necessarily easy; in many cases you'll need to keep the manufacturer's tech support number handy. Ideally, though, your printer will come with a network setup wizard, such as those used by Hewlett-Packard Co., IBM Corp., Lexmark International Inc. and Xerox Corp. Such setup wizards can help save you hours of installation headaches. A standard or optional hard drive with a printer can help reduce the overall printing time of large, complex documents. Preprocessed images of complex files are stored on the hard drive and used with smaller files for each document printed. Monochrome lasers excel at high-quality text output and have graphics output sufficiently high for most office documents. But for photo-quality graphics, even very inexpensive inkjets will outperform lasers. In most cases, the higher the resolution the better. For text pages with a few graphics, 600-by-600-dpi resolution is more than adequate. Many printers list their resolutions as 1,200 by 1,200, but check to make sure this is a function of the print engine and not just a result of edge enhancement software. Edge enhancement fills in the tiny spaces between the dots on the images rendered by the printer, making them appear sharper, but it doesn't actually improve overall image quality. A workgroup laser should offer built-in automatic duplexing, meaning it can print both sides of the paper without manual user intervention. It should at least be an option on your printer. If you use more than one size of paper, get a unit with multiple paper drawers so you can load different paper stocks to be used automatically. If volume is a priority, look for high-capacity printers with multiple input trays capable of handling thousands of sheets. Mechanical envelope feeders are standard on many of the systems listed here. Many printer manufacturers offer optional features such as stapling, collating and offset stacking with their high-end workgroup lasers. In many cases, the additional functionality offsets the extra cost. In a GCN Reader Survey this year on laser printers, feds said reliability and durability were the most important features in a printer []. Laser technology is time-tested and stable, and monochrome lasers, fairly simple in design, are less prone to breakdown than other types, including color lasers. A recent study by International Data Corp. of Framingham, Mass., showed that 20- to 29-ppm printers cost less to run than digital copiers, copier-printers or other multifunction devices, especially when unit downtime is considered.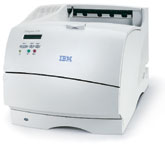 The IBM Infoprint 1125 offers 1,200-by-1,200-dpi resolution and prints 25 ppm. It's priced at $928.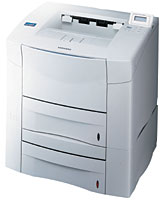 Samsung's ML-7300N can print at 1,200 by 1,200 dpi and 21 ppm, with automatic duplexing. It's priced at $1,149.
Look carefully at a workgroup printer's speed, memory and print quality specsProcessing with powerSpeed.RAM.Connections.Automatic network setup.Hard drive.Output quality.Resolution.Duplexing.Paper handling.Finishing options.Durability.
GCN, May 21, Page 21
J.B. Miles of Pahoa, Hawaii, writes about communications and computers. E-mail him at jbmiles@gte.net.