New Mexico CIO brings IT savvy home
Most people would be satisfied with having one successful career. Not New Mexico CIO Bob Stafford, who embarked on his third career'state CIO'more than a year ago.
Most people would be satisfied with having one successful career. Not New Mexico CIO Bob Stafford, who embarked on his third career'state CIO'more than a year ago.Stafford came naturally to his first career, as an oil and gas industry executive, like his father and grandfather before him. His second career was in the IT services field. Stafford was director of consulting services for e-commerce, financial systems and data warehousing at KPMG LLP of New York. He also was a vice president of Electronic Data Systems Corp. and senior vice president of Cap Gemini Ernst & Young of New York.So what's a nice captain of industry like Stafford doing in a place like New Mexico state government?A New Mexico native, Stafford moved back to Santa Fe a few years ago, after having faced one too many soggy Houston summers. Stafford soon realized that his home state was lagging in education and access to the Internet. He offered his ideas and experience to Gov. Gary E. Johnson, whose response was: When can you start?Stafford worries that New Mexico missed the Internet train. 'Since 1994 or so, the Internet has been the main driver for the economy, in spite of the dot-com collapse,' he said. Stafford started three e-government initiatives: MAGnet, MAGportal and MAGshare (see chart, right). Stafford de-fined e-government as 'leveraging the Internet to simplify government.''When I started as CIO, we didn't have a complete communications infrastructure for broadband service delivery throughout the state,' he said. 'We just had some fiber-optic lines running up and down the Rio Grande, which bisects the state from north to south.'Stafford wants New Mexico to 'leapfrog into the latest technology that has been proven. We're not going from mainframe to client-server to the Web. We're jumping over mainframes straightaway into the Web.'New Mexico is tired of being ranked 48, 49 and 50 in national rankings of states' achievements, Stafford said. 'Our goal for New Mexico is to become No. 1 in constituent services. We're going to do that through three strategies.'First, we're going to develop a statewide IT architecture that is totally open and based on the latest standards,' he said. 'We'll get rid of agency stovepipes and build a seamless government without boundaries.'Second, state agencies will put the focus of government on constituents by putting the services citizens need on the Internet. 'We're calling it e-democracy,' he said. 'We'll be doing electronic town hall meetings and more voter activities like registration.' Stafford says New Mexico is also offering distance learning to the state's 89 school districts.The third strategy is to find new ways to cut costs. Stafford also wants to get a permanent funding stream for IT in New Mexico. 'Right now we're pretty much subject to the vagaries of the yearly budget cycle.'The state faces challenges ahead, Stafford said. Eighty percent or so of the state's computing is on mainframes. New Mexico's agencies are going to use middleware to consolidate this mainframe data and post it to the Web. 'All agencies will be able to share data and information,' he said.XXXSPLITXXX-Eight hundred New Mexico high school students signed up for classes at New Mexico Virtual School this fall.Students choose a virtual classroom for several reasons, said Scott Glasrud, director of NMVS. Some students sign up for NMVS to enhance and augment what they are doing in school. Others take the virtual classes for remedial help.New Mexico is a mainly rural state, which poses special educational challenges, Glasrud said. For example, in the town of Jal, which Glasrud described as 'a little dot on the map,' there weren't enough students to justify hiring a calculus teacher. So students signed up for NMVS calculus.The state contracted with Intelligent Education Inc. of Atlanta to run the virtual school at . Each school district must supply a PC and Internet connection if the student doesn't have them at home. Participating schools also assign each student a mentor in the student's home city, Glasrud said.The virtual teachers are scattered throughout the country, in Georgia, Hawaii, New Mexico and other states, Glasrud said. Each student must log on for one hour each week in a chat room with the teacher so they get the one-on-one experience found in a traditional classroom, Glasrud said. 'Only this classroom is virtual.'XXXSPLITXXX-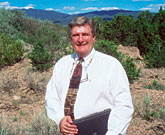 New Mexico CIO Bob Stafford is helping the state 'catch the Internet train' through several e-government programs.
Enchanted IT leap
www.intelligented.com
Multiagency Network. Within 18 months, CIO Bob Stafford and his team will merge all the agency data centers in the state into one broadband network covering 85 percent to 90 percent of New Mexico.


Multiagency Portal. By July next year, this Web portal will provide a single online gateway to government services and information, including voter registration, birth and death certificates, driver's licenses, jobs, food stamps and purchasing.


Multiagency Data and Information Sharing. The goal of MAGshare is to tie together state agencies at the network level and share their information with residents. The state did this with the Workforce Investment Act of 1998 by sharing information among 16 agencies and also giving information about issues such as job training to the public. MAGshare will do the same for health care and criminal justice.