PACKET RAT
With an ex-dot-bomber now piloting the Rat's particular plane of hell, the wired one did what any self-respecting federal rodent would do: Request a week's leave.
With an ex-dot-bomber now piloting the Rat's particular plane of hell, the wired one did what any self-respecting federal rodent would do: Request a week's leave.He'd managed to deflect further assignments from the new undersecretary by sending a response to the first 50 memoranda. It was the text of Neal Stephenson's hacker sci-fi novel, , transcribed onto 5,429 Microsoft PowerPoint slides'complete with randomly selected agency logos.So Undersecretary Bonzo's bullet was temporarily dodged, and the wired one's leave balance was still mysteriously maxed out'a miracle of seniority and creative accounting that baffled his department head. The Rat's request got rapid approval.It was not to be an idle week, however. The Rat brood, under the cover of a family outing, headed off on a hunting expedition for dirt on Undersecretary Bonzo. And the best place to find that dirt was the pit that spawned him: Silicon Valley.Armed with a copy of the mad underlord's curriculum vitae and a dump of Web clips, they boarded a plane for San Francisco.After only minor incidents (the 6-month-old ratling crawled up into first class and innocently rewired the in-flight entertainment system so that it played over the main cabin speakers in Spanish), they arrived. The Rat wrangled his herd through baggage claim and through the rental car gauntlet. Amazingly, no blood was spilled.As Mrs. Rat steered their rental ride down Highway 101, the cyberrodent marveled at the change of signage on the office towers along the road. Gone were the corporate logos of a whole crop of computer giants. In their places were names that failed to register with the Rat.'I bet their landlords put those signs up with Velcro,' he sighed as they hurtled toward their hotel.Indeed, Silicon Valley seemed more like Death Valley. It was hard to tell whether buildings were just vacant or whether a rolling blackout had taken them down in midafternoon. For the most part the glass boxes stood dark, with the exception of Oracle Corp.'s Redwood Shores complex.'They must be running the lights off Larry Ellison's ego,' the wirebiter sniped.'No wonder we got a great rate on the hotel,' Mrs. Rat murmured as the family checked into a Palo Alto property. 'This is a ghost town.''In more ways than one,' the whiskered one whispered. 'I think I recognize the concierge. He used to be a VP at Oracle.'After establishing a beachhead, the Rat clan reviewed its target's dossier. Mrs. Rat pawed curiously through some printed pages. 'Dear, have you ever actually seen your new undersecretary?'The Rat reflected. 'No, not in person. He prefers e-mail to interaction.''Well, I think I know why,' she said, holding aloft a printout. It was a photo of Mr. Bonzo from an Industry Standard profile. 'Look carefully. He's not your usual Stanford MBA.'The Rat grasped the page, aghast. 'I can't believe it. He's a monkey sock puppet!'The hunt for dirty laundry had suddenly taken on a new dimension.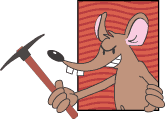 Snow CrashThe Packet Rat once managed networks but now spends his time ferreting out bad packets in cyberspace. E-mail him at rat@postnewsweektech.com.