Videoconferencing puts a better face forward
Telecommuting has been slow to catch on, mostly because the powerful trio of e-mail, fax and telephone still falls short of a face-to-face workplace.PictureTel Corp. and other vendors have been trying hard to break through this barrier with more reliable videoconferencing equipment.About two years ago, I tried out the technology at the FOSE trade show in Washington. I went away unimpressed by jumpy video and audio that cut out a lot.Like other players in the videoconferencing market at the time, PictureTel had not perfected ways to deal with sudden bandwidth drop-offs.The technology is a lot smoother today over an Integrated Services Digital Network or faster connection. ISDN must still rely on patchwork connections over long distances, however. There are some jagged edges and slow refreshes, which oversampling and buffering routines keep to a minimum. Over a LAN, quality is nearly flawless.The GCN Lab tested two PictureTel units, the 600 and the 900 Series. The 600 was designed for travel in a case a bit larger than a standard briefcase. The 900 was larger and gave slightly better performance. It needed a rolling cart to be moved easily.The 600's eyeball-shaped camera with overhead microphone resembled a deep-sea creature. I left it in the lab and set up the 900 in a remote office. That was doing things backward, taking the less portable unit on the road, but the 600 seemed to need the lab's fast connection whereas the 900 was more forgiving.Once I linked the two units'a surprisingly simple process that took only a few minutes the first time'there was no noticeable delay in speech from end to end. Only if the speaker made very rapid movements did the video skip a bit.Assuming you don't try to videoconference while doing calisthenics, you should get good results with both devices plugged into an ISDN line.I also tested the 900 over the Internet, and it performed fairly well. Internet connections aren't smooth enough for serious conferencing, however.The 900 had a faster Pentium III processor than the 600, more advanced buffering techniques and four dedicated digital signal processing chips. The 600 had the same four DSP chips but only a 566-MHz Celeron processor.The 900's microphone was better than the 600's. Its camera was similar. It resembled a droid from 'Star Wars' more than a deep-sea creature. The camera lens rotated almost 180 degrees for seeing in all directions without moving the unit. The lens also could squeeze a large number of people into a shot without a fisheye effect.Overall, the PictureTel units worked reliably enough for everyday business use. When more users are set up for videoconferencing, there'll be far less reason to commute to the office every day.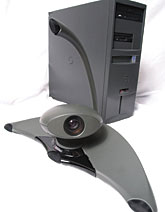 The PictureTel Model 900 lens can capture multiple persons in a conference without a fisheye effect.
United they stand