Bush still supports A-76
A-76 may be the most reviled process in all of procurement, but that won't stop the Bush administration from pursuing its goal of having companies and federal employees compete for work.
A-76 may be the most reviled process in all of procurement, but that won't stop the Bush administration from pursuing its goal of having companies and federal employees compete for work.A-76, the Office of Management and Budget's venerable circular first published during the Eisenhower administration, spells out how competitions should be conducted. During a panel discussion at the Industry Advisory Council's Executive Leadership Conference last week in Hershey, Pa., Angela Styles, the Bush-appointed administrator of the Office of Federal Procurement Policy, was blunt.She said that no matter how broken the A-76 process might be, the administration would press ahead with its plans for agencies to hold outsourcing competitions for 15 percent of eligible activities. The activities are those identified by agencies in compliance with the Federal Activities Inventory Reporting Act.'No one in the administration cares who wins these competitions,' Styles said. 'We just want better management.' But she stopped short of saying the administration would set about fixing the A-76 process.Earlier in the conference, Stephen Goldsmith, former Indianapolis mayor and a nationally known proponent of outsourcing at the municipal level, called A-76 a 'process for torturing both the public and private sectors. Everybody wastes two years and a lot of money, and then you start all over again.'Styles' comments didn't sit well with all of the gathered government and vendor officials. One former federal appointee said she'and by extension, Bush'was ducking the tough issue of reforming A-76.Styles was one of four OMB officials who briefed IAC on Bush's management agenda.Steven R. Cohen, senior policy adviser to the director of the Office of Personnel Management, said the 'stars are in alignment' for comprehensive reform of civil service. He cited the impending retirement of large numbers of senior managers, the need for IT management expertise and the sudden increase in the appeal of government service after Sept. 11.He said OPM is working on proposals to improve the USAJobs Web site. And, he said, 'Pay must be market-driven, not internal equity-driven' as it has been since the 1940s.OPM is also working to automate the paperwork associated with federal employment, Cohen said. The office has a contract with American Management Systems Inc. of Fairfax, Va., to design an online repository called the Human Resources Data Network.To help ease the current crunch, Cohen said, OPM has been recruiting retirees via a Web site at . He said 5,000 retirees have indicated a desire to return to work in the aftermath of the terrorist attacks.Patrick Schambach, CIO of the Bureau of Alcohol, Tobacco and Firearms, called OPM's initiatives 'too little, too late. Where are the creative ideas to really create the attraction' to federal service, he asked.'Give us a little more time,' Cohen said.The panel also included Mark Forman, OMB's IT and e-government chief, and Sheila Conley, branch chief of Financial Standards and Reporting.Conley, acknowledging that 12 of 18 cabinet-level departments have received clean financial audits, said, 'A clean audit does not equate to a well-managed organization.' She said agencies are still unable to get a handle on the total costs of their programs, or get regular, accurate reports on costs. Instead, she said, most stop their activities and conduct 'fire drills' to gather financial data at audit time.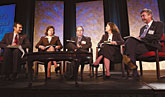 From left, Mark Forman, Angela Styles, Steve Cohen, Sheila Conley and Industry Advisory Council executive director Alan P. Balutis exchange views on the President's Management Agenda.
Reform needed?Recruiting retirees
www.patriots.gov