eArmyU portal takes enroll call
As a single mother and an enlisted Army sergeant at Fort Benning, Ga., it was hard for Andrea Pratt to juggle all of her responsibilities and attend college.
As a single mother and an enlisted Army sergeant at Fort Benning, Ga., it was hard for Andrea Pratt to juggle all of her responsibilities and attend college.Not anymore.Today, Pratt is taking classes online as part of the Army's eArmyU initiative, studying for a bachelor's degree in resource management at Tri-State University in Indiana. She spent a year away from her son while serving in Korea, and she didn't want to leave him again to attend college.'A program really can help you,' Pratt said. 'Being a single parent, I have the chance to go and actually take classes and still be at home with my son. It's great.'Staff Sgt. Hassan Stewart feels the same way. He said he lacked the time to attend a traditional college. He likes the fact that he can log on whenever he wants, even on his lunch break, and do classwork. Today, Stewart is working toward a degree in applied science and technology at Central Texas College.'It's more convenient. Now it's easier for you to focus on what you want to do college-wise,' said Stewart, who is also stationed at Fort Benning. 'In some places, you can't go to school, and it's discouraging.'Ten months after the Army contracted with PricewaterhouseCoopers LLP of New York to build an electronic-learning portal to make available free education from 24 colleges and universities, service members all over the world are itching to enroll. Soldiers in the program are given a notebook PC and printer, an e-mail account, Internet access plus academic and technical support.The program provides online registration for classes, tutoring and technical assistance at the click of a mouse. Credits are transferable among the participating institutions.The three bases that offer the Army University Access Online program'Fort Hood, Texas; Fort Campbell, Ky.; and Fort Benning'have a long waiting list. Two more bases, Fort Drum, N.Y., and Fort Lewis, Wash., will be phased in to the program by mid-November, said Susan Johnson, program adviser in the office of the assistant Army secretary.In an online user survey about eArmyU.com conducted earlier this year, many soldiers called the initiative 'the best thing the Army has ever done for them,' Johnson said.PricewaterhouseCoopers received a five-year, $453 million contract last December to develop the eArmyU.com portal. The company hired dozens of subcontractors and set up the portal by integrating 10 software products with the Army's three legacy systems.'It's so popular with the soldiers,' said Dennis Bundy, on-site manager of the eArmyU program at Fort Benning for PricewaterhouseCoopers. He said the initiative is a morale booster. 'They say it's better than any promotion, any pay raise.'The initiative began at the three Army posts with the goal of reaching out to eight more posts next year. Ultimately online courses could be available to 80,000 soldiers Army-wide within the next five years.Through the portal, soldiers will be able to earn certificates and associate's, bachelor's and master's degrees at no cost to them.Fort Benning is home to about 17,000 enlisted soldiers. So far, 1,895 are enrolled in the program, Bundy said. By the end of the year, an additional 920 are expected to sign up, he added.Many of the students come to the Fort Benning Learning Resource Center, where 25 computers are linked to the Internet and 10 phone lines have been installed. Fort Campbell also has a state-of-the-art center, with 60 classrooms, including several with computers at every desk.Bundy said many of the more than 8,000 soldiers taking classes through eArmyU have re-enlisted or have extended their time of service to meet eligibility requirements, which mandate that a soldier have three years remaining time in service to qualify.The program also requires soldiers to complete at least 12 credits in two years or face being charged a percentage of the college costs.The program recently accepted another 4,000 students who will be phased in by year's end, Johnson said.'It's a recruiting tool. It's a retention tool,' Bundy said. 'The ones that are already in, we want to retain them. A lot of the soldiers are staying in the Army.'When the program is implemented across the Army, soldiers deployed around the world will no longer have to put their college goals on the back burner, Johnson said.'We think this is going to help the Army get to our goal of transformation,' he said. 'It's an investment.'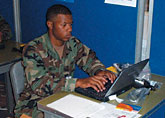 Specialist Jason Mims, who works in the Army Materiel Command's Logistics Assistance Office at Fort Benning, takes a training course at the fort's eArmyU installation.
Bootable campusTake your PC pick