Easy Mapping
The Geological Survey's nationwide freshwater data survey now taps a data warehouse with a click on a map.
The Geological Survey's nationwide freshwater data survey now taps a data warehouse with a click on a map.The interactive tool can zoom in on a particular region of the United States and show exactly where test sites are measuring pollutants and nutrients in lakes, rivers and aquifers. And USGS' National Water Quality Assessment (NAWQA) Program team doesn't even have to maintain the software on its own servers.The BeyondGeo application that does the mapping runs at the company that developed the software'Blue Marble Geographics of Gardiner, Maine, said Sandy K. Williamson, program manager for NAWQA databases.NAWQA incorporates the Geological Survey's long-term study of river basins, lakes and aquifers throughout the United States. It covers all 50 states, from the Connecticut River basin in New England to the Cook Inlet basin in Alaska.The Web site, at , has been public since August. Site development and integration with NAWQA's Web-accessible database took only five or six weeks, Williamson said.In their first attempt to connect maps to the data warehouse, NAWQA programmers set up a script to pipe latitude and longitude to a couple of commercial Web sites that deliver maps.'That was barely usable,' Williamson said.Then his group tried developing a map application internally using a commercial geographic information system, but it wasn't clear how much the USGS mapping division would charge to maintain the production site.BeyondGeo, which costs only an annual flat fee, 'was really a bargain' at $1,500, Williamson said. 'We're the government'we can't afford to pour tons of money into development.'The opening page of the NAWQA map viewer displays the continental United States with the areas covered by NAWQA in pink.The map viewer has reset, recenter, zoom, information, find and clear tools. A legend lists the symbols for volatile organic compounds, trace elements, pesticides and nutrients found in fresh water. Check boxes let the user select particular chemicals and geographic features.Users of recent versions of Microsoft Internet Explorer can draw a rectangle and zoom in to the area contained in a check box. That feature doesn't work with common versions of Netscape Navigator, however, Williamson said.Switching to the information tool and clicking on a small symbol for a water test site lets the user drill down into the NAWQA data warehouse []. The application retrieves data for the designated water test site and loads it into a pop-up window for study.A link at the top of the NAWQA map viewer's home page goes straight to the data warehouse. But its hundreds of parameters, plus the tables of results it produces, make the warehouse somewhat difficult to use directly.'The mapping feature helps you see what you're looking for,' Williamson said.He enjoys the low-maintenance aspect of using the BeyondGeo software on its parent company's servers.'We are in control of it, but they have all the nightmares of keeping it up 24 hours a day,' he said.Blue Marble Geographics' annual fee for its mapping service starts at $1,500 including interface development and maintenance. Some GIS software for in-house application development costs more just for a software license, Williamson said.The NAWQA map viewer's audience includes state and local government officials, academic researchers and consultants.Although the Web app doesn't track its visitors, Williamson said, he knows something about the audience makeup from the handful of questions he gets every week.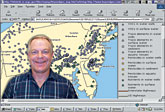 Sandy K. Williamson works in the Geological Survey office in Tacoma, Wash. NAWQA's map viewer displays sites where researchers have found surface-water nutrients (green triangles) and organics (blue circles) in mid-Atlantic wells.
Web viewer makes data warehouse simpler for everyone
infotrek.er.usgs.gov/files/nawqa/beyondgeo_map.htm
Local data
GCN, Oct. 8, Page 25