NAS puts data within easy reach
How do you give thousands of users immediate access to large files without bogging down network servers? That's one of an IT manager's greatest challenges.
How do you give thousands of users immediate access to large files without bogging down network servers? That's one of an IT manager's greatest challenges.Traditionally, managers have struggled to boost network storage capacity by adding file servers or disk drives to existing servers. In some cases, they have dedicated entire server farms to help carry the load.But these solutions leave a lot to be desired. General-purpose servers are not particularly efficient at handling fast I/O processing tasks. Their hardware computing muscle is largely wasted on file serving, and their full-scale operating systems with millions of lines of code simply aren't necessary for the task.A better approach, in many cases, is network-attached storage.In effect, NAS appliances are thin servers attached directly to a network. They use stripped-down operating systems and dispense with nonessential components such as mice, monitors, keyboards, modems and all but a few required I/O ports.They cost much less than typical servers and are easier to set up, run and maintain. More important, their streamlined OSes and architectures let them devote all their resources to fast I/O processing, the main requirement of serving up files.Because NAS appliances support a variety of network protocols, they can support hundreds or thousands of clients running different OSes.Scalability is probably their most significant feature. Many NAS devices can store terabytes of data, depending on the capacity of the disks and the number of disk drives used. By adding more modules or drive bays, some NAS appliances can be scaled from the workgroup to the enterprise level.The chart on Page 34 lists representative appliances and systems from leading NAS manufacturers. Check out their Web sites for more products.What's the best way use NAS' file sharing and online storage?Dan Blizinski, NAS product manager at Dell Computer Corp., said a key to using NAS appliances is to put them close to their user workgroups to isolate network traffic and help with network and server load balancing.Blizinski also said NAS appliances can be used to duplicate and distribute frequently used software configurations throughout an organization, thereby reducing the load on the primary server.They also are useful for storing and distributing application software and are cost-effective tools for archiving computer-aided design and other data-intensive files, keeping them near-line until needed. And because NAS appliances are so easy to set up, they are especially useful at remote sites that typically lack technical experts, he said.Other NAS applications, according to EMC Corp. and other NAS manufacturers, include serving up Web pages, Web mail, and streaming content; storing large video or audio files such as those used in medical imaging; and software development.Because NAS products are fairly new on the market, comparing them with other products on the storage market is not easy, but industry experts generally agree on the following: Low-end NAS appliances for workgroups, such as FIA Storage System Group's POPnetserver 4000 or Merlin Software Technologies International Inc.'s Essential Server NAS+, can provide limited scalability of between 40G and 500G of storage.Midrange systems typically scale from 500G to 2T. Enterprise systems such as Grau Data Storage's Infinistore Virtual Disk series can scale to 35T. Most NAS vendors offer families of products that scale to several ranges. Some NAS vendors provide similar models in rackmountable, tower or cube configurations; others limit their products to a particular design. Rackmount designs scale more easily than deskside or tower models. NAS appliances are better than general-purpose servers for file serving because they're optimized for I/O tasks. I/O is the important term because, when under load, a NAS appliance's throughput is the key measure of its performance. Processor speed and RAM aren't as vital in NAS appliances as they are in general-purpose servers. As with general file servers, RAID Level 0 disk striping will improve a NAS appliance's performance. Because NAS appliances dispense with unnecessary components, they are inherently more reliable than general-purpose servers. Fault-tolerant components and redundant power supplies increase their reliability, as does RAID Level 1 disk mirroring and RAID Level 5 data striping with parity. Virtually all NAS appliances come with 10/100-Mbps Ethernet network connectivity; some provide dual connections. Optional Gigabit Ethernet connections are generally available, and a few vendors provide asynchronous transfer mode connections. Auspex Systems Inc.'s NS2000 series is a high-end modular package with 36 10/100 Ethernet, six Gigabit Ethernet and three ATM network connections. Plug and play is the operative phrase. Blizinski said that installing a NAS appliance should take no more than 15 minutes and should not disrupt other servers. Network users should maintain access to all their files and network resources during the installation process. Network environments with a mix of Unix, Microsoft Windows, Apple Macintosh and Linux workstations require a NAS appliance that is preconfigured with the requisite protocols. Unix Network File System (NFS), Windows Common Internet File Service (CFS), Apple Inc.'s Apple Filing Protocol (AFP), Novell Inc.'s NetWare Core Protocol (NCP) and, for the Web, Hypertext Transfer Protocol are the most commonly used network protocols. Embedding them into a NAS appliance allows it to appear as a native file server to each of its clients; files are saved and retrieved in their native formats. NAS appliances are single-function devices and shouldn't be difficult to manage. Routine administration and customization functions should be performed via a simple Web browser, with Simple Network Management Protocol available for managing the devices on the network. Check to see whether the NAS appliance can back up workstation files to its own disk array. It is also important to see if it is compatible with the network backup application software. Because NAS appliances do without unnecessary hardware and software and are designed for reliability, their TCO should be proportionately lower than that for most general-purpose servers. And because they typically include their own OS, you won't pay extra per-seat licensing or software update costs.XXXSPLITXXX-NAS and SAN are two different technologies, but many people confuse them.Network-attached storage devices connect directly to the network and sit between application servers and file systems. They incorporate industry-standard network file system interfaces such as Structured File Service and Common Internet File System over TCP/IP to let clients using different operating systems share files. They use block-level interfaces to communicate with storage subsystems and file-level interfaces to connect to the outside.A storage area network isn't a network device but a dedicated storage network used to connect storage systems, backup devices and servers. A SAN might be in a single box, or span multiple systems. A Fibre Channel switched network is, in effect, a SAN.Many people persist in representing NAS and SAN as competing technologies, but they are complementary in that they work equally well for different purposes.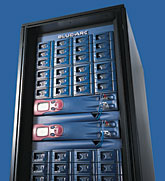 With fast I/O speeds and easy scalability, network-attached storage devices carry the load for less, with few headachesGet closeScalability.Configuration.Performance under load.Reliability.Network options.Easy installation.Cross-platform file sharing.Web-based and SNMP management.Backup compatibility.Total cost of ownership.
J.B. Miles of Pahoa, Hawaii, writes about communications and computers. E-mail him at jbmiles@gte.net.