NOAA generates 3-D images of the attack sites
As cleanup continues at the World Trade Center and the Pentagon, the National Oceanic and Atmospheric Administration has created 3-D models of the debris to help workers locate buried foundations, stairwells, elevator shafts and utility connections.The models show the volume of debris late last month and the reach required of cleanup cranes.Imaging work is still continuing at the Pentagon site, said Capt. Jonathan Bailey, chief of remote sensing. 'We want to give millimeter accuracy for vertical support structures' to aid in reconstruction, he said. 'The building is actually shifting a little.'Calibration experts from NOAA's National Geodetic Survey and Aircraft Operations Center joined forces to gather the airborne photographs and laser ranging data. They used the Global Positioning System and NGS' Continuously Operating Reference Stations on the ground to position airborne and earthbound mapping sensors.NOAA's Cessna Citation II jet aircraft made multiple flights over the disaster sites. Its high-resolution, georeferenced photos were overlaid on vertical data from a Lidar, or light detection and ranging, device from Optech Inc. of Toronto, to form 3-D images. The relative accuracy of the combined images is 3 decimeters, or about a foot, Bailey said. Lidar sends down laser pulses to illuminate the terrain and measures their round-trip travel time. It converts the time intervals into elevations, shown in the accompanying image of Ground Zero as yellow and orange for greater heights. The aircraft has a kinematic GPS receiver and an inertial navigation system to correct for pitch and roll.The Cessna's normal job is nautical charting along the U.S. shoreline. The craft is also used for storm profiling and other environmental photography, and it makes airport obstruction charts for the Federal Aviation Administration.NGS field team members were Mike Aslaksen, Ed Carlson and Jason Woolard. The Citation pilots were Lt. Cmdr. Brad Kearse, Lt. Mike Weaver and Lt. Will O'Dell of the NOAA Commissioned Corps, and Steve Nicklas of NGS.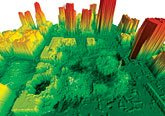 NOAA's 3-D modeling combines high-resolution photos with images that use laser pulses to determine elevations; yellow and orange indicate greater heights.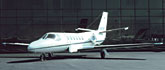 The images were taken from NOAA's Cessna Citation II.
Photos plus Lidar