A database helps the help desk
On many help desks, a support analyst has the option of walking to a malfunctioning computer and fixing it. For Erika Pierce, however, work isn't that simple.
On many help desks, a support analyst has the option of walking to a malfunctioning computer and fixing it. For Erika Pierce, however, work isn't that simple.As a computer specialist for the General Services Administration's Public Buildings Service, she supports 1,200 employees in six states in the Great Lakes region. Her help desk system wasn't designed to manage such a wide area.'Regardless of the situation, an analyst had to be sent to the user workstation to close out the trouble ticket,' Pierce said. For some remote sites, that meant travel expenses and two or three days of user downtime.Then one day the help desk's software died. Hundreds of trouble tickets disappeared. The catastrophe turned out to be a blessing in disguise because it opened the door for new technology to improve the quality and speed of service. The Public Buildings Service looked for a system to focus its efforts and organize its operations.Service officials decided to implement Unicenter Service Desk from Computer Associates International Inc.With IT now an integral part of government operations, there is added pressure on help desks to get users back online and to prevent outages. The task, however, is complicated by the number of applications offices use and the rising number of remote or mobile workers and telecommuters.How do agencies provide trained personnel to handle the array of problems?'You can't add bodies and have a sustainable business model,' said analyst Kris Brittain of Gartner Inc. of Stamford, Conn. She recommends tools that agencies can use to categorize trouble tickets, conduct pattern analyses and automate the entire process.Pierce customized a knowledge base within the help desk system for the Public Buildings Service. It contains basic data on all the office's applications, allowing analysts to record problems and their solutions for the benefit of the entire support staff.Before, support analysts did not have a database to search for a problem's resolution, Pierce said. 'Now they can solve it once and create an item for others to refer to.'Putting knowledge directly in users' hands is part of a trend toward reducing help desk costs. The approach, though, could be a double-edged sword.'Self-service is nice in theory,' said Fred Broussard, an analyst with IDC of Framingham, Mass. 'But it's tricky if users are unfamiliar with technology.'Pierce recommends a two-tiered knowledge base, a technical one for help desk staff and a simple one for end users.'Our GSA customers will have their own basic knowledge base, which includes frequently asked questions about a wide range of topics,' Pierce said. 'This reduces routine calls to our staff.'Another tool in the help desk arsenal is the ability to remotely view and control a user's computer. The Public Buildings Service accomplishes this with Unicenter's Remote Computer Option.Using this tool, the agency's success rate has risen from zero to 70 percent first-call resolutions. With remote functionality the help desk can also support mobile workers. 'Even if the customer is at a hotel using a laptop, we can fix it remotely,' Pierce said. 'We just RCO it and take care of the bug.'Tickets that had taken two to three days to close out are now routinely completed in 20 minutes to one hour, Pierce said. Based on the success in the Great Lakes, the Public Buildings Service rolled the software out to the rest of its 11 regions.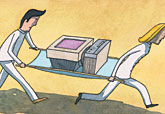 From a distance