Backup, storage units have a hold on data
The GCN Lab recently looked at portable backup and storage products for individual users. This review goes a step further, to enterprise storage and backup devices for midsize bureaus or field offices.The four devices in the review weren't terabyte cabinets, but they still held a lot of data'30G to 200G uncompressed per tape or disk. Their transfer rates also were impressive: from 21G per hour to 87G per hour, or about 6 megabytes/sec to 24 megabytes/sec.These multiple variables can confuse users about enterprise-level storage and backup systems. The media types differ widely, and connecting and administering the different devices requires technical savvy. Before you choose one, calculate how much data you store per day or week. How many hosts or servers are there? Even the distance between the storage device and server is important.Don't confuse storage with backup. Storage typically requires long-life media. Backup periodically erases or overwrites the tape or disk with current data.We evaluated four storage and backup devices that altogether used seven types of media.Digital Linear Tape drives, the most common backup devices, are single-spindled and use magnetic tapes that can hold 20G to 40G with a transfer rate of roughly 5 megabytes/sec.Super DLT drives are similar but have an average transfer rate of 11 megabytes/sec and can store up to 110G per tape, uncompressed. As often happens with advancing technology, DLT and SDLT units have compatibility problems.Hewlett-Packard Co., IBM Corp. and Seagate Technology LLC of Scotts Valley, Calif., have set up a common standard tape format called Linear Tape-Open for all their storage products. LTO has two tape cartridge formats, Accelis and Ultrium. Both have transfer rates of 10 mega-bytes/sec to 20 megabytes/sec, but the Ultrium format resembles DLT and has a native 100G tape capacity. The Accelis format stores 25G.The Advanced Intelligent Tape and Digital Tape Format drives pioneered by Sony Electronics Inc. are dual-spindled and store data in a helical pattern rather than a linear pattern like DLT or LTO.Resembling VHS videotapes, AIT and DTF cartridges are designed primarily to hold video or audio and are somewhat less durable than the other formats, despite holding more data.DTF tapes can hold up to 200G and have a transfer rate of up to 24 megabytes/sec. AITs can hold 50G and transfer it at 6 megabytes/sec. Past problems with AIT reliability prompted Sony to install on-board intelligence in the new AIT-2 drives to keep better track of data and speed up data retrieval.DTF and AIT media both have a claimed life span of 30 years, but optical media such as CD-ROM and DVD-ROM last longer. We evaluated one optical write-once/read-many (WORM) optical drive.An experienced network administrator can install any device in this review, but the larger storage units such as the tape library might require vendor help.It took us six hours to install the L20, even with a vendor representative on hand. The problems were software-related and had nothing to do with the L20.We set out to test using Computer Associates International Inc.'s ARCserve management software but improperly installed it the first time on a Pentium 4 system under Microsoft Windows 2000. The operating system refused to reaccept one of the drivers afterward.After hours of searching the Internet for answers and trying new ways of reloading the device drivers, we learned of a glitch with ARCserve that affects the OS registry.When an error occurs during installation, the software is never fully deleted from the Windows registry, causing driver errors thereafter.We decided instead to use Win 2000's embedded backup and storage software. Although it lacked the extensive features of ARCserve or competing products from Veritas Software Corp. of Mountain View, Calif., it functioned well enough to let us concentrate on the hardware performance.The L20, which we installed under Win 2000 in about 40 minutes, is the smallest tape library StorageTek sells. It accepts DLT, LTO and SDLT formats.The Fibre Channel backup unit had a robotic arm with a bar code reader to select the correct tape plus a minicamera to read the tape's label for redundancy. The last thing an administrator wants is to store data on the wrong tape.The robotic arm could process up to 20 tapes, the L20's maximum capacity, in seconds.Feeding DLTs at an average 40G per tape, the L20 backed up 800G at a transfer rate of 40G per hour. It worked well for periodic lab network backups. The L20 would also be handy for backing up a network-attached storage device.Instead of a robotic library, Sony submitted two single-tape devices using AIT and DTF media. The drawback with single-tape devices is that the tapes have to be changed by hand, which causes wear and tear and exposes the process to human error. To ensure not having to change tapes often, Sony has given the media a huge capacity.The $3,500 external drive took AIT-2 tapes with native capacity of 50G per tape uncompressed. At a transfer rate of 6 megabytes/sec, it was far from the fastest device in the review but generally could locate what was requested in a minute or so.The SCSI connection and the compact 10- by 2- by 7.5-inch form factor would make the SDX a good portable storage device for a small enterprise. And an AIT-2 tape lasts about 30 years before it starts to deteriorate.The form factor and single-tape capacity are unsuited for periodic backups, however, particularly for audio or video data.Like the SDX, the handled audio and video best but did a good job with other forms of data, too.Although its tapes also had to be changed manually, the job came up less frequently than with the SDX because a DTF tape can hold from 60G to a whopping 200G, uncompressed.The GY-8240UWD also transferred data faster than the SDX'86G per hour. Like the L20, connecting the GY was complicated and required third-party software such as ARCserve for a Fibre Channel link. It's also available in a SCSI version.With 200G tapes, you might think the GY-8240UWD would retrieve data rather slowly.But in fact it was the fastest in the review, at 10 to 20 seconds on average, thanks to two complex technologies that placed a virtual table of contents at the end of each tape. Noncontact flash memory speeded up data location.We found few flaws in the GY-8240UWD. It was powerful enough for almost any midsize enterprise. Our only real complaint was that it cost almost $20,000 more than the L20.What storage medium do you choose if you expect your data to outlive you?Given the mayfly life span of computer storage technologies, you can't do better than an optical WORM drive. It's reliable and massive in capacity.The optical drive was only 2 feet tall but heavy at about 200 pounds. It had wheels for rolling into place conveniently.We connected it to a server using a SCSI cable and DiskXtender management software from OTG Software Inc. of Bethesda, Md.Setup was fairly easy. The 12 drive slots each held a 12-inch, 30G optical disk (15G per side), for 360G capacity fully loaded. The transfer rate was 21G per hour.That capacity alone would not warrant a price tag exceeding $25,000. The advantages of the Plasmon drive were reliability and portability.Unlike the L20, the TrueWORM drive can store data for long periods. Plasmon guarantees that data on its optical disks will remain intact and readable for 100 years. The disks are guaranteed to remain writable for 30 years.The hard plastic disks resembled giant floppy disks. Doors protected the vulnerable media at the access point. Removing a disk for storage or transfer to another drive was almost as easy as ejecting a floppy from a desktop system.The hardware seemed fairly error-proof. Whenever a disk was in the vulnerable, ready-to-write position, a metal lock automatically clicked to keep the unit from opening. Ejecting a disk required pushing a button, which returned all disks to a neutral position and unlocked the unit.You can read data written to the WORM disks as often as necessary, but you can't change what's already written'only add to it. The unit is best suited for final versions of whatever's being stored because the 30G media costs $595 per disk.For long-term archiving, the Plasmon 8120 would be more cost-effective than smaller devices, and a lot more portable than huge optical jukeboxes that perform the same function.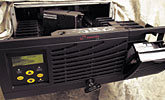 The small StorageTek L20 tape library is cost-effective for backing up a small office network periodically.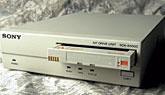 The Sony SDX-S500C is a good, portable storage device for enterprise use.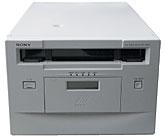 The Sony GY-8240UWD comes in both Fibre Channel and SCSI versions.
Experience the installationStorageTek L20Sony SDX-S500CBackups bewareSony GY-8240UWDPlasmon TrueWORM 8120Long-term WORM