PACKET RAT
The Rat got home from the hospital [<a href="http://www.gcn.com/20_31/log-off/17337-1.html">GCN, Oct. 22, Page 42</a>] just in time to succumb to the anthrax panic. Coming from a long line of subsoil inhabitants, the whiskered one can break into hives just from hearing the word 'cutaneous.'
The Rat got home from the hospital [] just in time to succumb to the anthrax panic. Coming from a long line of subsoil inhabitants, the whiskered one can break into hives just from hearing the word 'cutaneous.'break into hives just from hearing the word 'cutaneous.'When he read his agency's latest policy on mail-handling, set by the acting successor to the sock puppet, he shook his head in disbelief.'If I threw away everything that matched these 'suspicious package' guidelines at home,' he muttered, 'I'd never get any mail.' In fact, it sounded as if the Rat burrow's unlucky mail carrier might have drafted the list.Fortunately, the irregular-sized package the Rat was waiting for did arrive. Amazon.com sent the gas masks by FedEx. Other strange pieces of mail were less welcome.Long ago, the Rat learned the first rule: Don't open mail not accurately addressed to you. The cyberrodent had found out soon after moving his family into their current digs that the prior occupant's hobbies had gotten them on some interesting mailing lists.The next warning sign struck even closer to home: excessive postage. The Rat's late aunt often sent him parcels of sweaters and mittens knit from leftover fur balls and always posted them with rolls of the last transitional series of stamps. Since she couldn't be bothered to go to the post office, she left them out for the carrier. Her relatives never wrote back to thank her, so she always added more postage the next time.The guideline of 'No return address or fictitious return address' ruled out any mail from the Rat's cousin, now living somewhere in the Florida swamps. 'Improper spelling of addressee names' ruled out just about all the junk mail sent to the Rat household, especially sweepstakes envelopes. Given the Rat's ongoing struggle with his taxes, anything marked 'You may have already won' could be considered a threatening letter.'Cut-out lettering like a ransom note'? That would be the work of Uncle Leo who, after he found out how much ink-jet cartridges cost, started composing correspondence and mailing labels from the text of his printer manual.Naturally, the Rat household also receives its share of parcels with protruding wires and pieces of metal. They come from customers of his former enterprise who are returning pieces of hardware under the terms of their 15-year maintenance contracts. Mrs. Rat usually sends these back as received, and not one customer has ever noticed.'Unexpected letters from foreign countries' also fits the Rat household profile. Such missives are generally addressed to the elder ratlings from overseas pen pals who like to burn their correspondence onto CD-ROMs labeled 'extremely toxic' or 'kewl warez.' The postal scare has had one beneficial side effect, however. It has ended the long-running package war between the wirebiter and his brother-in-law, which erupted after a misunderstanding over a box full of fire ants.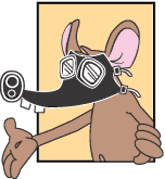 GCN, Oct. 22, Page 42
The Packet Rat once managed networks but now spends his time ferreting out bad packets in cyberspace. E-mail him at rat@postnewsweektech.com.