How to Fund It
The going can get tough for a modernization project when discussions turn to funding. That's when projects are put into competition with others; the government only has so much money to go around.
The going can get tough for a modernization project when discussions turn to funding. That's when projects are put into competition with others; the government only has so much money to go around.The process starts'and, in some cases, ends'on Capitol Hill. 'If we don't sell it to the legislators, it doesn't get funded,' said Carol Johnson, executive director for budget at the Customs Service.Deciding how to fund a project can be critical to its success. Funding involves strategic planning, hiring consultants and choosing from among several ways to pay for a project. Sometimes Congress demands that an agency slash programs to make budget room for the bigger proposals.Even using existing operating funds requires the blessing of legislators, said Melissa Wojciak, staff director of the House Government Reform Subcommittee on Technology and Procurement Policy.Gaining Hill approval requires doing your homework.'Successful agencies are those that have taken the Government Performance and Results Act and the Clinger-Cohen Act and have understood the goals set forth in those two pieces of legislation,' Wojciak said.Agencies that rely too heavily on traditional government specification models are most likely to create problems, such as cost overruns, for themselves, she said.Congress also can use its control of purse strings to pull a project along.Harry D. Gatanas, senior acquisition executive at the National Security Agency until leaving earlier this month for the private sector, recalled when NSA was starting to feel the heat from congressional leaders to modernize its systems quickly without breaking the bank.'There was a concern in Congress that NSA was not modernizing fast enough,' Gatanas said. 'NSA needed to get its act together. NSA was having some IT infrastructure problems and something needed to be done. We had a willing Congress.'NSA outsourced operation of its telephony, distributed computing, enterprise management and networks under a 10-year, $2 billion deal with Computer Sciences Corp. The outsourcing program is known as Project Groundbreaker.Gatanas said funding for Groundbreaker came out of operations and maintenance money partly 'derived by transferring 1,100 personnel billets' from the agency to CSC.In addition, some of the money for the requirements contract came from operating funds previously budgeted for IT support services at NSA, according to Stephen Tate, the vice president for special programs and IT solutions at contractor Lockheed Martin Information Technology.NSA developed a total cost of ownership model and performed an internal audit to begin funding plans for Groundbreaker, said Tate, who formerly worked for NSA as the director of corporate sourcing.'We audited the actual payroll dollars for IT support services at NSA, and then we audited the budget,' Tate said. The price comparison was outlined in a 900-page study that simulated what businesses looked at when doing similar comparisons.NSA will save money, Gatanas said, but perhaps more important, the agency will modernize faster through outsourcing.That's one way to fund a modernization project. But there are as many routes to funding projects as there are to shaping them. An agency could get an appropriation, or it could use operational funds from year to year. Some have found the best approach to be a working capital fund, in which agency officials vie for IT services and support funding.When the Defense Logistics Agency decided to modernize its business systems, officials went the route of a savvy investor searching for the best return on investment.David Falvey, program manager of DLA's five-year, $389 million business systems modernization (BSM), said the agency began treating its systems targeted for modernization like a stock portfolio. Falvey said officials would 'look at the funding line for several legacy systems' and 'trade off funds between systems to get the most bang for the buck.'We began to make trade-offs in the legacy or near term and what we would fund in the out years,' Falvey said. The result was a firm, fixed-price, five-year contract with built in performance incentives. The modernization is being financed from the Defense Working Capital Fund, Falvey said. The prime contractor on BSM is Accenture LLP of Chicago.Customs, meanwhile, has embarked on a 15-year, $1.3 billion modernization program to build a system known as the Automated Commercial Environment. ACE will replace the 17-year-old Automated Commercial System, which is near the end of its functional lifecycle. The mainframe system has suffered several costly shutdowns from overload.For several years, the Customs modernization project faced an uphill battle with the Clinton administration'not over the need for such a program but how to fund it. The administration wanted the service to support the modernization initiative exclusively through user fees. Customs and key members of Congress contended that the government should pay for the modernization.In the end, the Customs model represents a $1.3 billion appropriation over 15 years.Such contracts don't guarantee funding in all those years'neither for Commerce nor for IRS, whose long-range modernization project is the biggest in government. IRS Commissioner Charles Rossotti estimates the agency would spend more than $10 billion over 15 years to do everything, including overhauling all its business practices and systems.But Congress doles out the money year by year, and to keep it flowing, officials from IRS and its contractor, Computer Sciences Corp., meet weekly with staff from the General Accounting Office. Lately, progress on IRS' Prime program has been deemed good enough that Congress has released $391 million for 2002.The Navy decided to modernize its IT infrastructure using its operations budget. In essence, the Navy sold its networks to Electronic Data Systems Corp., the prime contractor, and EDS will own and operate the Navy-Marine Corps Intranet, which comprises 200 networks. If completed, NMCI will cost the Navy $7 billion the service otherwise would have spent on its own systems.Navy officials at first looked at doing the work in-house.But a team of top Navy officials, including then Navy Secretary Richard Danzig, Navy CIO Dan Porter, and Joseph Cipriano, program executive officer for IT, decided to look at industry alternatives, according to Ron Turner, deputy CIO for the Navy.The officials determined that the Navy was spending about $1.6 billion a year on information services and communications, Turner said. They decided that NMCI would save the service money through central procurement and management.The Navy chose the NMCI Demand Model for the project's funding structure. This model lets base commanders order IT services and seat rollouts depending on what they can afford in a given budget year.The Navy's goal is to pay for IT as a managed monthly service, like electricity.The Army is taking a somewhat similar approach to funding its Wholesale Logistics Modernization Program, which started in 1999. It is using operation and maintenance money to fund the 10-year contract with Computer Sciences Corp., according to an industry official familiar with LOGMOD.The Army had been paying about $35 million a year to sustain the Army Materiel Command's systems. CSC offered to use that money to both keep the legacy systems running and modernize at the same time, the source said.At DLA, officials expect to save money when BSM is deployed in 2006 and expenditures allocated for its two legacy systems are reduced.'As portions of the system move off the mainframe onto the new system, processing costs and the cost of the DLA infrastructure supporting the legacy system will decrease each year,' Falvey said.The BSM contract is composed of 11 task orders. That is part of the program's innovation, Falvey said. Within the task orders, there are more than 100 performance incentives on which contractor payments are based.'It's not a fixed contract that can't be changed. This allows us to modify and change the task orders as we go along,' he said.The system will let ordering clerks throughout the Defense Department make supply queries and orders online. It will shorten delivery times and give commanders quick access to the food, clothing, medical items and repair parts that DLA buys.The Environmental Protection Agency, a relatively small organization, decided to pay for IT modernization projects out of working capital and systems modernization funds. The first fund covers IT infrastructure; the second is used for updating applications and databases.Between $80 million and $120 million is appropriated for the working capital fund each year. EPA program managers make proposals for products and services, said Steve Hufford, a member of the Information Integration Program Team. About $14 million annually is allocated through the systems modernization fund, Hufford said. Each fund has a control board to which managers request funding.XXXSPLITXXX-EPA has two main mechanisms for doing modernization. We have a working capital fund that is used to pay for most of our IT infrastructure.This accounts for somewhere between $80 million to $120 million annually. Customers throughout our agencies procure IT services through this fund. This includes employees' desktops, mainframes, supercomputers, telecommunications, all IT infrastructure. The modernization of our infrastructure occurs through this working capital fund.EPA also administers a fund for applications and data modernization, which is $14 million annually.It works OK. There are problems with it, the process of administering the fund. There's a lot of billing and tracking the costs. There's a lot of financial administration overhead in running this fund.It provides us with a more stable form of capital across fiscal years for IT infrastructure.I think the best way to do it is in the context of an agency's whole portfolio. There's a capital planning and control process to deal with.Every major system is part of an inventory. When you look at modernization, you need to do it in the context of your whole capital planning and investment control process. That principle ought to apply across all agencies.The example of Navy-Marine Corps Intranet'where the Navy is saying we're going to outsource a huge service to a contractor'that's not a bad contracting strategy. Approaches like that ought to be among your possibilities. I think we're headed that way within EPA.

Harry Gatanas says NSA's outsourcing strategy will speed modernization while saving money.
Dollar-for-dollarEarning its keepSavings plan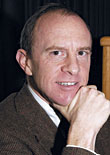 Steve Hufford is manager of the Environmental Protection Agency's Systems Development Center and a member of the Information Integration Program Team.
How does EPA pay to modernize its IT infrastructure?Is this method effective?What is the advantage of a working capital fund?What is the best way to fund modernization?