How to Manage It
The term project derailment took on a whole new meaning Sept. 11. The future of some agency modernization projects hinged on team leaders' ability to manage fallout from the tragedy.
The term project derailment took on a whole new meaning Sept. 11. The future of some agency modernization projects hinged on team leaders' ability to manage fallout from the tragedy.A case in point is the Federal Aviation Administration, where some 160 IT projects were under way. Each had to be freshly assessed in light of new realities and requirements. Some projects were delayed or cancelled, others accelerated.'The horrific events of Sept. 11 caused the entire FAA to stop and assess what we do and how we do it,' said John Thornton, director of the FAA's Free Flight program office. One of Thornton's programs, the User Request Evaluation Tool (URET), was accelerated; new plans call for the system to be rolled out in all 20 route centers instead of the original nine.'Sept. 11 was a crisis that changed us, in that it made us think about how we will support homeland defense,' said David Falvey, program manager for the Defense Logistics Agency's business systems modernization project. 'We don't know how that will ultimately impact what we're doing in modernization. But if we have a good strategy in place, I doubt we'll have problems adjusting.'Such an adjustment is a big challenge for agency executives whose modernization efforts comprise many separate projects, said Albert J. Edmonds, president of Electronic Data Systems Corp.'s federal government information solutions group.'Transformation events, such as Sept. 11, require a portfolio management approach in which agencies must find ways to shift resources to and from projects,' Edmonds said.'The problems they are solving are not the same ones they were solving in August,' he added. Edmonds, a former Air Force lieutenant general who was director of the Defense Information Systems Agency, said portfolio management is particularly difficult for federal agencies because congressional overseers must approve any reprogramming of funds.Still, manage you must. Keeping a modernization effort on track requires five strategies, experts said:1) Keep senior management in the loop. 'An executive can cause a lot of disruption if they only swoop into the program every three months,' warned Falvey, whose executive team meets every two weeks to evaluate progress and address any new issues. 'I believe that if you have good processes in place, then, as leaders change and move, it's less likely that a personality will disrupt a project.'And don't forget Congress. James A. Williams, deputy associate commissioner for project management for the IRS' Business Systems Modernization Office, is one of several officials who meets weekly with the General Accounting Office. Williams hopes to develop what he called an information dashboard'an information delivery system in which updates on the modernization program can be fed automatically to stakeholders such as Congress.2) Make the project as modular as possible.Breaking a modernization project into logical components can isolate problems and make it easier to change subsequent pieces if you need to.DLA's re-engineering of its supply chain management systems'a project involving about 4 million inventory line items worth about $16 billion per year'is a prime example.The project, under a contract with Accenture LLP of Chicago, will move DLA's 30-year-old, IBM MVS mainframe systems to a high-end Hewlett-Packard server running a suite of enterprise resource planning software from SAP America Inc. of Newtown Square, Pa. The project has been broken into 11 separate task orders, Falvey said. 'Each new module allows us to make course corrections based on past performance. That way we have the opportunity to modify the project to take advantage of new technologies or fresh requirements.'3) Don't stop looking for problems.The IRS, working with its Prime modernization contractor Computer Sciences Corp., has taken this rule to heart. Each month, IRS' systems, business function and modernization officials get together with CSC staff and consultants from Mitre Corp. in day-long meetings to review progress and address problems, no matter how small. Attendance is mandatory.The meetings are essential to keeping things on track, said Stephen Kalish, president of CSC's federal civil group and the company's point man on the contract. This year, the IRS and CSC hope to complete 41 modules related to various modernization initiatives.FAA's Thornton also follows this route. 'I review each program on a daily, weekly and monthly basis,' he said. 'It's the only way to stay in touch.'When problems crop up at DLA, Falvey's team subjects them to a hierarchy of test solutions, in the following order:Can the requirement or business practice be re-engineered away?Can we modify the commercial product to meet the requirement?Or, is the requirement better addressed by adding a commercial product or by extending the product code to meet the requirement?Or, must we supply government-developed custom code to take care of it? 'This,' Falvey said, 'is our very last choice.'Having the proper controls in place'what Kalish calls governance'can help keep a project on track. Governance covers such issues as who can issue a change order and when, and who can change a schedule.4) Communicate frequently.Ultimately, communication is the best way to keep a project on track. 'We meet weekly and monthly for status updates that are very metrics-driven,' Falvey said. 'Because of this I know almost in real time if something is going wrong.''Communication between and among managers and contractors has to be plain and direct,' agreed Thornton. 'It's when people put a spin on a program's progress, or lack of it, that you run into trouble. We have meetings with the user community present to ensure that our communication has clarity and that our programs remain focused.'5) Continually monitor cultural effects.'The biggest challenge I've found to any modernization system is modernizing the culture, to be quite honest,' said Falvey. 'You've got to have a formal methodology to address making the work force aware of what's going to happen [and] the impact it will have on individuals, and then educate them in the new system.''When these tools are delivered to the workplace, everyone knows what's in the box,' Thornton said. 'They've been involved to minimize ... the adverse cultural change that can kill even the best idea.'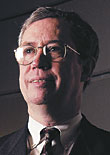 'We meet weekly and monthly for status updates,' DLA's David Falvey says. 'I know almost in real time if something is going wrong.'
Cynthia Morgan is a writer and editorial consultant in Minneapolis.