VA sets first architectural plan
The Veterans Affairs Department is counting on the first version of its enterprise architecture, released last month, to turn the slogan 'One VA' into a reality.'It's a pretty darn good start and lays a pretty solid pathway on how we move,' said Frank Perry, VA's chief technology officer and acting chief architect. 'It's not IT for IT's sake.'In September 2001, VA decided to pattern its enterprise architecture on the so-called Zachman framework, designed by consultant John Zachman. The framework follows traditional engineering and architecture principles.'That really set the approach that we would take and established the framework and the priority,' Perry said.Last spring, the department studied the plan at 'a very detailed level on how we will approach the task,' he said.Striving to meet the fiscal 2004 budget submission deadline, a team of 50 VA employees and consultants from Electronic Data Systems Corp., Booz Allen Hamilton Inc. of McLean, Va., and other groups worked from April to August to map out the first version.'We took a very clean-sheet-of-paper look at what we wanted to do,' Perry said. 'We decided that we wanted to make it a very business-directed effort and not have the technology dominate.'The team established 10 business functions, which corresponded to the major lines of business in the department.The next step was to find out the major data classes that fall under each function and map them onto the Zachman framework.The business functions were divided into subfunctions, and the team found out how the data fits into them. 'We established detailed relationships and then began to look for redundancies,' Perry said.'Now we have set the stage to actually build this in fiscal 2003 and 2004.' Three large IT initiatives that have been in progress for more than a year will furnish the infrastructure for the enterprise architecture. They are the Telecommunications Modernization project, the Cybersecurity Infrastructure project and the Common Computing Infrastructure for regional as well as main offices.'Before we did the enterprise architecture, we had already gotten started on them because we realized that we needed them,' Perry said.The plan does not specify dates for when the IT systems will be built, but it does set time frames, Perry said.'It's by no means a finished product and will never be a finished product,' he said.The department will make multiple updates to the plan every year.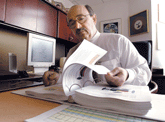 Technology is not the key element of VA's enterprise architecture, Frank Perry says; rather, it is the department's mission, divided into lines of business.
Olivier Douliery
Business functions