FBI gets on the case
After getting along for years with antiquated systems, some of which might have been recognizable to old TV FBI agent Efrem Zimbalist Jr., the FBI is making quick work of modernization.
After getting along for years with antiquated systems, some of which might have been recognizable to old TV FBI agent Efrem Zimbalist Jr., the FBI is making quick work of modernization.Special agents and intelligence analysts will rely increasingly on a recently deployed array of IT, including the high-speed Trilogy network and a rapidly growing data warehouse, according to senior bureau officials. The bureau also is updating or creating new applications, including financial and personnel management systems.And it is exploring its options in the field of remote access, according to executive assistant director for administration and acting CIO Wilson Lowery.In March, the bureau deployed the first phase of the Trilogy project at 591 FBI sites worldwide. The network connects 22,000 workstations, 2,612 switches and routers, 622 Ethernet LANs and 291 servers, Lowery said.Trilogy relies on a four-tier infrastructure with redundant connections and an asynchronous transfer mode and frame relay backbone.To bolster security in the network, Lowery said, 'We can see if anyone in the organization is going into files they are not allowed access to.'Trilogy later this year will host the Virtual Case File system, a browser application that will let FBI agents store, inspect and correlate data about criminal cases and national security investigations. The bureau plans to deploy the VCF on Dec. 13.Bureau officials last year scrapped the technical approach they previously had taken to creating VCF, which involved building graphical user interfaces on top of the FBI's existing, green-screen IBM 3270 mainframe Automated Case File System.A team of agents reviewed the GUI approach to overhauling the system last spring and concluded that it amounted to 'putting lipstick on a pig,' an official said.Last summer, bureau systems specialists responded to FBI director Robert Mueller III's directive not to automate obsolete business processes. They held meetings with dozens of subject-area experts brought in from across the agency to plan a better system.As a result, they designed VCF to use an Oracle9i database and combine several FBI forms into a unified file.The VCF will replace not only ACS but also individual databases that agents have built on their own to track cases. 'The problem is we haven't had an IT structure; we have been inefficient in the use of resources,' a senior FBI official said. 'The VCF will be a model for the replacement of other stovepipe systems.'The FBI's decades-old personnel system is a key candidate for overhaul, Lowery said.'We still have a number of legacy applications,' Lowery said, 'that we will not be able to replace immediately.' The bureau plans to begin work to create its Uniform Financial Management System, and later will move on to replace a suite of applications it uses now called the Bureau Personnel Management System.'The BPMS was installed in 1975'we hopefully will begin replacing that in late 2004 and 2005,' Lowery said. 'The question is how many [legacy systems] we can replace at once'we are prioritizing the applications we need to change.'The issue is, we have some applications written years ago that we have to reverse-engineer'we cannot find the people [who built them] or the documentation,' he said. If the bureau doesn't reverse-engineer the old systems, it runs the risk of removing a link or thread that would disable other systems.'One thing I am very proud of now is change management'it is all documented and if it fails to work we can' trace the problem back to its origins, he said.Lowery said he was surprised to learn how backward FBI systems were when he joined the bureau last year. 'We were starting much further back than I envisioned,' he said.As it creates the VCF system, the FBI is moving to a collaborative environment in which documents, images and other types of information will be stored once and hyperlinked. As a result, the bureau could avoid problems such as the loss of files that hobbled the prosecution of Timothy McVeigh for the 1995 bombing of the federal building in Oklahoma City.The first release of VCF will replace ACS and an intelligence system called Intel Plus, a senior FBI official said.The next release will incorporate the bureau's database of telephone intercept records, its Integrated Intelligence Information Application and its Communications Assistance for Law Enforcement wiretapping application. The bureau plans to release point-upgrade versions of VCF every 60 days after Dec. 13, the senior official said.'We have from 45 to 170 applications out there [to replace],' the senior FBI official said. 'We are starting with only five.'Lowery said the agency's new information warehouse, a data mart project known as Scope, is built on an Oracle9i database with a capacity of 9T. It will be expanded beyond its current capacity of 23 million documents as information from Afghanistan and Iraq flows into it, he said. Officials said they expect to expand it to 50T this month and 100T by December.Officials plan to partition the Scope data mart when it grows larger than 10T because the analytical tools the agency uses with it are expected to become slower when the system grows, Lowery said.The FBI itself has gathered about 95 percent of the information in Scope, while the rest has flowed in from other sources, including the news media.Lowery and other FBI officials shied away from using the term data mining to describe how agents and other officials would exploit the data in the warehouse, preferring instead to use the phrase advanced analytical tools. They said their data warehouse would not be related to the Defense Advanced Research Projects Agency's controversial Terrorism Information Awareness data mining project.The bureau plans to connect the Scope data mart to state and local databases, telephone records, and databases at the Pentagon, Drug Enforcement Administration, Bureau of Alcohol, Tobacco, Firearms and Explosives, and other agencies, as well as the State Department's visa database.Some of the connections will retrieve information only and will not disseminate it to other agencies, and some of the bureau's data will stay in the bureau because it includes privileged grand jury records and other data that can't be shared, an FBI official said.Lowery said connecting state and local databases to Scope won't happen soon, though, because of problems in maintaining access control among the systems.Information from the FBI databases will flow upward to homeland security analysts and intelligence systems as well as to the interagency Terrorist Threat Integration Center, officials said. But CIA analysts will not have direct connections to the VCF and Scope systems; the FBI will provide some terminals at TTIC and other secure locations, officials said.The Scope data mart is part of the Intelligence Community System for Information Sharing, a framework of systems and data in the intelligence world that intelligence community CIO Alan Wade oversees.The Scope system received its certification as a secret system last October and its certification as a top secret/sensitive information system in December. About 300 officials now use Scope, officials said.The bureau has adopted commercial data analysis tools to exploit the content of Scope. Some of the tools include the Chiliad Business Intelligence Suite from Chiliad Inc. of Amherst, Mass., which the bureau used to build its Athena Search System; ClearResearch from ClearForest Corp. of New York; RetrievalWare from Convera of Vienna, Va., and Infoworkspace by Ezenia Inc. of Burlington, Mass.Changes and additions to the Trilogy system have increased its cost from an initial $450 million to $596 million, not all of which Congress has provided, Lowery said. The bureau plans to slow or stop some other projects to complete the upgrades to the Trilogy and VCF systems, he said. The ICSIS provided the $50 million needed to create the Scope warehouse, officials said.Contractor Computer Sciences Corp. is creating the hardware infrastructure for the Trilogy deployment, while Science Applications International Corp. of San Diego is providing the VCF application. The Trilogy contracts run for a four-and-a-half-year period, Lowery said. The contractors are scheduled to work through late 2004 with an option for an extension.Larry Glock, program manager for Trilogy, said SAIC and CSC are using commercial products with some custom code. 'We empowered them to come up with their best architecture for the system. It mainly relies on Oracle9i database software and Sun [Microsystems Inc.] servers in several locations.'Some officials in the FBI's 66 Joint Terrorism Task Forces will have access to Scope data, officials said, based on their security clearances.When the projects are complete, one official said, 'We will finally know what we know.'FBI director Mueller recently buttressed the agency's intelligence capabilities by unveiling the new post of executive assistant director for intelligence. Maureen A. Baginski, formerly signal intelligence director at the National Security Agency, will hold the job. Mueller also announced a new Office of Intelligence, to be led by Steven C. McCraw, a 20-year FBI veteran.Meanwhile, the bureau is reviewing its options for remote entry of data into the Trilogy system. 'We are already looking at using mobile devices such as tablet computers with SAIC,' Glock said.During an interview in his office, Lowery pulled a BlackBerry mobile unit from his pocket and said it was a Defense Department system running off a secure virtual private network. 'One of our projects is to gather information about mobile products. I expect to get that report and move in that direction,' Lowery said.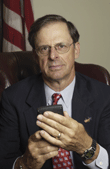 'We have some applications written years ago that we have to reverse-engineer'we cannot find the people [who built them] or the documentation,' the FBI's Wilson Lowery says.
Henrik G. DeGyor
With Trilogy, the bureau sets the stage for a series of modernizationsMore makeup, pleaseMake room for dataAll in the actIntelligence post