FGIPC changes name, direction
The Federation of Government Information Processing Councils is now the American Council for Technology. <br>
HERSHEY, Pa.'The Federation of Government Information Processing Councils is now the American Council for Technology. The council said today the new name reflects changes in both federal IT and in the group.In a new strategic plan, the council detailed its plans for the next three years and said its new mission statement is 'to lead the IT community to improve government.'The change in focus is intended to increase the council's government employee membership, president Barry West said in a statement announcing the changes. West, CIO of the National Weather Service, said the changes would take effect in January.West and other officials unveiled the new plan and name at the Industry Advisory Council's Executive Leadership Conference 2003.The federation formed in 1979 with an agenda to: The strategic plan noted that these items are still among the group's priorities.Under its new business model, the council for the first time will accept individual members. It also will place a greater emphasis on professional development through education, certification and accreditation programs. ACT will charge federal employees who join as individual members a fee, said Joiwind Ronen, ACT executive director. She said she wasn't sure how much, but it would be less than $100 annually."This is a significant shift in our membership focus," Ronen said. "We want to keep the federal IT worker involved and not be just limited to organizations."ACT's newest programs will be Hill Liaison and CIO Council Best Practices efforts. The Hill program will bring together government officials, congressional staff members, executive branch leaders, nonprofit groups and academics for educational sessions. The Best Practices program will work with the CIO Council to survey IT employees and managers, develop metrics and implement best practices."Congress relies on GAO to do a lot of the best practices surveys, and we believe we can do some of the leg work in an unbiased way," West said.Industry Advisory Council plans to increase the number of board members to 11 from seven, said Bob Woods, chairman of IAC, which is a part of ACT.The council's strategic plan says the changes address the increasing complexity of IT projects and their growing cost. The council posted the plan on its . The group also is working on a new site, , to reflect the changes. The new site, which will let users register and pay for events online, will launch by Jan. 1, Ronen said.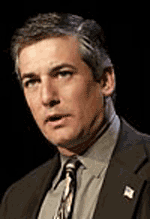 ACT president Barry West:
Henrik G. de Gyor
Improve communication among IT workers, federal regulators, industry and academia
Help members bolster their use of IT
Provide technology training
Aid government IT employees in professional development.
Web site
www.actgov.org