How Interior employees learned their new work alphabet
Last October, the Interior Department began requiring its 60,000 employees to detail how they spend each hour of the workday under activity-based costing.
Last October, the Interior Department began requiring its 60,000 employees to detail how they spend each hour of the workday under activity-based costing.'The idea of ABC is to give the department at all different levels an idea of how money is spent,' said Robert Veltkamp, director of online learning for Interior's National Business Center in Washington.To produce a multimedia introduction to ABC, the department hired Vodium Corp. of Washington. Vodium supplied the software and also helped produce the video material, Veltkamp said.But that was just the start. Eight bureaus, the Office of the Secretary and a 20-person steering committee all had to agree on how the video material should presented. It had to be as visually appealing as possible because a simple text Web presentation would likely be ignored, Veltkamp suspected.Many of the bureaus had their own audio-visual crews for multimedia presentations. But the impetus for ABC came from the very top'the secretary's office. The job fell to the National Business Center's Lynne McPheeters, director for leadership and performance. Veltkamp assisted.They chose Vodium because it had helped with an earlier training package on conflict management. Because that training was not mandatory, Vodium made the materials exciting with streaming video of conflicts in action.Both jobs used the Vodium Media Publishing Suite, which can synchronize slides with streaming video of, say, an agency chief talking. A transcription appears on screen, highlighting sentences as they are spoken. Viewers can later search the transcription for specific video passages.To watch the presentation, a user needs only a desktop computer with browser and the Java Runtime Environment. The video clips run in an embedded version of Microsoft Windows Media Player.Vodium has a sizable production team to help organizations without in-house help, chief operating officer Karl Williams said, which assisted Interior on the ABC project.Vodium booked the studio, helped script the video segments, and hired a director, producer and makeup artist. A videographer taped segments of more than 50 Interior employees across the country. The total for software and services came to $165,000, Veltkamp said.The training material is available in two formats'on the Web at , and on CD-ROM. The office burned 3,250 CDs for employees at remote parks, wildlife refuges and hydrological stations.There are eight versions of the presentation, one for each bureau.Fish and Wildlife Service employees saw a version different from those at the Geological Survey. After introductory remarks by secretary Gale Norton, a bureau head or an assistant secretary spoke about what ABC meant for that agency's particular users. The presentations also included case studies specific to each bureau.After each day of filming, Vodium posted drafts of the material. Veltkamp showed the drafts to the ABC steering committee and the bureaus.'Some came back and asked if they could add speakers or content,' Veltkamp said. 'Without scrapping the whole thing, we were able to go back in and edit or update the training.'Getting each bureau involved also eased acceptance, as well as showing employees their bosses backed ABC.'That showed the buy-in at all levels'top management support, midlevel and someone in the field using ABC,' McPheeters said.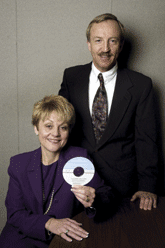 Lynne McPheeters and Robert Veltkamp produced 3,250 ABC training CDs that were customized for each Interior Department bureau. They also designed online training for the new activity-based costing system.
Henrik G. de Gyor
Desktop viewing
www.doi.gov/training/abc