Robert Otto - Postal Service: Early to rise
Robert L. Otto got his first management training milking dairy cows. Growing up on his family's farm in Fishertown, Pa., Otto rose at 3:30 every morning to help his father milk 200 cows.
Robert L. Otto got his first management training milking dairy cows.Growing up on his family's farm in Fishertown, Pa., Otto rose at 3:30 every morning to help his father milk 200 cows. The workdays lasted at least as long as the sunshine, and rain didn't cancel the work, it merely moved things indoors for tasks such as machine maintenance and repair.Otto has applied the lessons he learned on the farm throughout his 35-year federal career. As chief technology officer of the Postal Service, Otto arrives for work each morning around 4 a.m. and generally stays until 7 p.m.'I'm a Type A person,' Otto said. 'I can't sit still. I like to have 30 or 40 things going on.'Even when he's away from the office, he keeps in touch wirelessly. Otto sings the praises of the BlackBerry handheld devices from Research in Motion Ltd. of Waterloo, Ontario, that USPS has issued to more than 3,000 managers. The agency uses them for communications and other management applications including continuity of operations.That need for activity moved Otto's federal career forward quickly. He recalls graduating from high school on a Thursday and beginning work as a clerk with the Agriculture Department the following Monday.But the workdays were far shorter than he was used to, so he checked out books on computers from the local library and read them voraciously. After taking a computer class, Otto received a promotion to USDA's computer operations center. Over the next 11 years, he earned more promotions into the higher ranks of USDA's IT operations and then took charge of computer security for the Postal Service.Otto is a 'hands-on manager who is very passionate about his job, makes every attempt to lead by example, and effectively communicates his management philosophy and goals to IT staff members,' said Deborah Judy, the Postal Service's manager of IT value.His simple life on the farm has influenced Otto's philosophy as the head of the Postal Service's IT operations. His mantra is 'standardize, centralize and simplify.'Since he became the CIO of the Postal Service in 2001'followed by the move to his current post as CTO last year'Otto has overseen a massive consolidation designed to standardize the agency's systems and simplify their management.The agency needs to consolidate, Otto said, because its IT operation'with 129,000 users and 550,000 devices'is too massive to manage effectively otherwise.'Every time we get a product, we break it because we're so big,' he said.The most basic element of the consolidation has been the centralization of the Postal Service's servers. From an IT infrastructure that included 15,000 servers at hundreds of locations across the country, the agency has whittled the number down to 3,000 servers at two IT centers, in Eagan, Minn., and San Mateo, Calif. The move has saved the agency $30 million a year, Otto estimated.Likewise, he has reduced the number of staff members' software tools from 1,500 to 380, the number of vendor partners from 200 to a dozen, and the number of help desks from 119 to four. He said he plans eventually to have only one help desk for the entire operation.Each move has saved the Postal Service millions of dollars, yielding an IT budget that has shrunk every year since 2000.A key to the success of the Postal Service's IT operations is establishing metrics, Otto said.In an IT meeting room at USPS headquarters in Washington, for example, a large chart tracks the performance of all 34 agency IT managers. The chart lists the top four priorities for each manager and displays a success score'color coded in green, yellow or red'for each quarter of the fiscal year.'I have this belief that if you measure things, people will make them efficient,' Otto said.XXXSPLITXXX-Q: What advice would you give to someone looking to move up to the manager level?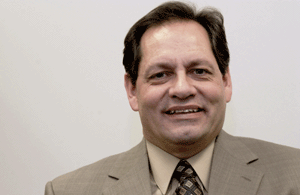 'I'm a Type A person. I can't sit still. I like to have 30 or 40 things going on.' -- Robert Otto
Henrik G. de Gyor
Otto applies a farm-bred work ethic to his post as USPS chief technology officerFast forwardServer centralization

Do what you say you will do. Make your word your bond. If you promise something, deliver on it. You want people to be able to count on you.
Have a well-rounded mix of management, business and technical skills. Remain focused and produce quality results. Be known for delivering quality products and services.

Be willing to take on any challenge. In fact, take on things that everyone believes will never work or never be successful. Then when you are successful, they will believe it was monumental. And if you fail, well, they never believed you would get it done anyway.

Be positive, upbeat, willing to go beyond your job to help anyone, anytime on anything. Balance your work and life. The more successful you are, the more you can get immersed in your work, and the more your family may suffer. Learn that balance is the right thing over time.

Q: What's the best advice you received, and from whom?

If you are making things happen, you will make mistakes. Learn and move on from them'my father.

Standardize, centralize and simplify everything and success will be a lot easier to achieve'my brother.

There is no 'I' in Team. And to be successful, others must have helped'my staff.

Q: Why government service?

I started as a clerk in the Agriculture Department in 1969 and worked my way up through the ranks to become the vice president, CTO/CIO of one of the largest companies in the world. You can't compare this type of opportunity. I've worked on a variety of assignments that service millions of Americans and at the same time advanced my career. I'm part of 729,000 postal families.

There was never any question as to why a career in government. That's why I've stayed for 35 years. When I go home each night, I feel as if I've given something to someone; provided a service that may not have been possible without my leadership and direction or because of the efforts of my staff.

When I choose to end this career, I want to be able to walk away with the feeling that I have helped the Postal Service become the best organization that it can be.

Q: How important is mentoring in developing a good manager.

I'm a true believer in mentoring and developing people. The key is mentoring. You have to help guide and develop individuals to move to the next level in their careers, and the best way to do this is through real-life experiences.

Two of my managers today used to be my bosses in the past. I learned a lot from them and respect how they prepared me for this position. One of my mentors bugged me to death to go back to school and get my master's degree. If he had not continued to encourage me and at times push me, I would not be where I am today.

One of the greatest moments for me is seeing someone achieve a goal that they felt they could not achieve; or being promoted to a level they never thought they could attain; or bring in a successful project, when all others felt it was almost impossible. This is what makes me feel good.

And seeing my daughter do things that I could not do, this is what every parent strives for.

Q: What part does fun play in your work?

In the technology field, every day is a new adventure. In the Postal Service, with so many things going on, every day is exciting and challenging. If I wasn't having fun, I would not stay. It's important to enjoy what you do and to strive for excellence. I challenge my staff and managers to go the extra mile and really enjoy it when they prove me wrong.

Q: How do you balance work and home life?

This is a tough question. Health, family and work are my priorities. Many of us get so wrapped up in work that we enjoy, that we don't balance work and our home life. I make a concerted effort to spend quality time with my family. Devices like the BlackBerry help me to utilize all of the time that I have.