Treasury's $1b comm buy faces prodding from Congress'and disgruntled bidders
The $1 billion telecommunications contract the Treasury Department awarded last month to AT&T Corp. may have a short life.
The $1 billion telecommunications contract the Treasury Department awarded last month to AT&T Corp. may have a short life.Not only could the department let the Treasury Communications Enterprise deal expire after its first three years, freeing it to take advantage of the governmentwide Networx deal when it be- comes available, but five of the six losing bidders have protested the contract.Before the contract was awarded, Treasury, the General Services Administration and the Office of Management and Budget signed a memorandum of understanding, under which GSA would review the contract during its base period to determine whether to extend it. Bidders were unaware of the agreement at the time.That Treasury would negotiate such a deal'which some observers said was an attempt to placate lawmakers' concerns about the telecom contract'sends a message to others considering network modernization. 'Other agencies will think twice before going it alone,' said Warren Suss, president of Suss Consulting Inc. of Jenkintown, Pa.Treasury likely wanted to signal to Rep. Tom Davis (R-Va.), chairman of the House Government Reform Committee, that it takes the contract's effectiveness seriously, Suss said. A spokesman for the lawmaker indicated that Davis was concerned that TCE would miss out on the cross-agency collaboration, transformation and governmentwide technology improvements GSA is working to create with its governmentwide Networx procurement. GSA plans to award contracts for the 10-year, $20 billion Networx, a follow-on to FTS 2001, in April of next year.'We need to stop subordinating the enterprise interests of the federal government to specific agency interests,' Davis said. 'We must ensure a government that can seamlessly, securely and efficiently move information across agencies, departments and jurisdictions of government.'Several agencies, including the Defense Department, Federal Aviation Administration and Homeland Security Department, have created their own networking and communications buying vehicles.That may change as Networx, with its focus on security, becomes available to agencies, Suss said. 'Most agencies like to be in control of their own fate; on the other hand, with government cutbacks on technical staff, it's more costly to do their own thing,' he said.Meanwhile, the TCE buy is on hold pending resolution of the five protests'from Broadwing Communications LLC of Columbia, Md., Level-3 Communications Inc. of Broomfield, Colo., MCI Communications Corp., Northrop Grumman Corp. and Qwest Communications International Inc. of Denver. Neither the companies nor Treasury would comment. The Government Accountability Office's decision is due March 21.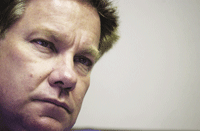 'We need to stop subordinating the enterprise interests of the federal government to specific agency interests.'

'Rep. Tom Davis
Henrik G de Gyor
Consider thisComplaints all around