Trust is verified
Glen Johnson has a reputation as the go-to guy for tough IT projects in the State Department's Bureau of Verification and Compliance.
Glen Johnson has a reputation as the go-to guy for tough IT projects in the State Department's Bureau of Verification and Compliance. And that keeps him pretty busy, because there is no shortage of tough assignments.Johnson is director of the bureau's Office of Verification Operations, which provides all IT support to the four bureaus that constitute State's Arms Control and International Security area.IT support is a broad franchise, and OVO spearheads a variety of demanding projects'from diplomatic videoconferencing systems in Europe and Africa to secure communications systems in Iraq.For example, the office currently is modernizing the export licensing system for the Directorate of Defense Trade Controls. The system ensures that U.S. companies export only approved arms and arms-related products to approved countries in ap- proved ways.The system handles more than 50,000 export license applications per year, some of them running to hundreds of pages. The current project aims to streamline this paper-based process with electronic submission, a daunting job many agencies have attempted with mixed success.OVO is making progress. 'Already, 15 percent of applications are submitted electronically,' Johnson said. Industry likes electronic applications because they're simpler to generate and faster to process, which is better for business. Government users also like the system, because it makes it easier to search, track and manage complex applications. In addition, the program is almost paying for itself in efficiencies and savings.Johnson operates according to specific management principles. First, he looks for staff members who are not only technology experts but can also understand policy.'I want my people to be able to do the jobs of our customers,' Johnson said. This familiarity helps ensure that technology solutions are appropriate for the users and the situation. Johnson's group includes about a dozen GS-13 and GS-14 program managers and more than 60 contractors.Johnson's own background reflects this approach to mixing technology and policy: He has a doctorate from the University of Maryland in the dual fields of government and computer science.Another principle is to limit projects so success is possible and workers aren't overwhelmed. Prioritizing projects has allowed his staff to focus its attention and make real progress.'All of this is a tribute to Glen's technical skills, managerial insight and interpersonal skills,' said Eric M. Javits, permanent U.S. representative to the Organization for the Prohibition of Chemical Weapons. 'He took on a difficult program that lacked direction and set down a clear, specific course of action.'Another recent example is an ongoing videoconferencing project. Arms control diplomats usually work in Washington but often have to meet with colleagues in Vienna, Geneva and The Hague.OVO created a secure videoconferencing system to reduce travel expenses, and it was so successful it was expanded to include political advisers at military commands in Europe. It has since expanded further, to more than 100 sites in Europe and Africa.'Glen's visionary abilities and innovative spirit have led to the deployment of numerous technological advancements,' said Paula A. DeSutter, assistant secretary of State for verification and compliance. The results have saved money and manpower 'as the department has struggled with reorganizations, funding cuts and increased diplomatic responsibilities demanded by current events,' she said.Because of Johnson's management strategy, his staff have realistic deadlines, can work reasonable hours and still have personal lives. Johnson himself has time to spend with his five children, ages 4 through 14, coach youth volleyball teams, serve as a scoutmaster and remain active in his church.But he's not home all the time: He had to adjust his family time last winter when he was assigned a central role in tracking and reporting U.S. and Iraqi efforts to reconstruct Iraq.A major part of this effort was creating a secure communications system for all American government programs and the Iraq Coalition Provisional Authority. In the chaos of postwar Iraq, his group helped create a secure Internet-based system, then trained personnel in its use and maintenance.Just another tough assignment that came his way. 'His leadership in the application of technology has been crucial in the department's ability to meet today's demands,' DeSutter said.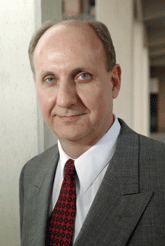 Glen Johnson, State
Rick Steele
Glen Johnson handles the tough IT chores for State's Bureau of Verification and ComplianceZLess paperworkEdmund X. DeJesus is a freelance writer in Norwood, Mass.