Who's at home for DHS
The Homeland Security Department doesn't maintain a threat advisory system on internal operations.
The Homeland Security Department doesn't maintain a threat advisory system on internal operations. But if it did, its technology projects might be moving from Code Blue to Code Yellow, for elevated risk.Critical decisions lie ahead for a number of IT projects at a time when the department faces a growing number of vacancies.The resignation of DHS CIO Steven I. Cooper this month continued the leadership exodus among high-level policy and technology jobs.Cooper, who helped manage many high-profile programs that face turning points in the next six months, predicted the department would make steady progress.'I don't think the pending vacancies will hurt the IT transformation, nor do Ibelieve [Secretary Michael Chertoff's] review will delay our progress,' he said. 'Our plans have been approved and in motion for some time. I believe that the review will result in more focus being placed on the IT infrastructure transformation and cybersecurity, thus enhancing our progress.'Cooper has laid out a technology agenda for DHS for the rest of the year. Others, however, see a logjam ahead.Chertoff's policy review could lead to a realignment of DHS' technology governance. He has emphasized that he wants to arrange the department's resources according to the threats the country faces, rather than according to existing bureaucratic structures.Last week before the House Homeland Security Committee, Chertoff called the leadership turnover 'a significant problem,' but said 'we are moving rapidly to fill the jobs.'Another source of uncertainty is the administration's plan to consolidate the department's IT-intense risk analysis functions in a new Screening and Coordination Office, subject to congressional approval.The leadership vacuum and policy review delay 'lead to a timeout at the very time the threat is ongoing, there are a lot of challenging decisions in the inbox and new ones filling it up on a daily basis,' said Stephen E. Flynn of the Council for Foreign Relations in New York.DHS officials face major decisions on procurements such as the Border Patrol's America's Shield Initiative, case management systems and the Integrated Wireless Network Project.Flynn said it could take until the autumn or later to fill the political appointee positions at DHS, considering the delays in performing background checks, scheduling Senate committee hearings and conducting floor votes. 'There is a lot of complacency in Washington about the mission, and there are other players that see DHS as a competitor and are happy to see it wrapped around its own axle,' he said.One former DHS official said he expects the department's IT staff to keep the trains moving during the leadership changes.'On a day-to-day basis, their work is clearly spelled out for them,' said Amit Yoran, former director of DHS' National Cyber Security Division. 'While political appointees may tweak the execution, the various program requirements and mission functions should remain fairly constant.'As it reorganizes, the department faces institutional critics who raise concerns about its technology flaws and weaknesses.Rob Atkinson, vice president at the Progressive Policy Institute in Washington, said 'the two biggest challenges are to use IT to integrate the organization and to deal with terrorist threats outside the organization. They haven't done a very good job on either.''When there are high-level vacancies in government agencies, those agencies struggle to make decisions even more than is normally the case,' said Richard A. Falkenrath, a visiting fellow at the Brookings Institution, who has testified in the Senate Homeland Security and Governmental Affairs Committee about DHS.On the plus side, the new leadership could bring new ideas and leave aside old rivalries, some analysts said.Pat Schambach, former CIO of the Transportation Security Administration and now a senior vice president and general manager at PEC Solutions Inc. of Fairfax, Va., said, 'As far as the vacuum in leadership at DHS, I see that as an opportunity for time to think through the vision and operating model, and to put goals and objectives in place that are at the same time easy to understand and focused on near-term results.''I look at the leadership changeover as an opportunity to set a new course,' said James Carafano, a senior research fellow at the Heritage Foundation in Washington. 'You don't get as much push-back from new people who are not vested in the old solutions.'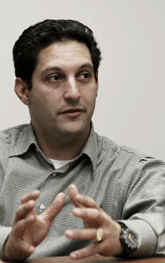 STEADY WORK: Former cybersecurity director Amit Yoran expects DHS' daily operations to remain fairly constant.
Henrik G. de Gyor
IT programs approach crucial stages, as Cooper joins high-level exodusRisk analysis