The 'I see you' videoconference
On the one hand, the experience is kind of creepy. On the other hand, it's powerful.
On the one hand, the experience is kind of creepy. On the other hand, as the GCN editor strains to avoid eye contact, it's powerful. Recently at Herndon, Va., offices (), we experienced the videoconferencing system and came away shaken but impressed.Videoconferencing has always been a bruised and battered technology, never quite living up to its potential. So with the RPX, Polycom left nothing to chance. RPX RealPressence is an entire specially designed videoconferencing room, with drop ceilings, projectors, cameras, ceiling-mounted microphones, the works. Yes, it costs money (more on that later), but for agencies in need of effective collaboration facilities, it truly creates the effect of being there, even if you aren't.During our visit, a group of us sat in tiered seating in Herndon and engaged in a multipoint videoconference with a similar roomful of people in New York City and a Polycom executive in Ohio. The two remote locations were beamed to us on a pair of massive screens (you can get 8-foot-wide or 16-foot-wide screens) with a camera tucked inconspicuously in the middle. The screens are curved just so, according to Polycom, in order to optimize the effect of being in the same room as the people at the remote locations. It works. And the bundled lighting is set up so there are no shadows cast on folks' faces. It works, too. We really felt like we were in a room with the New York and Ohio people. Effective, and creepy.'Videoconferencing improves retention in meetings by 40 to 70 percent,' said Barry Morris, Polycom's vice president for federal markets, during our meeting. And in this scenario, we can see why. Yes these people were elsewhere and they were on a screen, but as we sat there, we became increasingly aware that they were looking right at us.The RPX RealPressence system runs on two or four rack-mounted codecs with government-grade encryption. Instead of projecting application data on the main screens, the system employs pop-up PC displays throughout the room (the PCs and the conference tables are part of the system). It's compatible with any H.323 system, so we're not talking proprietary technology here. During out meeting, we brought in a remote webcam user and patched in an audio call from Austin, Texas. Polycom offers managed services for connecting the dots in a multipoint conference, but agencies will probably want to set up their own conferencing support desk.The damage? A complete room system starts at $249,000.Even though the video quality was quite good, Morris said Polycom's next step is to offer a high-definition version of the system. It's being tested currently, he said. The company is working on getting an HD camera that's small enough to disappear into the massive display. Of course, piping HD video around the globe will require bandwidth. Morris estimated at least a pair of T1 lines.None of this is to say Polycom owns the market for high-end videoconferencing. Several GCN editors have seen and been very impressed with its functionality. A Halo room costs significantly more than an RPX room, but it can offer some unique features, such as a language service for translating English into more than 150 other languages, and a high-magnification, high-zoom document camera that can zoom in on physical objects that conferees may want to share.Bottom line: Agencies don't have to build their conferencing rooms from scratch anymore. Put out an RFP and you'll have multiple options for off-the-shelf, all-in-one, high-end videoconferencing systems.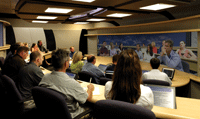 CREEPY ... IN A GOOD WAY: Polycom's RPX RealPressence videoconferencing system is an entire room that provides eye-to-eye contact.
Polycom Inc.'s
www.polycom.com
Polycom RPX RealPressencePolycom VSX 8000Hewlett-Packard Co.'s Halo Collaboration Studio