Net-Centricity aims for the tactical edge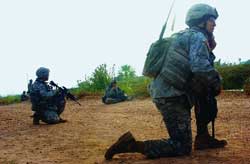 U.S. Army 1st Lt. David Stone reports the status of his squad via radio during an operation in Mahmudiyah, Iraq, Dec. 16, 2006.
U.S. Army Sgt. Bennie Corbett

Engineers and managers need to focus more on how their systems will work in a tactical setting at the edge of the network'that is, on the battlefield. Other elements that make this goal a moving target include shortening implementation times and adjusting to battlefield requirements.


'The challenge is to expand net-centricity to the lowest levels of the Army,' Brig. Gen. Jeffrey Foley, director of architectures operations, networks and space, Army CIO G-6, said at the recent MILCOM conference in Washington. 'You can't deliver systems to battalions direct from the labs. You must do systems engineering all the way to the foxhole.'


Foley was a part of a panel discussing the challenges and next steps to get net-centric warfare to the warfighter more quickly.


Among the issues has been a failure to adequately consider how developing systems relate to one another. Currently, panel members said, program managers and systems engineers are too narrowly focused on developing the capabilities and competencies of their individual programs, and are not putting enough effort into figuring out how their nascent systems will interoperate with others on the Global Information Grid.

"You can't deliver systems to battalions direct from the labs. You must do systems engineering all the way to the foxhole."
Brig. Gen. Jeffrey Foley, Army

A third challenge involves people skills: encouraging greater horizontal interaction among program managers in an effort to foster relationships among systems.


The tactical dilemma inherent in developing net-centricity is that it is not always possible to know how the system will be used on the battlefield, Foley said.
'They're not thinking about the tactical edge,' said Dave Mihelcic, Defense Information Systems Agency's chief technology officer.


For example, Foley noted, there could be as many as eight Army and Marine Corps ground systems using the Enhanced Position Location Reporting Systems, all of which could be demanding access to the radio spectrum on the same battlefield.


'How EPLRS will be used and how to deconflict these demands for radio spectrum' exemplifies the tactical challenges faced by systems developers, Foley said.


In the same vein, Neil Siegel, Northrop Grumman Corp.'s vice president and chief engineer of command, control and communications, said, 'It takes two to three years to get a new system to delivery' because of the challenge of adapting new technologies to changing battlefield requirements.


Similarly, Siegel said, too much attention is being given to 'the big GIG,' and not enough is being paid to the tactical portion of the GIG: wireless ground-to-ground communications. 'Inevitably, seams appear between the two, and we need to create designs to breach these seams and pull the portions together.'


Net-centric systems are developed and acquired separately in pieces and components, Mihelcic said, but the capabilities they deliver involve 'interconnecting data sources with services and information with consumers.'


DOD's service-oriented architecture, used to deliver network-centric capabilities, uses data from multiple sources and builds them as components that are exposed as services across networks, Mihelcic said. Thus, net-centric systems are 'not built as complete systems but as components that must work with other components built and acquired elsewhere,' he said.


Managing this effort successfully requires a new mindset for program managers who traditionally have tailored their requirements narrowly. The new breed of application, he added, is cobbled together using data distributed in multiple locations and programs of record, not all of which are under the control of any one program manager.


The modularity of the capabilities DOD is developing also means that systems engineers need to build in buffers to keep applications going if one part goes down, Mihelcic said.


For Siegel, the solution to the interconnection problem is in developing increased levels of horizontal interactions among program managers and systems engineers.


'Contracts typically have a defined scope,' he said, 'and program managers worry a lot about the technical and programmatic aspects of systems. But more and more often, the horizontal connection between systems is important to delivering value to the warfighter.


'You might get good technical capabilities' with a programmatic focus, he concluded, 'but delivering real value comes through horizontal interactions.'