DISA plugs into on-demand
With its novel pay-per-use deal, the agency finds a creative way to turn hardware into capacity.
The federal government usually lags behind the private sector on new technology because procurement regulations mandate a lengthy competitive acquisition process. It often takes years for an agency to draft a request for proposals, evaluate responses and make a purchase decision ' and that's a clean acquisition, without a lot of involvement from Congress or protests from losing bidders.As a result, by the time the contract award is made, the technology at the heart of the acquisition may have been upgraded or become outmoded, leaving the government stuck with a less than optimal solution.One government agency, the Defense Information Systems Agency, has found a way to escape that maze. Last fall, the agency awarded several contracts on a pay-per-use business model, shifting away from buying hardware and software and turning the cost of information systems into a utility bill.Hewlett-Packard received the largest award ' an eight-year contract worth as much as $440 million ' to provide hardware and operating systems for the Windows, HP Unix and two Linux environments. Sun Microsystems will provide a Solarisenvironment for $125 million; Vion, an 8(a) company, will provide an IBM Unix environment for $25 million; and Apptis will receive as much as $110 million to provide mainframes.The contracts represent a sea change for the Defense Department, the government's largest department and one that may pioneer a new way for all agencies to obtain information technology.The single biggest difference to the agency, said Alfred Rivera, head of DISA's Center for Computing Services, is that it moves the cost of computing from a capital expenditure to an operating cost.'We don't have to have a capital authority [or] go to [the Office of the Secretary of Defense]. We use our operating dollars to execute this,' Rivera said. 'With an outright purchase, a capital investment, I have to acquire the hardware, put it on my property books, I have to depreciate it and subsequently charge it to my customer as a depreciated item, and, of course, I have to continue to [include] it in the out years following the capital authority in order to refresh that requirement.''You don't need to be a CIO or an economics major to understand the benefits of DISA's pay-per-use purchasing strategy,' Bill Vass, president and chief operating officer of Sun Federal, wrote on his corporate blog in November 2006. 'DISA will only pay for the computing power it uses, no waste, no leftovers.'When it comes to services, DISA is on the cutting edge ' for its users. The agency's mission is to provide to other DOD agencies, for a fee, all the services needed for planning, engineering, acquiring, fielding and supporting global network-centric solutions. Yet, until recently, the agency used a decades-old acquisition model, one that would require purchasing more than it usually needed as a way of staying ahead of demand and out of the procurement spiral.'The old way of doing business was that we would overprovision hardware, because it took so long to get it'betting that the requirement would use that capacity,' said Tony Purvis, chief of the Processor Line of Business at DISA. 'In this model, we don't overprovision, we buy just what we need, and if we need more a month later, we get another processor on board or more CPU hours.'To determine computational needs, DISA performs informal capacities reviews every month, Rivera said. Adjustments are made after each review. In addition to this approach, 'we also have built into the contract a semiannual formal review, [where] we review lessons learned and the two- to three-year-out window of both our requirements and where [vendors] think the technology is going,' Rivera said.To bring this about, DISA issued a simple statement of objectives.'We tried to not put a lot of requirements in it, to not be too specific,' Rivera said. It did not include how usage would be measured but left it to individual vendors to propose pricing structures. Nor did it specify how the technology refresh would be carried out, only that pricing had to include those costs, too.'The challenge really wasn't on our side, it was on the vendors,' he said. 'When we first started this endeavor two years ago, it wasn't a business model. It was new to them.'Allen Greene, acting director of DOD sales at HP, agreed that this is simpler and more cost-effective for the customer, and it is a more complex solution for a vendor to provide.'It puts more burden on us to ensure that we're working closely with DISA and the end user community' to know their needs, Greene said.Each vendor has a different billing structure, Rivera said. In some cases, CPU hours are measured; in others, it's an allocation of CPU power associated with a vendor's hardware. IBM, which is a Vion subcontractor, is measuring millions of instructions per second.And each contractor has its own service-level agreements, which, among other things, set out the level and frequency of technology refresh and support.'There's a model where we keep so many versions behind and so many versions ahead of the operating systems,' Rivera said. 'It's what we call 'C minus 2,' the current operating system plus two versions behind. They've got to maintain those, and they've got to'be able to maintain the next version to be released.'Although the contracts were awarded several months ago, it will take some time for DISA to move all its systems to the new structure.Rivera said he has oversight over 18 data centers ' 16 in the continental United States, one in Hawaii and one in Stuttgart, Germany, that serve about3 million customers across all the services and defense agencies. So far, the seven largest centers in the United States have moved to the pay-per-use model.'We already have two mainframes in place today off this contract; we plan to have five more in by the end of July,' Purvis said. 'So by the end of this fiscal year, we'll have seven of our 24 mainframes operating on this contract, with the other 17 going in over the next'two or two and a half years. On the server side, it's not quite as aggressive; we're probably going to be about 25 percent per year over the next four years, migrating our current workload onto these contracts.'New DISA customers, or existing customers with new requirements, will be supported with the pay-per-use vehicles, Rivera said.'Our goal is to get off the old procured boxes and leased boxes and go to the new contracts,' he said.Even though the transition to the new contracts is nowhere near complete, cost savings have already begun to emerge.In one case, Purvis said, it would have cost $85,000 to purchase servers, and under the contract, it wound up costing just $12,000 for the same capability.'That was probably on the high side, but even on the mainframe side, we're seeing significant cost decreases in what we were planning to go out and buy versus what we're seeing on a per-minute basis from the vendors,' he said.DISA's on-demand model is being closely watched by the community. Other agencies can use this new business model, Rivera said.'I think it could be tried by smaller agencies, absolutely,' he said. 'We have a lot of lessons learned that we can probably share.'The National Labor Relations Board is one agency that has taken a similar approach (GCN.com/767). The board used a utility computing contract to centralize its infrastructure, upgrade its technology and enable it to provide round-the-clock support to its 51 field offices around the country. Under the utility computing system, IT services don't have a dedicated source but are drawn from a pool of resources.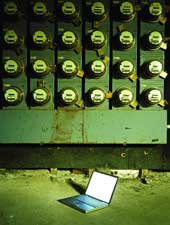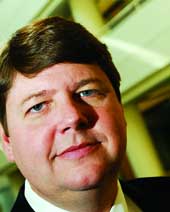 What you pay for: 'You don't need to be a CIO or an economics major to understand the benefits of DISA's pay-per-use purchasing strategy,' said Bill Vass, president and chief operating officer of Sun Federal
Rick Steele
When we first started this endeavor two years ago, it wasn't a business model. ' Alfred Rivera, DISA
Pay as you goVendor's choiceIn with the new