Live free or die
Free software is free not in the sense of price, but in the sense that it comes with no restrictions on the user.
Students at the University of Maryland Baltimore County got a lecture in April on morals, ethics and free software from radical software developer Richard Stallman.Free software is not about the price of software, he said. It is much more important than that.'This is about ethics,' Stallman said. 'That is, good and evil.' Stallman, founder of the Free Software Foundation, feels strongly about which side is good.Proprietary software and restrictive licensing agreements are evil, in his view.Free software is free not in the sense of price, but in the sense that it comes with no restrictions on the user. 'Think free speech rather than free beer,' he said. And don't confuse free software with the open-source movement. The primary concern of open-source is practical development of software rather than ethical development and use.Stallman's roots go back to the 1970s at the Massachusetts Institute of Technology. Most of his efforts today are devoted to the foundation he started in the 1980s as a vehicle for developing a free software operating system.The effort has met with mixed success. Stallman began the GNU Project to create a Unix-like operating system in 1984. By 1990, the contributors in the Free Software Foundation had completed most of the components of its operating system. All that was lacking was a kernel. This was supplied in 1991 by Linus Torvalds, who applied his kernel to the GNU operating system to create what has popularly become known as Linux.This development bothers Stallman for two reasons. The first is the name. Linux is mostly GNU, he says, and should be known as GNU/Linux.More important is the fact that distributions of Linux now are sold with restrictive licenses that break the covenants of the General Public License that ensures that all the rights to a piece of software are passed along with it to the user, rather than staying with a developer or vendor.The GNU Project continues work on its own Hurd kernel, but progress has been slow.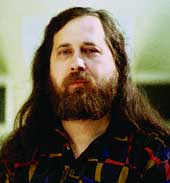 Free speech, not free beer: Richard Stallman, as seen in the 1999 documentary 'Revolution OS,' has tirelessly fought for free software.