Units from 44 nations find common ground
Combined Endeavor tests networks, communications.
If network-centric warfare represents the future of combat, interoperability is the cornerstone. And in a world where partnerships, alliances and coalitions are needed to carry out missions, that interoperability has to extend beyond the usual borders of language, culture and doctrine.To help U.S. and other countries' militaries adapt to this changing environment, more than 40 nations combined their efforts in a two-week exercise designed to test the interoperability of systems and communications that would be called upon in the event of a catastrophe, whether a natural disaster or a man-made attack.Combined Endeavor 2007, as the command, control, communications and computers (C4) integration and interoperability exercise is called, was sponsored by the U.S. European Command to document and exercise technical and procedural solutions for sharing information on the fly.Military forces from North America and Europe ' including, but not limited to, NATO members ' conducted the exercise between April 27 and May 10.'This is the largest interoperability exercise in the world,' said Air Force Brig. Gen. Thomas Verbeck, director of C3 and warfighting integration for the European Command. 'It started back in 1995 with 10 countries that were really looking at how they could telephone each other' and communicate in a crisis.In CE07, representatives of participating nations were split between two locations, the main operating base in Lager Aulenbach, Germany, and a forward operating site in one of the host countries, this year in Yerevan, Armenia, for delegations from Croatia, France, Georgia, Russia and the United States. Cisco Systems provided networking equipment and support.The objective for this year was to test network-enabled capabilities, Verbeck said.'If you go out to the [exercise] and walk from country to country, group to group, the questions are, 'Are the applications interoperable, is the data passed from Country A to Country B intact, is the information valuable, or what we would use,'' he said.The exercise is useful for NATO and for individual countries.One example of the former 'that's obviously near and dear to my heart,' Verbeck said, 'is when the multinational force led by the Poles was identified to go into Iraq, it was Combined Endeavor that prepared all these nations so that when they got to Iraq, they could all talk to each other.'NATO found the exercise so useful that two years ago the organization made participation in Combined Endeavor mandatory for its member countries.Estonia is one country that has benefited directly from its involvement, Verbeck said. In 2003, the tiny Baltic nation had equipment that could be merged, but communications interoperability was nonexistent. By 2005, Estonia had 'completely revamped not only their military, but their country, in how they move information back and forth,' he said.And the success of Combined Endeavor ' which is, ultimately, Eurocentric ' has led to the establishment of Pacific Endeavor, a comparable exercise in the Pacific Rim, two years ago, and African Endeavor, for that continent, last year.The first African exercise involved 25 countries, Verbeck said. 'This year it will be in August and include 30 nations.'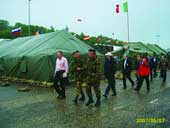 COMMON BONDS: Brad Boston, senior vice president at Cisco System's global government group, accompanies Dutch officers Lt. Col. Louw Van Sinderen and Lt. Col. Codi Fielmich at Combined Endeavor.
Teaming up