Speed 'n' distance
<b>GCN Lab Reviews:</b>The 802.11n standard isn't yet final, but 4 devices show what it can do.
THE 802.11N AMENDMENT to the Institute of Electrical and Electronics Engineers wireless networking standard was developed more than four years ago, but it has yet to receive final approval. Amid unresolved comments and delays caused by lawsuits over patent disputes, progress has been measured in the issuance of a new draft every few months. The current draft, 3.02, will not be the final version because there are still 127 technical comments outstanding. If we are lucky, the next draft, 4.0, soon to be put on the ballot, will be the final one, and we may see final approval by the end of this year. We at the lab, however, are not holding our collective breath.Despite all this uncertainty, several brave wireless manufacturers have come out with versions of draft-n or pre-n access points (APs), following as closely as possible the draft specification as it is voted on and altered.Some companies are waiting for the amendment to be finalized before manufacturing any 802.11n devices, and others are only developing routers.If you are uncertain what improvements 802.11n might have compared with previous Wi-Fi versions, it can be boiled down to essentially one thing. The signal from an older wireless device ' 802.11 g, b, or even a ' must bounce around any metal obstacles until it reaches its target. But 802.11n devices have a smartantenna technology called multiple input multiple output. Three antennae talk to one another and switch off when one antenna's bounced signal would interfere with another. This gives 802.11n devices an effective range nearly double that of a or b devices and a bandwidth almost six times that of g devices.The reflective black surface of its front is broken only by the LCD status screen and accompanying buttons.In addition to a Gigabit Ethernet port for connecting to the Internet, it also has four gigabit ports for local network connections. Each of the N1's three antennae can handle at least 180 degrees of rotation and 90 degrees of inclination, which increases the chances of finding optimal placement.We were a bit disappointed to find no wallmount option for the N1. Your only choice is to set the device on a horizontal surface, such as a shelf or table. Of course, having all the ports in the back would have made wallmounting difficult anyway.We were also concerned by Belkin's decision to put the serial number and other unique information on the detachable base instead of the unit itself.With no other placement option, the odds of the unit and its base becoming separated are low, but we thought it would have been better to put this information directly on the device.Once the N1 was connected to the host computer, we could switch to AP mode with as few as two clicks.The first click was on a link that was clearly indicated on the left side of the admin page menu screen. The second was a confirmation. After the second click and a reboot of the device, the N1 functioned as an AP.We found the 3-inch by 1.5-inch LCD to be useful. With a glance, we were able to tell precisely how many devices were connected to the N1, a boon for security-minded administrators ' if you only have five authorized users, and six are connected to the device, you know you've got a breach attempt.The N1 also has other screens that can be accessed by the buttons to the right of the display, such as a download/upload speedometer and the unit's current IP information. The visual display was impressive and simpler to use than most clock radios, which it slightly resembles.The transfer speeds we achieved in our tests were easily the best in the review.It wasn't always the fastest at the shorter distances, but once we got down the track, it started to shine, maintaining speeds faster than 14 megabits/sec at the greatest distances, which smoked the other APs.This is as fast as the best speeds we got in last year's indoor line-of-sight tests.A price of $180 is a good deal for a device such as the N1, with router capability and good transfer speeds at long distances.It would be a good choice for any network administrator, especially if you are considering replacing your existing router and have a horizontal surface for the wireless access point.Belkin, (800) 223-5546, www.belkin.comXXXSPLITXXX-Its three antennae extend from a node that sticks out of one corner of the device and rotates 90 degrees, in addition to each individual antenna's 90-degree rotation and 90-degree elevation.The WAP4400N can be situated optimally whether the unit is deployed horizontally or vertically. Even though the antennae's bases are closer together than on other APs, they are longer, and can spread as wide or short as needed. They form the most widely placed array in the review.We were pleased to find that the WAP4400N can be placed horizontally, vertically with provided stands, or even wall-mounted vertically. This AP is easily the most flexible to set up.The WAP4400N's Gigabit Ethernet also has Power over Ethernet (POE) capability ' the only one in the review to have it. If the switch you are connecting supports it, you can power the AP through the Ethernet port, which means you don't have to find a place on your power strips for yet another plug. The status displays on the device consist of LEDs for power, POE, and wireless and Ethernet connections. The Web-based administrator interface gives more detailed information, such as connected devices and transfer totals. It's easy to use and should be familiar to users of other Linksys devices, as the interface has the same look and feel.The WAP4400N often had the slowest transfer speeds. It dropped below 4 megabits/sec at 80 feet. Although it was technically second best at 170 feet, it still took more than four minutes to download our 100M test folder.A retail price of $185 is a little high in our opinion for an AP with transfer speeds as slow as the WAP4400N's. We feel this device would do reasonably well in a small workgroup environment, where the antennae could be placed optimally for a limited number of users.Linksys, (800) 546-5797, www.linksys.comXXXSPLITXXX-The WN802T needs to be positioned vertically for signal and venting purposes, but it includes a bracket for wall-mounting and a stand for setting it on a surface. With the internal antennae, the Rangemax has a small footprint and only sticks out 11⁄2 inches if wall-mounted.The Rangemax has only a single Gigabit Ethernet connection, necessary for connecting it to a computer or network switch. Its display consists of LEDs for power, network and wireless activity, which we found to be a bit minimal and with abstract symbols. Fortunately, the administrator interface is easy to use, and because an administrator would most likely want to check on the AP remotely, it's more important that the Webbased interface be easy to understand.Although the WN802T performed about as well as expected in the short distances, it slowed down considerably once we got outside. It is possible that it had a problem with the particular makeup of the glass window. It achieved slower speeds close to the window ' at 50 and 60 feet ' than it did farther away, which would make the window seem to be the culprit. It did do reasonably well at the midway point, with speeds around 8 megabits/sec from 70 to 110 feet. It then dropped to less than 4 megabits/sec at 120 feet and stayed at that speed to 170 feet, although the signal was still strong there.We found the retail price of $200 higher than we would like, even though it had dropped from last year. This AP would do well in a network room that doesn't have a lot of space and where all of the clients are indoors.Netgear, (408) 907-8000, www.netgear.comXXXSPLITXXX- Its light weight, highly adjustable antennae and array of ports allow it to perform multiple functions.Each of the SMCWEB-N's long antennae has a full 270 degrees of rotation and 90 degrees of inclination, allowing users to find the optimal configuration for their needs. It even has holes for wall-mounting, giving it a wide array of placement options.The Ethernet ports are only 10/100 megabits/sec, but there are four of them. This lets you use the SMCWEB-N as an Ethernet switch or a wireless AP.In addition to performing in an AP mode, this device can also change to client mode with the flip of a switch. In this mode, the SMCWEB-N acts as a wireless client for computers or devices connected to it via its four Ethernet ports. This could save money because each connected device doesn't require its own client adapter, but transfer times tended to be slower connecting this way. This mode of operation is unique among the devices we tested, and the increased flexibility is definitely a benefit.For the client mode, the SMCWEB-N has Wi-Fi Protected Setup, a one-touch method developed by the Wi-Fi Alliance of connecting to other WPS wireless devices.In our transfer speed test, the SMCWEB-N performed admirably. At short distances, it hit speeds faster than 18 megabits/sec and was often the best of the bunch.At 70 feet, the speed dropped to less than 12 megabits/sec, but it degraded slowly after that, going to 6.54 megabits/sec at 160. However, at 170 feet, we got our biggest disappointment.The signal weakened to the point of dropping repeatedly and gave us a transfer speed of only 0.61 megabits the few times we could transfer the whole set of files before getting dropped. We have never tested an AP with a more definite maximum range.In one sense, this is a good thing because you can be pretty sure just how far your wireless signal is traveling and write off any hack attempts beyond that distance.The retail price of $115 for the SMCWEB-N y can't be beat unless you consider its government price of $76. This device would be ideal if you want to give wireless capability to small workgroups within 160 feet of the network center.SMC Networks, (949) 679-8120, www.smc.com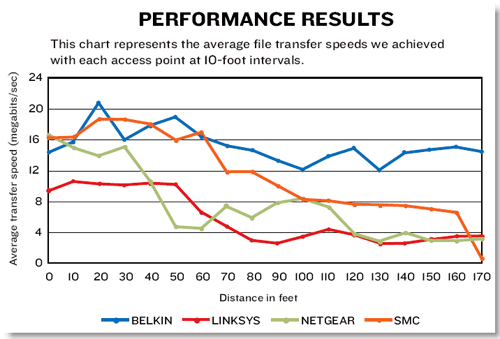 We collected draft-n access points from Belkin, Linksys, Netgear and SMC and prepared to run them through their paces. We decided to test access points as opposed to routers because we felt that the majority of our readers who were in the market for wireless would be adding that capability to an existing network with a router already in place rather than replacing that router with a wireless one. Once the 802.11n amendment receives final approval, this practice will certainly change.

We set up the devices in turn, connecting each to a desktop PC via an Ethernet cable and put the device in AP mode if necessary.

We installed the recommended client adapter card on a laptop PC and made sure the two computers were on the same IP subnet as the AP. We created a folder of various types of files that totaled 100M of data, and we were ready to begin the transfer testing.

We were especially pleased with how easy it was to set up these devices. We didn't have to do much beyond setting some IP numbers to get them ready to go.

We were also pleased to see that each of these devices has top-notch security. They all have Wired Equivalent Privacy, Wi-Fi Protected Access, WPA2 and service-set identifiers, along with 64-bit and 128-bit encryption. Fortunately, the standards that govern these things have been in their final forms for a few years, so everyone has adopted them.

All touted a data transfer speed of the 802.11n maximum 300 megabits/sec, but we knew we would be getting less. Although most of the APs had Gigabit Ethernet ports, we decided to connect them to a computer that had a 100 megabits/sec adapter, which is still the norm in most organizations. Also, TCP/IP slows transfer rates, because it sends data in packets that have to be checked for integrity. These two factors meant that we'd be getting results at a fraction of the theoretical maximum.

In laying out our course for determining transfer speeds at various distances, we decided to alter the conditions from last year's test of 802.11n devices (GCN.com/1006), when we used a straight hallway with complete line of sight between the AP and client. This time, the client was in direct line of sight with the AP for the first 20 feet. From 30 feet to 40 feet, there was a single cubicle wall between them. And from 50 feet on, we went outside, putting a pane of glass between them in addition to the cubicle wall.

To get an average transfer speed that was as accurate as possible, we took timed transfers at each 10-foot increment out to 170 feet while moving the 100M file across the wireless network.

We threw out values that were significantly high or low, which would indicate some fluke. The remaining values were taken as an average. Each test site had at least three readings put into its average score.

Glass is supposed to be just as transparent to radio waves ' of which wireless frequencies are a subset ' as it is to visible light. However, we observed a drop in transfer speeds for some of the access points as soon as the laptop was outside the window or shortly thereafter. Of course, there are many factors that could have played a part in these drops, but we felt it was worth mentioning.

In addition to the transfer speed tests, we judged each access point on additional features it might have, such as multiple operational modes, additional Ethernet ports, the existence of a status display, and the variety of antenna deployment and mounting options. We also looked at the price of the devices compared with what you get.

Once the 802.11n amendment is approved, there will no doubt be an influx of APs and routers. But regardless of the results here, we commend these few manufacturers who are trying to stay on the cutting edge.

THE N1 VISION Wireless Router from Belkin is a sleek, futuristic device that would look at home on the set of any science fiction movie.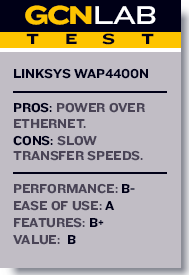 THE WAP4400N from Linksys, a division of Cisco Systems, has been in our hands before, and we can definitely say it performs equally well indoors and out.
NETGEAR'S RANGEMAX Next Wireless-N WN802T is the only AP in the review designed with internal antennae. This does take away the user's option of adjusting the antennae, but having them inside the case protects them from damage.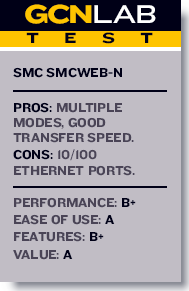 THE SMCWEB-N from SMC is an inexpensive wireless device that can be easily added to an existing network.