Breeze blows through Adobe
Macromedia Breeze will re-emerge as Adobe Acrobat Connect and be tightly integrated with Adobe's flagship products.
Web-based collaboration tools such a WebEx and Microsoft SharePoint have made steady gains in government, as agencies grow more comfortable with online security technologies. was also making inroads before acquired Macromedia and left us wondering what the electronic-document company would do with a conferencing tool (read about Breeze in Baghdad at , GCN.com/696).It turns out, Breeze will re-emerge as and be tightly integrated with Adobe's flagship products, according to Rebecca Chisolm-Winkler, Adobe's director of global government markets. In conjunction with the new Acrobat 8 and Acrobat Reader 8, Connect will be designed, in part, to launch impromptu conferences while working on Adobe files. Both Acrobat 8 and Acrobat Reader 8, which are due out next month, will include one-button access to Connect, which organizations can run in-house or via a hosted service.Chisolm-Winkler told GCN Adobe wanted to do for conferencing what it did for the Portable Document Format. Because nearly all PCs run Flash, on which Connect is based, Adobe hopes users won't think twice about collaborating online. Of course, it's not as free and simple as the Acrobat PDF Reader is. A hosted version of Connect will cost about $395 per year per user and support 15 conferees. The professional version will be licensed on a named-user, as well as concurrent-port, basis. Current Breeze users may get a break on upgrades.As for Acrobat 8, Chisolm-Winkler told us it would include a variety of new security features, not the least of which is a native redaction tool. The latest version will also allow Reader 8 users to digitally sign documents. 'We see HSPD-12 as the next level of e-government for assured, authenticated sharing between agencies,' Chisolm-Winkler said.Acrobat 8 Professional should go for $449 ($159 for an upgrade), according to the company. Acrobat 8 Standard will be available for $299 ($99 to upgrade).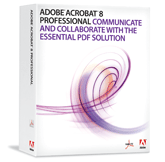 CONNECTED The new Acrobat 8 integrates Macromedia Breeze for collaboration.
Macromedia BreezeAdobe Systems Inc.
GCN.com
Adobe Acrobat Connect