Ruby won't trump Java
Should the agency CIO ditch Java Enterprise Edition?
When we first covered a few months back, we earmarked this Web framework as a quick way of building simple, database-driven Web sites. Increasingly though, Rails advocates tout their chosen tool as a replacement for that granddaddy of all Web frameworks, . Fanning this enthusiasm has been a report issued earlier this summer by Midvale, Utah-based consultants, . JEE5: The Beginning of the End of Java EE, claimed that the Java framework (though not Java itself) has grown too complex. As a result, developers might increasingly look for easier alternatives, such as Rails, that speed deployment through a preset configuration.So should the agency CIO ditch JEE? Maybe not. Although making life easier for developers is a major purpose of a Web app framework, it is not the sole one, we've heard. Performance is another factor. 'Rails seems best suited for agile development environments and areas where flexibility is valued more than scalability,' Adam Frazin, senior software engineer for of Fairfax, Va., wrote via e-mail. Frazin noted that the Java framework, particularly the , has been optimized for high-volume or large-data applications. 'Not to say that Rails is not scalable, but I think there is less emphasis on Rails runtime performance, and more emphasis on handling changing requirements and ease of development.'Frazin's view was echoed by Aaron Rustad, technical architect of Anassina Inc. At the IBM DeveloperWorks Web site, Rustad allowed that Rails could be useful, but said JEE ultimately offers more flexibility, thanks to its best-of-breed components. 'Should you dispense with [JEE] altogether in favor of Rails? Absolutely not,' Rustad wrote. 'But I do suggest that you download a copy of Rails and start hacking away.'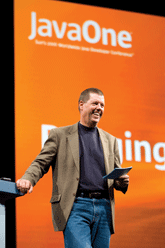 DE-RAILED? Sun Chairman Scott McNealy addresses JavaOne attendees in May. Ruby on Rails may be hot, but some question it as an alternative to Java.
John Todd
Ruby on RailsJava Enterprise EditionThe Burton GroupSRA International Inc.Enterprise Java Beans