Supply on the fly
Marine Corps logisticians in late October established a milestone for what they call 'the logistics of the 21st century' with the completion of a preliminary design review for the Global Combat Support System-Marine Corps.
Marine Corps logisticians in late October established a milestone for what they call 'the logistics of the 21st century' with the completion of a preliminary design review for the Global Combat Support System-Marine Corps.GCSS-MC, based on the Oracle E-Business Suite, provides the IT architecture for the Marine Corps' logistics modernization efforts.Other elements of logistics modernization include migrating logistics systems from mainframe to Web-based systems and eliminating redundancies. The Marine Corps' logistics modernization also includes organizational and change management components.On a tactical level, operations in Iraq have provided an opportunity to test emerging technologies such as radio frequency identification.All of these efforts are necessarily focused on supporting the deployed Marine Air-Ground Task Force, as opposed to a garrisoned force, according to Marine Corps Lt. Gen. Richard S. Kramlich, deputy commandant for installations and logistics, who spoke at a recent Military Logistics Summit.'The focus is on equipment readiness for warfighters,' he said. 'Our job is to anticipate the needs on the battlefield. Otherwise it will be a hollow capability.'As for the GCSS-MC preliminary design review, 'We met the milestones that were set, and we stayed within budget,'said Marine Corps Col. Doug Turlip, head of the Logistics Vision and Strategy Center and a member of Kramlich's staff.The Marine Corps' approach to transforming logistics technology, according to Turlip, was first to identify process changes and then to identify technologies to support those changes. 'Some of our logistics processes hadn't appreciably evolved or matured since World War II,' he said.On an IT level, the Marine Corps had more than 200 logistics-related systems deployed. Some of these have already been eliminated, and the portfolio will eventually be pared to 68. All of these will be integrated within GCSS-MC along with any other commercial, off-the-shelf applications that the Marine Corps acquires in the future.The Oracle system was chosen after comparison with offerings from other vendors. 'The Oracle product matched 90 percent of our requirements,' Turlip said. 'It will require relatively limited customization and specialized configuration.'The GCSS-MC schedule calls for spiral development in three blocks. The first, current block is focused on tactical supply and maintenance systems being used by 300 principal Marine Corps units. 'These currently use a series of mainframe-based systems,' Turlip said. 'Block One will cut the tie to the mainframe and provide Web-based applications.'Block Two will emphasize logistics command and control, and enable planning and task organizing. Block Three will see the completion of a deployed, integrated e-business system.Logistics modernization at the Marine Corps has not been without its hiccups. The original lead integrator, Accenture Ltd., was dismissed last year and replaced by Oracle Consulting. 'Accenture's initial deliverable to us was somewhat shy of the mark,' Turlip said. 'They missed their milestone, and they didn't seem to have a good understanding of our requirements.'Some of the organizational changes'principally, the integration of logistics units into Marine Air-Ground Task Forces'met with some push-back from commanders who were concerned that this effort would deplete their resources. The Corps' change management effort, the third pillar of logistics modernization, came to allay those concerns with 'robust liaison cells created to work with the major stakeholders,' according to Turlip.On the ground, the reorganization worked well, according to Marine Corps Lt. Col. Stephen Sklenka, an active-duty officer currently working as a fellow at the Center for Strategic and International Studies, a Washington think tank. 'It has fostered a tighter relationship between the supporter and the supported, and that is always a good thing,' he said. Sklenka recently completed tours of duty in Iraq and East Asia.Kramlich noted that operations in Iraq have provided the Marines with an opportunity to test some new logistics technologies. 'We can see immediately how new technologies and processes work on the battlefield,' he said.RFID technology was put to the test in Iraq during the first battle of Fallujah, Kramlich said, when the enemy succeeded in interdicting supply lines from Turkey and Kuwait.'We have [a view of] shipment pallets at the far reaches of our supply chain,' he said. 'This enhances reordering confidence and has made a miraculous positive impact on resources.'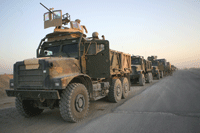 DELIVERING THE GOODS: Marines of 1st Platoon, Combat Logistics Company 115, return to Camp Fallujah in Iraq after working all night to deliver supplies to nine locations. GCSS-MC is being designed to better handle the battlefield supply chain.
Courtesy of CPL. Daniel J. Redding, USMC
Ahead of demandDismissed and replaced